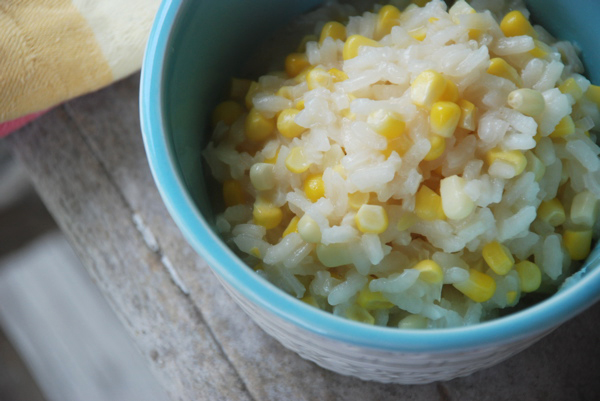 The beauty of risotto is its versatility. During the fall and winter, we make a version using roasted beets, or winter squash. In the spring, peas and asparagus with a squeeze of lemon does the trick. It can be made plain, or with any number of different vegetables, with chicken, seafood, beef, pork, lamb. Even the cheese is variable: goat, blue, cheddar, Parmigiano. You decide.
Risotto is the blank canvas of comfort food, simply awaiting your culinary whim.
Summer is typically the season of salads, grilled veggies, and the like, not the season of stirring the pot. However, as the nights get a little cooler, and while local corn is still sweet, corn risotto is worth the effort.
Making corn cob stock from the spent cobs is a little extra work (only a very little, though. it's more about the time required to simmer the cobs and onion in water), though it adds another layer of corn sweetness to the dish, and for that alone, seems worth it.
If the stock work seems daunting, perhaps this is better thought of as a weekend dish, or, on a weeknight, use the stock simmer time to get your mise in place. If you'd prefer not to make your own stock, substitute purchased vegetable stock in its place.
As for that risotto versatility we've discussed, this corn risotto is excellent garnished with roasted tomatoes, pesto, green onions, or bacon, or a combination thereof. It makes a lovely bed for grilled chicken, shrimp, or steak, and its leftovers recently provided me the best lunch I've had in quite a while: risotto topped with sunny side up eggs and a little tomato confit.
We've yet to make arancini or risotto cakes with the leftovers, but the arancini are happening very soon with barbecued chicken and fried okra.
Corn season will soon come to an end here in New England. A very sad time indeed. Fortunately, we've got about 15 pounds of corn in the freezer, and corn cob stock frozen alongside the bags of corn.
Thank goodness, because even when our thoughts turn to beet and Gorgonzola risotto, it's nice to know that we can have another taste of late summer if we need it.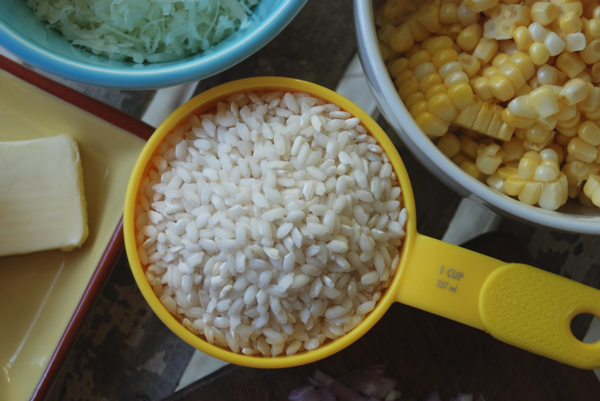 Ingredients

6 tablespoons unsalted butter, divided
1 medium shallot, peeled, trimmed, finely chopped
1 cup Arborio, Carnaroli, or Vialone Nano rice
1/2 cup dry white wine
4 to 5 cups warm corn cob stock (see recipe below) or vegetable stock
corn kernels cut from 2 medium ears of corn (approximately 1 cup of corn)
1/2 cup freshly grated Pecorino-Romano or Parmigiano-Reggiano cheese

Optional garnishes:

slow-roasted tomatoes or tomato confit
pesto or basil chiffonade
bacon
green onions

For the corn stock:

2 corn cobs (from which the corn kernels came)
1 medium sweet onion, such as Vidalia, peeled, trimmed, and quartered
10 sprigs fresh thyme
1 teaspoon kosher salt
freshly ground black pepper
6 cups water

Instructions

Melt 5 tablespoons of butter in a large saucepan or Dutch oven over medium heat. Once the butter is melted, add the shallot to the pot, and cook until the shallot is translucent, 2 to 3 minutes.
Pour in the rice, stirring well to coat it with the melted butter, then cook for 1 to 2 minutes in order to heat the rice through, stirring frequently.
Pour the white wine into the pot, and stir frequently until the wine has been absorbed by the rice.
Add a cup of corn cob stock, stirring the rice frequently until all of the stock has been absorbed, then add 3 additional cups, one at a time, allowing each cup to be absorbed almost completely before making the next addition of stock. Oh, and keep on stirring.
When the third cup of stock is added to the pot, also add the corn and stir it into the rice. Each time I add the corn, I think it looks like too much corn, but in the end, it's an amount that works for our tastes. Given that risotto is your blank canvas, feel free to adjust the amount of corn as needed.
Taste test the rice after the 4th cup of stock has been added to see if it is done to your liking. If not, add additional stock, 1/2 cup at a time, until the rice is ready.
Remove the pot from the heat, stir in the Pecorino-Romano, then stir in the remaining 1 tablespoon of butter. Let the risotto stand for a few minutes, then serve it forth.

To make the corn stock:

Place the corn cobs, onion, and thyme in a medium stockpot. Cover with the water, add the salt and pepper, then bring to a boil. Once boiling, reduce to a simmer, cover (tightly. we don't want too much evaporation during the process), and let simmer for 45 minutes to 1 hour. Allow the stock to cool slightly, strain the stock through a mesh sieve or colander lined with cheesecloth to remove all of the solids, then use away in your corn risotto, or corn chowder, or any other dish to which you'd like to add a hint of sweet corn flavor.

http://www.tinyfarmhouse.com/2012/08/corn-risotto/