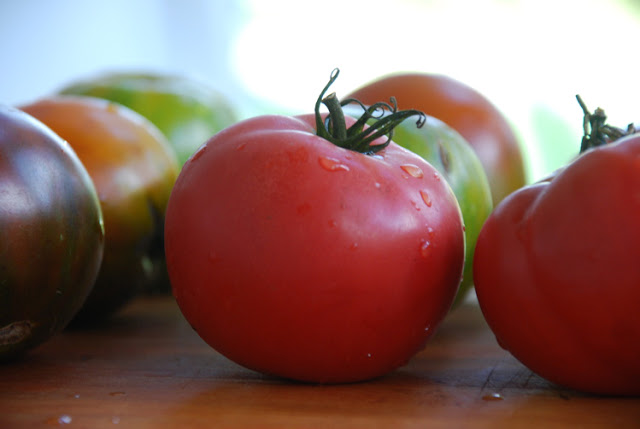 While this isn't the most economical use of tomatoes for those who have to purchase them, for, at $4.95 per pound for heirlooms, this is an expensive sauce, it is a fantastic use of that extra 2 or 3 pounds (or, okay, maybe it's more like 10 or 12 pounds) of tomatoes that the gardeners amongst us are sure to have piling up at this time of year.
Confit is French for "to preserve". In this case, as is the case with duck or goose confit, and garlic confit, the vehicle for preservation is fat. For tomatoes and garlic, that fat is olive oil.
I use a grocery store olive oil for this rather than a fancy olive oil, as the flavor of the tomatoes and seasonings are imparted to the oil, and using a varietal olive oil for confit strikes me as a poor use of high-quality (and therefore more pricey) olive oil.
Roma-type tomatoes are the usual suspects for tomato confit, as they contain fewer seeds, less liquid, and more flesh than many other varieties (that meatiness is the same quality that makes them ideal for tomato sauce), but when every spare space in your kitchen is occupied by different types of tomatoes, some in varying states of decay, one isn't going to be too particular about which variety receives the confit treatment.
The Romas in our garden are between harvests at this moment, so we've moved on to an assortment of Pink Lady, Brandywine, Green Zebra, and Japanese Trifele Black tomatoes for confit.
We scoff the non-Roma confit down just as quickly as we do the Roma confit, so it never seems to be a problem to use it within the recommended 1 week.
It's more like 2 to 3 days – and poof! – confit is gone. We use it as pasta sauce, chopped as a garnish for eggs, chicken, and steak, and mixed with a little grated Pecorino-Romano it becomes a spread for crusty bread (or a spread for the sandwich of your choosing).
Maybe add some roasted garlic into that Pecorino-tomato confit mix, and layer it with goat cheese on crusty bread. That would be good, too. So many possibilities. You can see how a week is more than enough time to lay waste to a batch of tomato confit.
Recently, we used the confit oil to baste shrimp before grilling, and the tomato confit as a bed upon which to place the shrimp, then served the shrimp and tomatoes atop corn risotto. I highly recommend the tomato confit bed on corn risotto combination – with shrimp, chicken, steak, or grilled zucchini. Can't really go wrong there.
There is very little work in making tomato confit, just a bit of patience required, as you'll be roasting for 5 hours, during which time, you could scheme up other dishes with which to utilize your tomato confit, all of which will be mindblowingly delicious, I'm sure.
Ingredients

12 medium tomatoes (2 to 3 pounds of tomatoes)
2/3 cups olive oil
1 tablespoon dried oregano
kosher salt
freshly ground black pepper

Instructions

Preheat the oven to 225 degrees Fahrenheit. Line a 9 by 13-inch rimmed baking sheet with parchment paper.
Rinse the tomatoes and remove their stems. Cut away any blemished or imperfect parts of each tomato.
First, we're going to peel the skins from the tomatoes. Bring 8 cups of water (or enough water to cover your tomatoes) to a boil in a medium saucepan. While the water comes up to the boil, cut an "x" into the base of each tomato.
Once the water is boiling, place the tomatoes into the water and boil for 10 to 15 seconds, just enough time to see the skin splitting up the sides of the tomatoes from the "x" that you made.
Transfer the tomatoes from the water to a colander, rinse with cold water so that they are cool enough to handle, and peel and discard the skins.
Slice the tomatoes in half lengthwise, cut out the core (discard that, too). If using a tomato that averages 4-ounces, such as the Romas that grow in our garden, they only need to be cut in half, as we're aiming for slices that are 1 1/2 to 2 ounces.
The medium tomatoes in our garden average 6- to 8-ounces, so once they're cored, I cut each tomato half in half again to hit that 1 1/2 to 2 ounce range.
If you're unsure of the weight of your tomatoes, weigh them before plunging them into the boiling water bath.
Place the tomato quarters in a single layer on the baking sheet, cut side up, sprinkle them with salt, pepper, and oregano, then pour the olive oil over the tomatoes, coating each one with the oil.
Roast for 5 hours, until the tomatoes are reduced to about half of their original size.
Allow the tomatoes and oil to cool slightly, then transfer the tomatoes to a canning jar or storage container, pour the oil over the tomatoes, and use at will.
Tomato confit will keep up to 1 week in the refrigerator, though I highly doubt it will take you that long to devour your batch of tomato confit.

http://www.tinyfarmhouse.com/2012/09/how-to-make-tomato-confit/