We've been playing a little game of pass-the-cold-back-and-forth here at our house for the last few weeks, which causes a situation wherein our colds keep demanding that we feed them comfort food.
Yes. That's what happens. Exactly what happens.
It's kind of a long list, the comfort food one is, but we and our colds agree, mac and cheese is always near the top.
I'd been craving mushrooms – something about the crunch of leaves underfoot and the crisp autumn air brings that on for me – so they were a must for the feel-better mac and cheese. And bacon? Well, heck, doesn't everything taste better with bacon?
I find, though, that even with the addition of mushrooms and bacon, mac and cheese is often a bit too bland for my tastes, so out came the pepper jack cheese and chipotle salsa.
If you aren't able to locate the little 7-ounce can of chipotle salsa at your market, the sauce in canned chipotle peppers in adobo sauce will provide the same kick, and you can freeze portions of either for later use. You know, so as to avoid waste.
I also find that when I bake mac and cheese in the oven to get that whole crispy breadcrumb effect, the pasta dries out more than I'd like. To avoid that horror, toast one cup of panko crumbs in 2 tablespoons of butter in a small saucepan on the stove top, stirring, stirring, stirring all the time until the crumbs are golden brown. At serving time, toss a couple tablespoons of toasted crumbs over each portion of mac and cheese. Viola, crispy breadcrumbs and still plenty of silken cheese sauce.
Pepper Jack and other soft cheeses, like mozzarella, can be difficult to grate, so toss the cheese into the freezer for 5 to 10 minutes before starting the grating process, and life – or at least cheese grating – will be easier. This ain't no Slap Chop commercial, after all, so I'll be staying reality-based with my claims, even while indulging in a little hyperbole for the set-up.
If you'd like to cut down on serving-day preparation time, the mushrooms and bacon can be prepared a day ahead and stashed in an airtight container in the refrigerator until you're ready to coat them with spicy cheese sauce.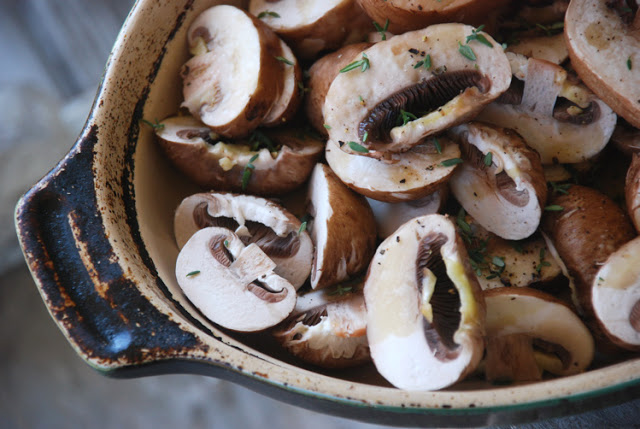 Spicy Mushroom-Bacon Macaroni and Cheese

Ingredients

(1) 10-ounce package crimini or baby bella mushrooms, cleaned, trimmed, and sliced lengthwise into 1/4-inch pieces
1 tablespoon olive oil
1 teaspoon fresh thyme
kosher salt
freshly ground black pepper
4 slices bacon, cooked until crisp, then broken into pieces
6 tablespoons unsalted butter
6 tablespoons unbleached all-purpose flour
4 cups milk, warmed
8 ounces Pepper Jack cheese, shredded using the large holes on a box grater
2 tablespoons chipotle salsa, or sauce from chipotle peppers in adobo sauce
16 ounces penne pasta, cooked according to manufacturer's instructions
2 tablespoons unsalted butter
1 cup panko bread crumbs
3 to 4 green onions (scallions, rareripes, whatever your preferred term for them, I recommend they always be in your crisper awaiting use), sliced crosswise into thin rounds

Instructions

Preheat the oven to 375 degrees Fahrenheit. Place the mushrooms in a medium baking dish, drizzle with the olive oil, sprinkle the thyme over top, and season with salt and pepper. Roast for 25 to 30 minutes, until the mushrooms are lightly browned. Both mushrooms and liquid in the baking dish will be combined with the cheese sauce, so don't go anywhere with that mushroom broth.
In a large sauce pan or Dutch oven, melt the butter over medium heat. Add the flour gradually, whisking it into the butter as it's added. Continue whisking the roux until it is a light caramel color, five to seven minutes.
Gradually pour in the warmed milk, whisking continuously as you do to keep the roux from clumping. Cook, whisking and whisking all the while, for 10 to 12 minutes, until the sauce has the consistency of pancake batter.
Pour in the grated cheese, whisking still more, until the cheese has melted into the sauce, then add the chipotle salsa, and stir well to get all that smoky chipotle heat distributed throughout the sauce.
Add the mushrooms and their accumulated cooking liquid, bacon, and penne to the sauce, stir well, and season as you like with salt and pepper. Serve it all forth with breadcrumbs toasted on the stove top (as we've discussed) and a smattering of green onions.
There you have it all: spice, cheese sauce, pasta, and crunch, and heck, even a little something green. Comfort food, indeed.

http://www.tinyfarmhouse.com/2012/11/spicy-mushroom-bacon-macaroni-and-cheese/
Estimated cost for 1 batch of mac and cheese: $13.05, $2.18 per serving for 6 servings, $1.63 per serving for 8 servings. Mushrooms cost $2.49 (though I did score 2 packages for $1.99 in a two-for-one sale last week – keep your eyes peeled!), Whole Foods 365 brand olive oil costs $.09 per tablespoon, 1 teaspoon of fresh thyme should run you no more than $.50, hang the remaining thyme upside down in a dry area, then harvest the rest for dried thyme rather than letting it get all moldy in your fridge. Whole Foods store brand bacon is $5.99/16 ounces, 4 pieces is actually 1/4 of the package, so $1.50 for that (freeze the rest in serving sizes that you're most likely to use), butter for the whole dish is $.70, flour is a whopping $.07, Whole Foods 365 brand milk by the gallon is almost a dollar less expensive than milk at my local supermarket chain, 4 cups is $.87, pepper jack cheese is $3.99 for an 8 ounce block, the chipotle in adobo sauce comes from a tin that costs $1.99, so figure $.25 for the 2 tablespoons we're using. Whole Foods 365 panko breadcrumbs are $2.39 for 4 cups, therefore $.60 for our toasty crumb topping, scallions are around $.99 per bunch, you'll use about half of that, so $.50.