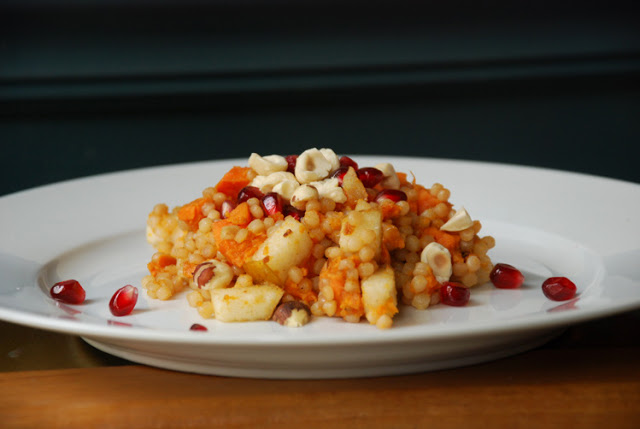 For the last month and a half, one version or another of this salad has been my workaday companion. Sometimes it's made with butternut squash, sometimes apples stand in for pears, occasionally, there are walnuts rather than hazelnuts. But this version is my favorite. And so, I am embarking on Week Seven of this Israeli Cous Cous Salad for lunch.
Now, if that isn't evidence enough of an obsessive personality type, I'm not sure what is. Perhaps a few additional examples will help:
Exhibit A: An entire month during my freshman year of high school during which I ate nothing but ice cream. Strawberry, chocolate, and vanilla ice cream. Lost weight, too. (Please, let's not discuss the obvious nutrition issues here. I'm middle aged. I get it.)
Exhibit B: Mrs. T's pierogies every day after field hockey practice during my junior year of high school. Again, icksnay on the utritionnay alktay, 'kay?
Exhibit C: Kashi twigs and sticks with blueberries every morning for breakfast for the entire year that I was 30. At least the nutrition thing was improving by then. I know that they don't call it "twigs and sticks", but you know just what I'm talking about, don't you? And, if you've tried it, you may even think that it tastes like twigs and sticks. For the record, I actually like the taste of Kashi twigs and sticks. Which, I suppose, one would have to in order to eat it daily for an entire year.
And that brings us back to this dish. It's vegan (though I am not), has a little tiny bit of fat in the form of olive oil (you do need some fat, you know), as well as fiber, fruit, and nuts.
It's way far away from a month of ice cream in terms of nutritional value, and it's almost as tasty. Let's be honest here. In a battle for the title of Most Tasty, the only food that might be able to take down ice cream is cheese. And I'm talking stinky, creamy cheese. Or bacon.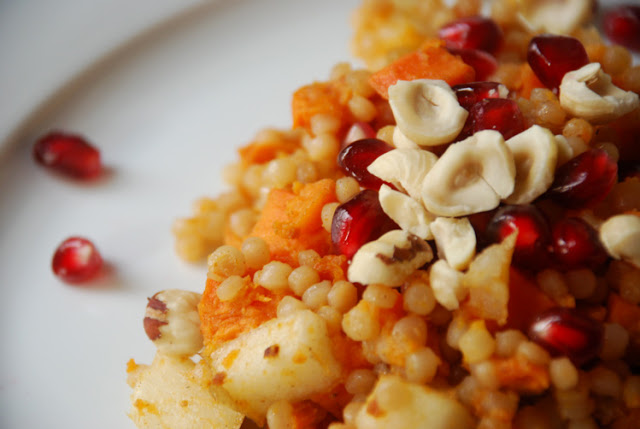 Cous cous cooking note: Though the container of cous cous states that this is a toasted pasta (toasted pasta pearls to be exact), I opt to toast it a bit more – like, to the point where it actually looks like it's toasted – before continuing with the cooking.
Coat the bottom of a medium saucepan with a tablespoon of olive oil, place over medium heat, add the cous cous, and stir frequently until the pasta is a light golden brown, 5 to 7 minutes. Then follow the manufacturer's instructions for cooking.
Having now made 6 weeks times 2 batches of this salad, I can tell you that the cous cous-to-water ratio is generally 1 cup dry Israeli cous cous to 1 1/4 cups water, and that it takes around 12 minutes for the cooking to be done.
Also, if you're making this over a weekend, the sweet potato can be roasted a day ahead of when you're assembling the salad (particularly handy if you're already roasting something else on Saturday and/or don't want to be bothered with the task on Sunday).
Lunch to Go: Israeli Cous Cous Salad with Cinnamon-Roasted Sweet Potatoes

Ingredients

1 large sweet potato (approximately 1 pound), peeled, then sliced into approximately 1/4-inch cubes
1 tablespoon extra virgin olive oil
1/4 teaspoon ground cinnamon
kosher salt
freshly ground black pepper
1 tablespoon extra virgin olive oil for toasting the cous cous
1 cup (dry) Israeli cous cous, cooked according to the note above
3 tablespoons maple syrup, preferably Grade A Dark Amber
1 medium firm-ripe pear, such as Bosc, Comice, or Red Anjou, cored and sliced into approximately 1/4-inch cubes
1/2 cup pomegranate arils (depending upon the size of the fruit, from 1/4 up to 1/2 of a pomegranate. Extra seeds can be stored in an airtight container in the refrigerator for later use)
1/2 cup whole hazelnuts, toasted, skinned, and coarsely chopped (see note)

Instructions

Preheat the oven to 375 degrees Fahrenheit.
In a medium mixing bowl, toss together the sweet potato cubes, olive oil, and cinnamon, then season with salt and pepper, and give another good stir.
Pour the sweet potato cubes onto a 9 by 13-inch rimmed baking sheet and arrange the cubes in a single layer. Roast, stirring midway through, until the sweet potato is lightly browned and is easily pierced with a fork, approximately 35 minutes.
In a medium mixing bowl, combine the roasted sweet potatoes, Israeli cous cous, and maple syrup. Side note: stop here and you've still got a good side dish. Chicken, pork, turkey, they all go well with this scaled down version of my salad obsession. As does the fully executed dish. The choice is yours.
Add the pear chunks and pomegranate arils, and stir well. Season with salt and pepper and serve the salad forth, either warm or at room temperature, topped with a sprinkle of chopped toasted hazelnuts.

Hazelnut toasting note

To toast hazelnuts, place them in a single layer on a rimmed baking sheet and bake at 350 degrees Fahrenheit for 12 to 15 minutes. The skins will start to peel as they toast. Allow the nuts to cool, then use a paper towel to rub the skins off. A little leftover skin is fine, so don't go too crazy if not all of the skins come off, says the lady with the obsessive personality.

http://www.tinyfarmhouse.com/2013/01/lunch-to-go-israeli-cous-cous-salad-with-cinnamon-roasted-sweet-potatoes/