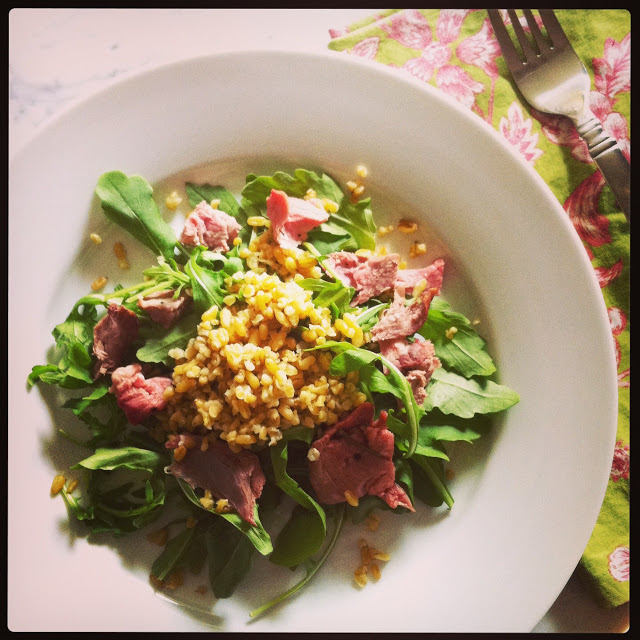 Over the last few years, I've been making an effort to include more whole grains in my diet. I know that baked goods are best in moderation, but to make that moderate intake of muffins and cakes a little better for us (okay, okay, around the holidays it's not so moderate. I admit it), I substitute whole wheat flour or whole wheat pastry flour for a portion of the all-purpose flour.
Whole wheat pasta and cous cous have both been incorporated into our diet, and even when making a sauce or a gravy – yep, I know, decadent – I use whole wheat flour instead of white. Small changes, but every little bit counts.
I've long been a fan of polenta, farro finds its way into many a soup here, and oats are on the menu every morning in the granola that tops my yogurt.
So when Oldways asked if I'd be interested in being a Whole Grains ambassador for Whole Grains Sampling Day, I was totally on board.
Oldways, if you don't know, was founded by K. Dun Gifford in 1990 with the aim of promoting healthy eating and drinking, preserving culinary traditions, and promoting sustainable agriculture. These are all things that I geek out to. I love Oldways, and K. Dun Gifford and Sara Baer-Sinnott's cookbook, The Oldways Table, is also a favorite.
Oldways introduced the Mediterranean Diet and the Mediterranean Diet Pyramid to the United States in the 1990′s, and founded the Whole Grain Council (their name is on the whole grain symbol you see on your groceries). Together, they have organized Whole Grains Sampling Day to get more of us to try whole grains, and if we're already on the whole grains wagon, to try a whole grain that we haven't eaten before.
About a month ago, I received a package with an absolute slew of whole grain goodies. There were a few mixes for cookies and the like, and an oatmeal cookie that had a lot of grain, and also a lot of calories – these things aren't my bag. If I'm going to take in lots of calories, I'd prefer they be from scratch – either made at home, or by a professional baker. Fussy, fussy, I know. However, there were a number of whole grain foods that I was excited to try – Jovial pasta, which I've seen in the grocery store and hadn't yet tried, and a new-to-me grain, freekeh (pronounced free-ka. Yes, that's right. How could I not try it?). As the spirit of the day is to try new whole grains, freekeh was my focus.
Freekeh is a wheat berry, like farro and rye, and has a nutty flavor. It cooks up quickly, and after reading up that most whole grains can be cooked and refrigerated – or frozen! – for future use, I decided that it would be a good grain for weekday salads.
And perfect for today, as there is a Whole Grain Toast at noon EST (tweet, post to FB, Pinterest, et cetera, and use #SampleWholeGrains to mention your favorite whole grain.  If you want to tweet to Oldways, find them at @OldwaysPT)
Back to the weekday salad: in keeping with the leftovers theme here this week, I made an arugula salad with freekeh, leftover lamb, and leftover orange-honey dressing.
My friend Maria Speck has a recipe for lamb and wheat berry stew in her wonderful book Ancient Grains for Modern Meals. With Maria's endorsement of the lamb-wheat berry combination I knew that I had to be on a good path, even before trying it. And once I had eaten it – yes. The verdict is in. Get freaky with the freekeh, people. That shiz is good.
Aside from lunch and dinner dishes, freekeh can also be prepared for breakfast, a la oatmeal (or quinoa, you whole grain nut, you), and I think it would be quite good served with pork or chicken, a drizzle of maple syrup, and sauteed kale, Swiss chard, or collards.
Have you tried any new-to-you Whole Grains lately? If so, what did you think?
full disclosure: I received a slew – really a slew – of whole grain products to sample, but was not compensated for this post otherwise. As always, all opinions are my own.