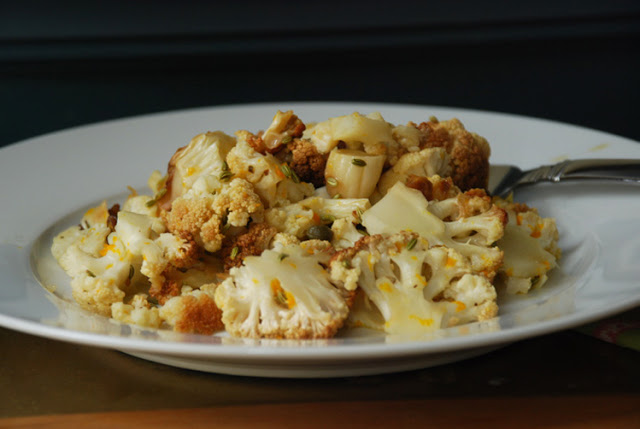 I do have a tendency to obsess about certain foods during certain seasons – asparagus now, tomatoes in August, pumpkin in October – though roasted cauliflower seems to be more of a year-round obsession. It's just that it's so easy to prepare, and can be treated so many different ways: served with grated Pecorino Romano cheese, mashed and served in place of potatoes, and this way, this way that I have been eating for workday lunch – I'm almost embarrassed to admit it – every Monday through Friday for, yeah, about three months.
That qualifies as an obsession, right?
The cauliflower gets roasted while I'm making other food on Sunday, then, if I have time, I add the Sicilian-inspired flavors: orange zest, juice, fennel seeds, capers, and raisins. But if I don't have time – which loosely translates to feeling a bit lazy – I work the Sicilian accoutrement magic while making my coffee on Monday morning, and viola! Easy, inexpensive lunch.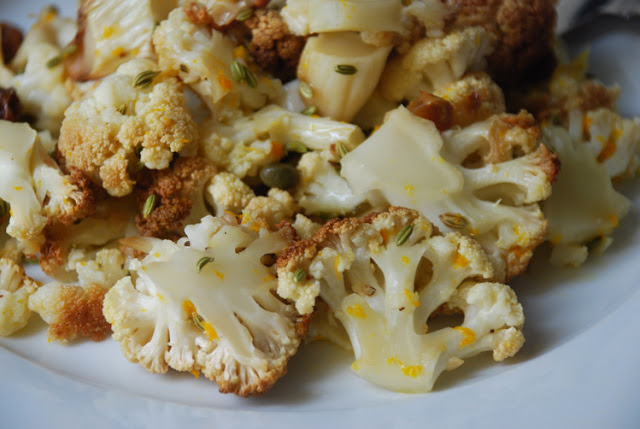 Sicilian-Style Roasted Cauliflower with Orange, Fennel Seed, and Raisins

Ingredients

1 head cauliflower, 2 to 3 pounds, leaves trimmed cauliflower chopped into florets
2 tablespoons extra virgin olive oil
1 teaspoon fennel seed
2 tablespoons raisins
1 tablespoon capers, drained of liquid
the zest and juice of one navel orange
kosher salt
freshly ground black pepper

Instructions

Preheat the oven to 400 degrees Fahrenheit.
In a large mixing bowl, toss together the cauliflower, fennel seed, and olive oil, then season with salt and pepper.
Arrange the cauliflower in a single laer on a 9 by 13-inch rimmed baking sheet
Roast the cauliflower until it is golden brown on the edges, 35 to 40 minutes.
Meanwhile, soak the raisins in warm water until they are soft and plump, 5 to 10 minutes. Once the raisins are softened, drain the water and set the raisins aside.
Remove the cauliflower from the oven, allow it to cool slightly, then transfer it to a large serving bowl.
Add the raisins, capers, orange zest, and orange juice to the bowl, and stir well.
Season with salt and pepper and serve it forth, either at room temperature or chilled.
Alternatively, you could toss this mixture with whole wheat pasta for a hearty vegetarian meal.

http://www.tinyfarmhouse.com/2013/05/sicilian-style-roasted-cauliflower-with-orange-fennel-seed-and-raisins/

 
Estimated cost for one batch of Sicilian-style Roasted Cauliflower with Orange, Fennel Seed, and Raisins: $6.83. The cauliflower costs $3.99 per head. Olive oil (Whole Foods Market 365 store brand Spanish evoo) costs 9¢ per tablespoon, so 18¢. Two tablespoons of fennel seed costs around 90¢, 1 tablespoon raisins costs around 21¢, and 1 tablespoon capers costs around 30¢. The navel orange should cost around $1.25, and salt and pepper are pantry staples, and therefore not included in the pricing.
If you're in Boston tomorrow and headed to WBOS' EarthFest, come see me in the Whole Foods Live Tent where I'll be doing a demo showing how to prepare the Sicilian-style Roasted Cauliflower with Orange, Fennel Seed, and Raisins, and generally talking up a storm while doing so. I'd love to see you there!