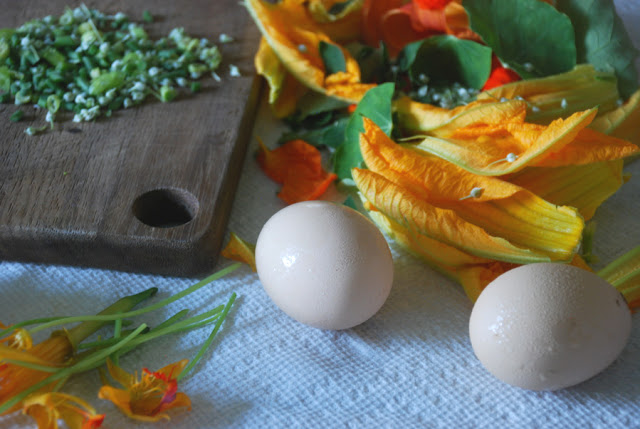 It's been a busy spring and early summer here. A new flock of chicks arrived mid-May, just in time for JR to be injured at work (again, though this time less seriously than his car accident, thank goodness, however, he is quite lucky to still have his index and middle fingers on his right hand).
While JR's hand was still in a cast, the bees arrived from the supplier in Georgia and were quickly introduced to their hives. Shortly thereafter, Rebecca the Pig gave birth to 4 piglets, a small litter, but likely a blessing given that it's our first litter of pigs, and, well, JR is injured.
My normal responsibilities here include collecting vegetable compost for the pigs from our local Whole Foods, and tending to the garden. I've been slacking on both fronts, and feel fortunate to have gotten the garden planted – not that leaving it fallow is an option, of course – so we've been thankful for some of the permanent food producers in our yard, like the asparagus, strawberries, and blackberries.
Last year by July 4th, we were harvesting cherry tomatoes and zucchini, but that's not the case this season, and currently, the garden is at an in-between stage. The asparagus and strawberries have gone by, the lettuce is bolting – surprisingly quickly, given the cold, rainy spell we experienced in June, but a heat wave is a heat wave, and delicate greens do not enjoy themselves 90-degree weather. The early tomatoes are still green, and the summer squash and zucchini are yet to yield fruit.
But this is a time to be more creative with the harvest, to do better than make do with what's available.
There are daylilies, the petals of which are edible**, provided one doesn't spray any pesticides or chemicals on them (this goes for all edible flowers, of course). The flowers of an overwintered leek provide an oniony crunch, a profusion of zucchini flowers sauteed or stuffed help us remain patient for the eventual inundation of squash.
Nasturtium's peppery leaves and flowers are equally as good cooked as they are raw, which is handy, as we have no lettuce (have I mentioned this before?) with which to make a salad, so sauteed nasturtium it is.
Sitting quite closely to that now gone-by lettuce (first you're hearing of it?) is the oregano, already beginning to bloom, sending up clusters of tiny purple flowers above its dark green leaves.
These are the ingredients that one notices while doing the morning watering, and this is how one arrives at a breakfast of "scrambled" eggs with edible flowers.
As you may have inferred from the quotation marks surrounding "scrambled", the eggs aren't truly scrambled, and they're rather far away from being shirred. But the fillings aren't layered into the creamy center just prior to being gracefully folded over into an omelette, and therefore, we shall take liberty with the scrambled term and know that we're somewhere between messy scramble and elegant omelette.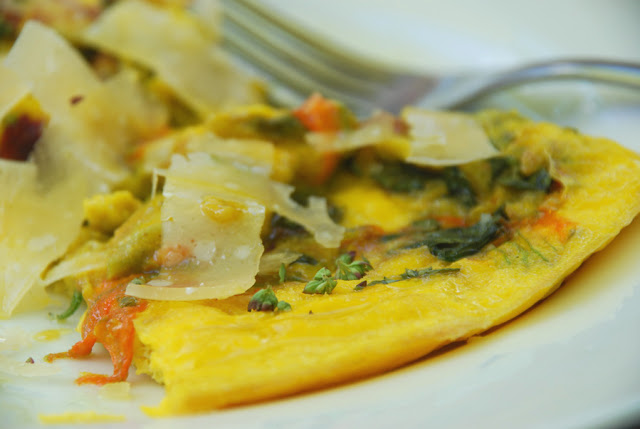 Eggs are at their fluffy best when cooked on a lower heat, so once the flower petals have wilted, lower the heat slightly before pouring in the eggs.
If you don't have garlic scapes or leek flowers hanging around, feel free to use one finely chopped medium shallot instead.
As we are dealing with random edibles from the garden in this recipe, the ingredients below happen to be what was available in our garden patch, and are therefore are more a suggestion than a dictate. If the idea of edible flowers with eggs appeals to you, feel free to experiment with whatever herbs and edible flowers you have on hand (or find at the grocery or farmers market).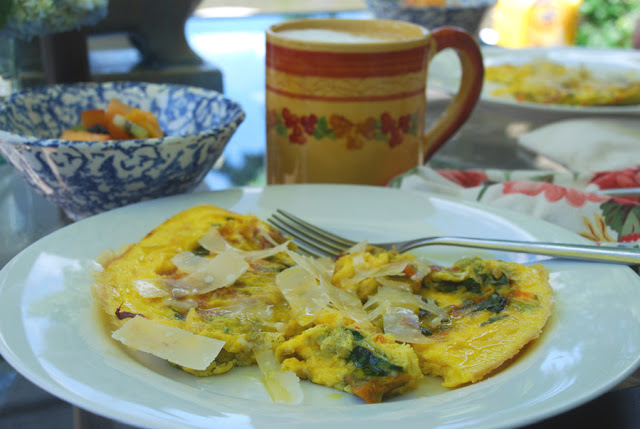 Scrambled Eggs with Edible Flowers
Ingredients
6 large eggs
1/4 cup milk
1 to 2 tablespoons unsalted butter (as much as is needed to coat the bottom of your pan once melted)
4 garlic scapes (use green onions in their place if you don't happen to have a stash of garlic scapes), thinly sliced crosswise
the flowers from one leek blossom (you could use chive flowers if you didn't let your overwintering leeks overstay their time in the garden like we did)
the petals of assorted edible flowers that haven't been sprayed with pesticides/chemicals. In this case:
2 daylily flowers, petals only
4 nasturtium flowers, petals only
6 zucchini blossoms, petals only
4 nasturtium leaves, stems removed, coarsely chopped (this was all I managed to grab as I held all of the other items, so you could certainly use more nasturtium leaves if you'd like)
1 teaspoon oregano leaves, coarsely chopped
kosher salt
freshly ground pepper
good quality olive oil and Parmigiano-Reggiano or Pecorino Romano cheese for serving (optional)
oregano flowers (optional)
Instructions
In a large mixing bowl, whisk the eggs until the yolks and whites are well-combined, the pour in the milk and stir well.
In a medium non-stick saute pan, melt the butter over medium heat. Add the garlic scapes and leek blossoms, and cook until they just become fragrant, 2 to 3 minutes.
Add the flower petals, nasturtium leaves, and oregano, and saute until all have wilted.
Reduce the heat to medium-low, pour in the egg mixture, season with salt and pepper, and cook until the eggs have set on the bottom and edge of the pan.
Use a spatula to cut the eggs in quarters, then flip each quarter over and cook until the remaining egg mixture has just set, 1 to 2 minutes.
Serve each of the two hungry people their share of the eggs, two quarters each in this case, then shave Parmigiano-Reggiano cheese over the top, drizzle with good quality olive oil, and sprinkle a few oregano flowers over the whole thing.
If you'd like to feed four people lunch or dinner from this same recipe, serve a quarter of the eggs each with a green salad (lettuce! wherefore art thou, oh lettuce?!*), and toasted crusty bread.
http://www.tinyfarmhouse.com/2013/07/scrambled-eggs-with-edible-flowers-2/
*I know, I know. Get some stinking lettuce at the market and stop your whining already. I hear you.
**daylilies are poisonous to cats and cows, but are not poisonous to humans.