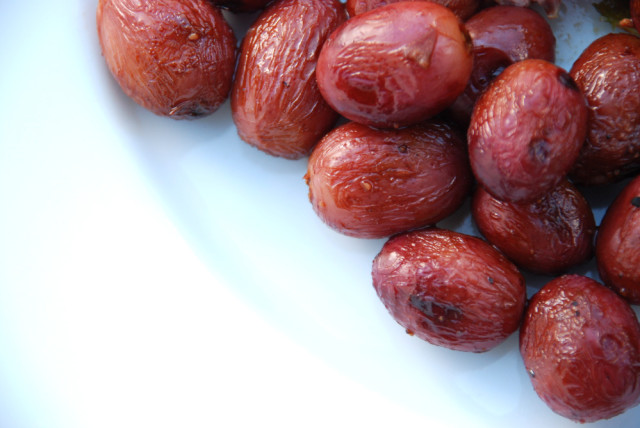 Typically, this time of year finds me waxing poetic (like so many of us) about pumpkin. Ah, I really do love me some pumpkin, it's true.
However, this year, I've stumbled upon a new autumn produce love, which I find myself eating morning, noon, and night (um, usually on different days, though. I didn't want to lose the impact of the cliché, so I went with it. "Impact of the cliché". Is that an oxymoron?)
Obsession, thy name be roasted grapes.
A few weeks ago, we had them with country style spare ribs, pan-fried polenta wedges, and sautéed collards. Then, they found their way onto my morning yogurt – a little black pepper and drizzle of Saba along with roasted grapes makes any Greek yogurt a little better (I know, I know – it borders on sacrilege to say that Greek yogurt could be improved. I love me some Greek yogurt, too.). Then I made focaccia with roasted grapes tucked into the dough and served it to my brother and his buddy after they returned from their cyclocross race.
"Roasted grapes," my brother said quizzically, "who knew?" Then a pause, then, "Delish."
Phew. Nothing worse than serving someone something they don't expect and having them dislike it. Particularly if it's your new food love.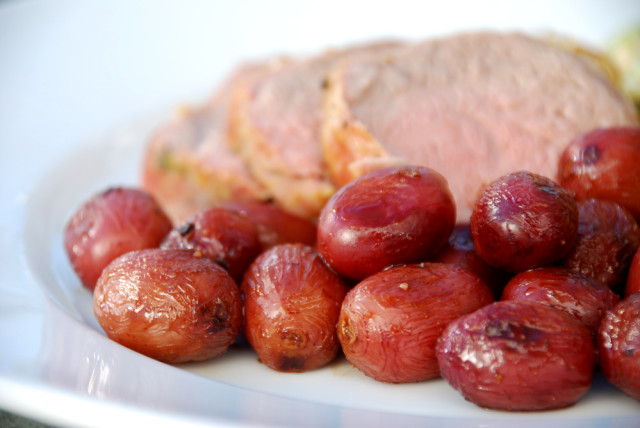 Roasted grapes pair well with orange and fennel – either flesh, or zest (in the case of oranges) or seed (in the case of fennel), and can be used in place of apples or pears in green salad, included on a cheese platter with sharp cheese, stinky cheese, blue cheese – you name it, incorporated into chicken salad, added to wild rice stuffing for baked, stuffed winter squash, or served alongside roasted or grilled chicken or pork.
Saba* is an Italian condiment made from grape must (the unfermented juice of grapes) that is cooked over wood fire for 30 hours or more in open vats. The result is a syrupy, sweet condiment that tastes of raisins and prunes, and which has many a time saved our low-effort weeknight meals from blandness.
On the nights that our brains are so fried that we can only muster roasted chicken (think about it – so easy. Just rinse, pat dry, season with salt and pepper and toss it in the oven, turn brain off and wait an hour to eat. Perfect.), rice, and steamed veggies, Saba comes to the rescue, making it seem like a meal with some forethought behind it.
Saba is not vinegar, and as such, is sweet without any tanginess, so if you prefer less sweet with your meat, or if you don't have Saba on hand, substitute 2 teaspoons of honey whisked together with 1 teaspoon of balsamic vinegar to use in place of each tablespoon of Saba that a recipe calls for.
The effect won't be quite the same, as Saba has a smoother flavor than the honey-balsamic blend, and the balsamic lends a piquant edge, though you will get the idea.
If that Saba substitution doesn't appeal, drizzle honey over the grapes instead, or, simply serve au naturel, as they are fabulous on their own, too.
*Saba comes from the Emilia-Romagna region of Italy, and is usually made with Trebbiano or Lambrusco grapes, the same grapes that are used in the production of Balsamic Vinegar (the traditionally produced, barrel-aged, expensive condiment, not the version that we buy at the supermarket for $5.99 per bottle). Other regions in Italy produce Vin Cotto (literally "cooked wine") using wine grapes from their region, resulting in the same sweet, smooth syrup. Keep your eyes peeled for either, as it's a fabulous condiment on its own with meat, vegetables, risotto, and cheese, particularly Parmigiano-Reggiano. It's not inexpensive, but you only need to use a little for big impact, so your investment will last a while.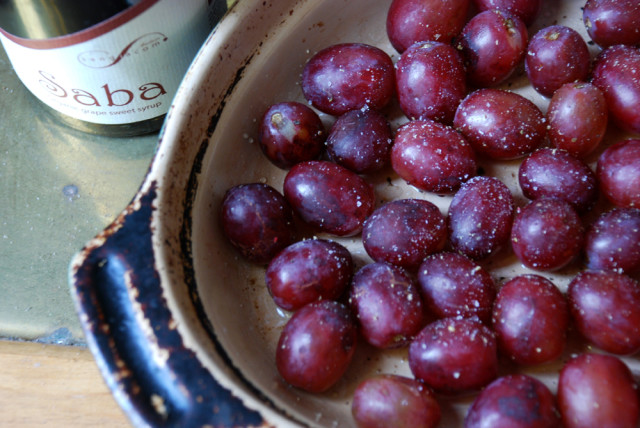 Ingredients
1 pound red seedless grapes, well washed
kosher salt
freshly ground black pepper
1 tablespoon Saba
Instructions
Preheat the oven to 375ºF.
Place the grapes in a single layer in a medium baking dish, season with salt and pepper.
Roast on the middle rack until the grapes are starting to brown, 35 to 40 minutes.
Remove the grapes from the oven, allow to cool for 5 minutes, then drizzle Saba over top.
Notes
I've made these grapes with and without olive oil, have found that the grapes don't require the addition of oil, and figured we could avoid the added fat, however miniscule the amount. However, if you'd like to include olive oil to insure that your grapes don't stick to your baking dish, use 1 1/2 teaspoons to lightly coat the grapes before adding them to the baking dish.
http://www.tinyfarmhouse.com/2013/10/roasted-grapes-with-saba/