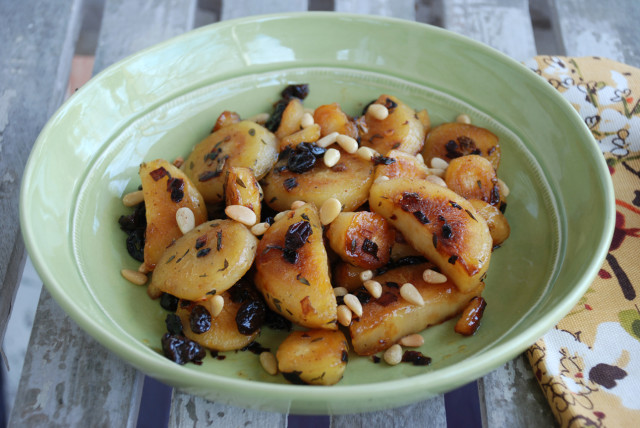 You know those times when you're so busy overthinking something that you just can't get out of your own way? That's how it was with this dish.
I had made this dish and made this dish in the most completely convoluted, time-consuming, pain in the arse way, and each time, it's deliciousness convinced me that I should share, even though I thought more than one person would curse me out for the amount of preparation involved.
It started with the peeling of the parsnips, which you still have to do for this new, improved method, but then there was blanching, and draining the water, and patting lukewarm parsnips dry, and then there was pan-roasting – constantly supervised pan-roasting – and, really, by that time, I was exhausted of this dish. But then I would tough it out (what is this? A road race? Tough Mudder?), and it was still so good. Oh, the conundrum.
On my now daily trip to the grocery store (we are in Countdown to Turkey Day mode, after all. So many recipes to test), my list included 6 pounds of parsnips. Six pounds, because gosh darn it! I was going to make this thing work. I was going to test longer blanching and shorter blanching and non-stick, and stick (this is how we differentiate between the two here, silly or not), and patting dry and not patting dry.
And then it hit me. I was overthinking. A lot.
You know what's a good technique for parsnips? Roasting. Roasting is a damn fine technique for making parsnips sweet and nutty and delicious.
And you know what you can do when you're roasting? Other things. Whatever you want, for, like 44 of 45 minutes, because you only have to take one minute to flip all of the little parsnip rounds over once, say, around 22 minutes in.
So you could make your coffee, or wash the dishes, or prepare meat loaf for dinner (meat loaf!), or read the entirety of Sunday Styles from three weeks ago. Whatever. The choice is yours.
The thing is, you can do the whole roasting thing a day before you want to serve this dish (for instance, the Wednesday before Thanksgiving), then do the whole sauté/finishing bit mere minutes before dinner is served. Ahhh, the joy of not overthinking. Or overworking ourselves.
Now, what to do with the remaining parsnips? Hmmmmm. A cliffhanger. A parsnip cliffhanger.
I just know we'll all be on the edge of our seats waiting to see what happens next.
Roasted Parsnips with Honey and Raisins
Ingredients
2 pounds parsnips, peeled, trimmed, sliced crosswise into ½-inch rounds
3 tablespoons olive oil
1 teaspoon fresh thyme or ½ teaspoon dried
1/8th teaspoon crushed red pepper flakes
3 tablespoons unsalted butter, divided (2 tablespoons and 1 tablespoon
1 medium shallot, diced
¼ cup raisins, plumped in warm water, water then drained
¼ cup honey
1 tablespoon toasted pine nuts
kosher salt
freshly ground pepper
Instructions
Preheat the oven to 375ºF.
In a large mixing bowl, toss together the parsnips, olive oil, thyme, and crushed red pepper flakes.
Transfer the parsnips to a 9 by 13-inch rimmed baking sheet and arrange in a single layer.
Roast, stirring midway through the roasting time, until the parsnips are golden brown and easily pierced with a fork, approximately 45 minutes.
Once the parsnips are roasted, melt 2 tablespoons of the butter in a large skillet or sauté pan over medium heat.
Sauté the shallot until it is translucent, 1 to 2 minutes.
Add the roasted parsnips to the pan, stirring to coat with butter.
Add the raisins to the pan and stir well.
Remove the pan from the heat, stir in the remaining 1 tablespoon of butter and swirl until it is melted.
Pour the honey over the parsnips, stir well, then season with salt and pepper and top with the toasted pine nuts before serving forth.
Notes
To toast pine nuts, place them in a baking dish, preheat the oven to 350ºF, and bake for 8 to 10 minutes, until the pine nuts are lightly browned.
The parsnips may be roasted a day in advance, then stored in an airtight container in the refrigerator until you're ready to finish the dish. The sauté/finishing part of this dish takes about 10 minutes.
http://www.tinyfarmhouse.com/2013/11/roasted-parsnips-with-honey-and-raisins/