Oh, what a letdown the Sunday following Thanksgiving is. The best holiday of the year is over, with it, the fun of a long, leisurely weekend with family recedes into memory, and a return to work is only hours away.
Boo. Hiss.
To add to this year's Thanksgiving-is-over melancholy, a cold rain has been falling all day. Fortunately, we have this soup to warm and cheer us. Well, cheer might be a bit of an overstatement, but it is definitely nailing the warming part of its responsibilities.
As with any dish that uses leftovers, I'm reticent to say that the recipe that follows is a hard and fast plan. Use the vegetables that you like, the ones that are crowding your refrigerator after the Turkey Day feast. Perhaps you'd prefer to use some of that leftover butternut squash, or corn and cubed potatoes are more your style, or maybe you'd like to add beans rather than rice. The choice is yours. The recipe that follows is what we were in the mood for.
I served it with grated Pecorino Romano cheese sprinkled over the top – a technique learned from the woman who supervised my roommate and me at our work-study job at Syracuse University. Our task was to check student I.D.s and hand out towels (a very taxing job, indeed) at an underutilized gym on campus, study, and eat Pat C's homemade chicken soup. Pat's soup was a bright spot in the eternal winter of Syracuse, New York, more so for the addition of grated cheese. Try it. I think you'll like it.
I don't want to promise anything, but cheese-topped soup might even chase away those post-holiday blues.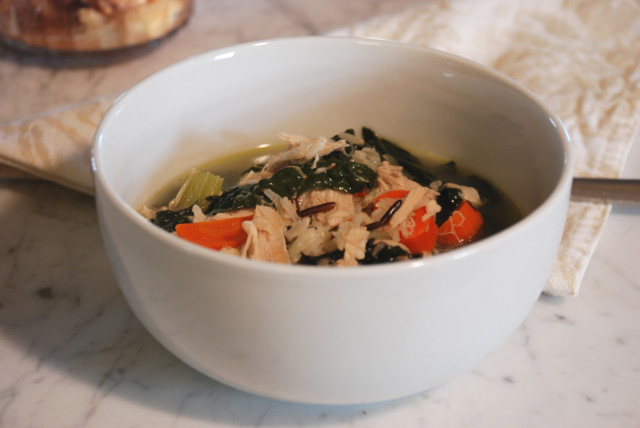 Leftover Turkey and Wild Rice Soup
Ingredients
1 tablespoon olive oil
1 medium onion, peeled, trimmed, and finely chopped
1 tablespoon fresh thyme or 1 teaspoon dried
2 celery ribs, ends trimmed, sliced crosswise into ½-inch pieces
2 medium carrots, peeled, trimmed, sliced crosswise into ½-inch rounds
1 bunch kale, spinach, or Swiss chard, well-washed, tough middle rib removed, leaves chopped into 1-inch squares (or roughly squares – the goal is to make them bite-sized so that you aren't fighting sprawling pieces of cooked greens when it comes time to eat the soup)
1 cup wild rice blend (such as Whole Foods 365 Everyday Value Wild Rice Blend)
Leftover turkey (as much as you'd like to use up), removed from the bone and chopped into bite-sized pieces
8 to 12 cups turkey or chicken stock (contingent upon how much leftover turkey you have to cover with stock)
kosher salt
freshly ground black pepper
Instructions
In a large stockpot, heat the oil over medium heat.
Add the onion, and sauté until soft and translucent, 3 to 5 minutes.
Sprinkle in the thyme, stir well, then add the celery, carrots, kale, wild rice blend, and leftover turkey, then pour in the turkey stock.
Bring the soup to a simmer, cover, and cook until the rice is cooked through, approximately 45 minutes, stirring occasionally.
Season with salt and pepper and serve it forth.
Notes
This is a good time to use that turkey carcass for making turkey stock. Take the turkey carcass (or a portion thereof), as well as any meat left on the bones and place them in a large stockpot. Add an onion that has been peeled, trimmed, and sliced lengthwise into 4 wedges, a couple ribs of celery that have been washed and trimmed and sliced crosswise in half, and two carrots that have been washed and snapped into roughly 3-inch pieces (or you could slice them, but I like that snapping noise). Season with salt, pepper, and your favorite herbs (thyme is a good choice if you're not sure), bring to a simmer, cover, and simmer for a couple of hours, remove the turkey meat, discard the solids, and strain the stock through cheesecloth or a fine mesh sieve, season with salt and pepper as you see fit, and use away.
http://www.tinyfarmhouse.com/2013/12/leftover-turkey-and-wild-rice-soup/