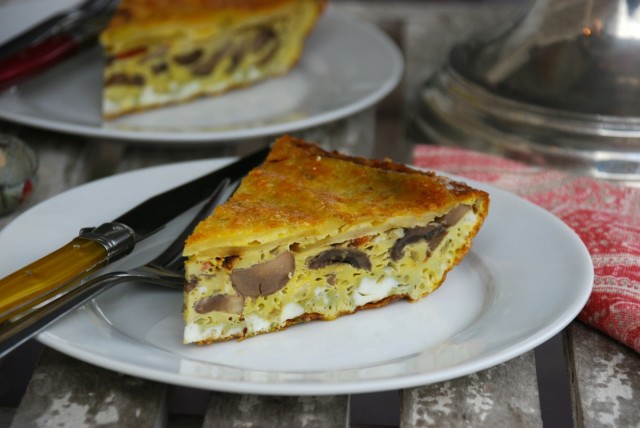 For most of this year, we've been experiencing a bit of an egg drought.
We've had hens since 2004, replacing them as needed – some have been lost to old age, others to neighborhood critters – chicken hawks, dogs, foxes, raccoons, and, we suspect, a fisher cat.
Typically, we're slightly ahead of the attrition, replenishing our flock before the hens of prime egg laying age were no longer with us, however, this past spring, our diminished flock suffered a stealth attack. Each night for just a few days, two hens would disappear. Into thin air. No carcass, no telltale debris field of feathers strewn across the lawn.
Both are terrible to discover, but something about the piles of feathers disturbs me slightly more. Perhaps it's that you're forced to face the fact that the killer is large enough to carry away your hens, which makes the beast – whatever it may be – seem even more menacing.
Regardless, either outcome is difficult to avoid altogether when you're facing a determined predator. Chickens milling about the yard, scratching up bugs, enjoying their free ranging activities, as well as chickens that we believed were safely locked in their coop have both fallen prey.
When our newest additions arrived here this spring, they joined just two older hens – the last survivors of the spring attacks, spared, we're sure, only because we finally reviewed all possible coop entry points and secured them once more. Those two older hens – whether as a result of trauma or otherwise, laid nary an egg for months.
The new girls were expected to start laying eggs around the beginning of December, and, as is their way, the Araucanas, layers of blue-shelled eggs, started laying first. The other girls started in by mid-month, and we're now nearly experiencing an egg glut. If ever there could be such a thing.
Frittata is one of my favorite uses for eggs. It allows us to use a large number of eggs in one dish, is nearly endlessly adaptable – find a vegetable in your refrigerator, a bit of cheese if you'd like, and generally, you can make a frittata meal from it – and having a frittata on hand makes lunch planning for the first few days of the week a breeze.
This frittata requires a little more effort than my typical whatever-I've-got-in-the-fridge version, though that extra effort makes it suitable for brunch with company. Perhaps your New Year's Day brunch requires a decadent egg dish? Yes, yes. Perhaps it does. Well, seek no further, then.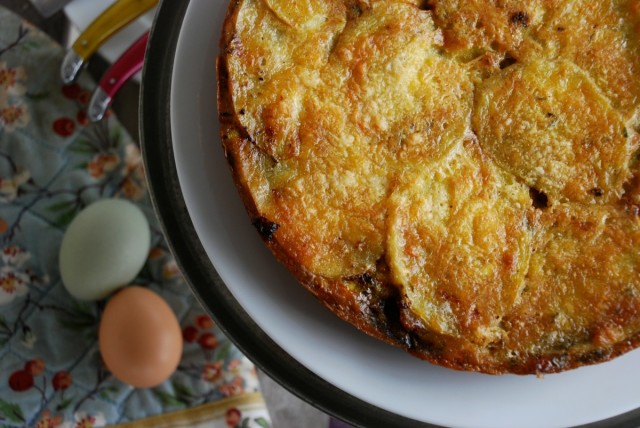 Mushroom, Bacon, and Potato Frittata
Ingredients
1/4 pound bacon (approximately 2 thick slices or 4 thin)
(1) 10-ounce container baby bella (cremini) mushrooms, washed, trimmed, and sliced lengthwise into 1/2-inch pieces
1/4 cup olive oil
1 medium shallot, finely chopped
1 tablespoon fresh thyme, or 1 teaspoon dried
16 large eggs, beaten until the mixture is pale yellow
1 medium Yukon Gold potato (approximately 4 ounces), washed and sliced thinly into rounds
2 ounces of Gruyere cheese, grated
kosher salt
freshly ground black pepper
Instructions
Preheat oven to 325 F.
In a medium sauté or frying pan, cook the bacon until crisp.
Remove the bacon from the pan, and place it on a paper towel-lined plate to absorb excess fat.
Once the bacon has cooled slightly, chop it coarsely.
Keep the bacon-frying pan on the burner on medium heat. Add the mushrooms to the pan and sauté until they are softened, 5 to 7 minutes.
Remove the mushrooms from the cooking liquid and set them aside. Discard the cooking liquid.
In a large, oven-proof non-stick sauté pan, heat the olive oil over medium heat. Add the shallot and thyme and sauté until the shallot is translucent, 1 to 2 minutes.
Pour the eggs into the pan with the shallot and thyme, stirring well to insure that the shallots are evenly distributed throughout the egg mixture.
Add the mushrooms to the egg mixture, gently pressing them downward into the pan.
Scatter the chopped bacon over the mushrooms, distributing it as evenly as possible (as you would if you were topping a pizza).
Gently place the potato slices over the bacon and mushrooms, then nudge them down into the egg mixture so that they are slightly submerged.
Season the frittata with salt and pepper, then top with an even-as-possible coating of the Gruyere.
Carefully move the pan into the oven, and bake until the frittata is fluffy and the cheese is golden brown, 45 to 50 minutes.
Allow the frittata to cool in the pan for 10 to 15 minutes, then carefully slide it out onto a serving platter.
Slice into 8 to 12 wedges, and serve it forth.
Notes
This can also be made in a stainless steel pan, though you may want to increase the amount of oil used to insure that the frittata is easily removed from the pan.
A couple of years ago, as a perk for having registered for the Big Summer Potluck, I received a set of Anolon non-stick pans that are oven proof to 500 F. I love them, particularly for making our weekly frittata (during egg gluts, of course), and would love them just as much if they hadn't been free. In fact, I gave a set to my brother and sister-in-law for Christmas last year so that they could make easily-slid-from-the-pan frittate, too. In any case, if you make frittate on a regular basis, it's worth finding a good quality non-stick pan that is oven safe as well.
http://www.tinyfarmhouse.com/2013/12/mushroom-bacon-and-potato-frittata/