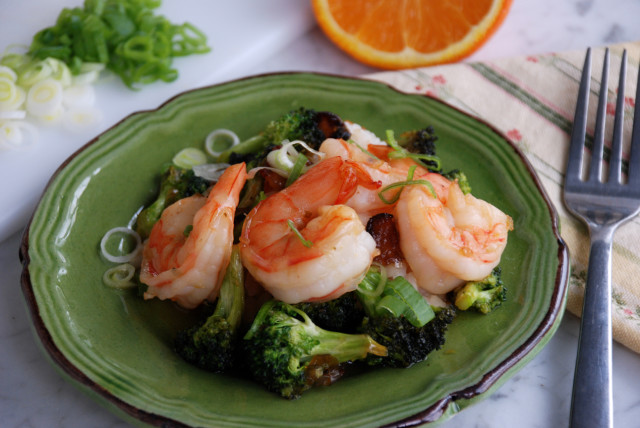 Holy smokes. Ever have one of those weeks where you're pretty well convinced you're going to come down with scurvy? Or, if not scurvy, some other vitamin deficiency that has befallen you because you've eaten nothing but starch for, oh, say, 28 straight meals?
No? Well, that was me last week.
Following the starchapalooza that is Thanksgiving, a crazy work and work travel schedule kept me from making my normal brown-bag lunches – which typically include yogurt, fruit, a veggie-centric main, and more fruit – and instead, lunches looked more like this: Day one, a deli sandwich with nary a veg to be seen. The next day was pizza for a crowd, which included, thrillingly, a pizza topped with vegetables. There was hope. Hope for a load of vegetables at just one meal. Alas, once the meal arrived, each slice of the veggie pie had only one paper-thin round of each of the three veggies promised: zucchini, eggplant, and summer squash.
The next day, there was a bit of lettuce available, of which I did avail myself, but not nearly enough to offset the slice of meatball calzone that went with it.
Finally, on Friday, desperate, and craving vegetables the way that a hydrangea craves water during the high heat of August (yes, I was wilting. I am sure of it), I purchased a salad on my way to work.
Sadly, it must've been Monday's salad, mistakenly left on the shelf, because by the time I opened the plastic clamshell at noontime, all lettuce below the top layer was in full-on melt stage (you know what I'm talking about, the red and green baby leaves actually turning to liquid – oh, and the stank. Not so appetizing), leaving me only with pecans and goat cheese. Not exactly the veggie fix I had envisioned.
I had also started craving oranges far more than normal – a burning need for oranges, if you will, possibly brought on by the accompanying lack of fruit in my diet.
When I arrived home on Friday night, JR, who had been kept abreast of my quest for vegetables and subsequent disappointment via text (very important stuff. Must text husband with updates on lunch), said, "So, do we have to have white fish and greens tonight?"
You can probably tell by that question just how thrilled he would have been with white fish and greens.
Fortunately, I had something else in mind. And it was sure to stave off the near-certain onset of scurvy.
Behold: the first of a glut of orange-and-something dishes meant to also keep us from starchy-dish overload and take-out dinner or lunch disappointment. This is a darned good, not-too-sweet shrimp sauté with – yes, orange (but of course) – honey, and broccoli. And it is in my brown bag at least a couple of days this week.
Whew. I feel better already.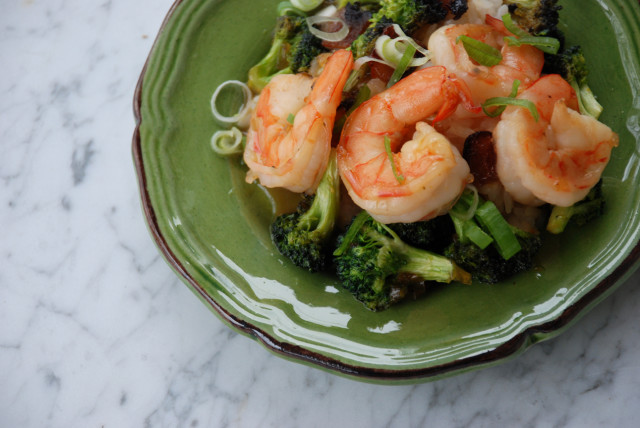 Orange-Honey Shrimp with Broccoli
Ingredients
2 tablespoons olive oil
2 slices bacon, chopped coarsely
3 medium scallions (green onions), trimmed, then sliced thinly crosswise
1/8th teaspoon crushed red pepper flakes
1 pound broccoli, trimmed and chopped into small florets
24 shrimp (16 to 20 count per pound, approximately1 ¼ to 1 ½ pound total), peeled and deveined
zest and juice of 1 Navel orange
¼ cup honey
kosher salt
freshly ground black pepper
Instructions
In a large skillet, heat the oil over medium heat, then add the bacon and cook until the bacon is starting to brown on one side, 8 to 10 minutes.
Add two-thirds of the scallions to the pan (reserve the remainder for garnish) along with the crushed red pepper flakes and sauté for 1 minute.
Add the broccoli florets and cook until the broccoli is easily pierced with a fork, 12 to 15 minutes.
Add the shrimp and sauté until they are completely opaque, approximately 7 minutes.
Pour in the orange juice and honey and sauté until the sauce has thickened slightly, 3 to 5 minutes.
Season with salt and pepper, garnish with the remaining scallions, and serve it forth. This dish is good on its own, or served on a bed of rice or with noodles.
Notes
If you'd prefer to serve less than 6 shrimp per person, the sauce quantity is still fine for 16 or 20 shrimp instead.
http://www.tinyfarmhouse.com/2013/12/orange-honey-shrimp-with-broccoli/
p.s. I do realize I wasn't in danger of having scurvy, of course. But hyperbole makes for such a more interesting story-slash-crisis, doesn't it?