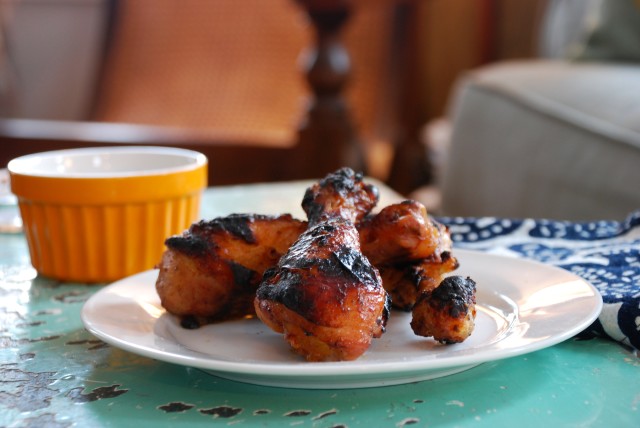 Football is a great excuse for all-day snacking, which JR and I definitely partake of once the weather changes from lovely, golden autumn warmth to the why-do-we-live-here-again cold. It must be the glorious autumn, gorgeous spring, and stunning summer that keeps us here, because it certainly can't be the frigid winter that does.
No matter, the topic at hand is food. Football food.
We've been enjoying these orange-maple chicken drumsticks since the late fall, Sunday after Sunday after Sunday. I'm not a big fan of chicken wings – the whole eating chicken bits off of the bone really isn't my thing (I know, I know, I'm a pig farmer – grow up. I'm working on it. I promise, but there's something about wings that wigs me out.).
If we're going to enjoy wing-like things, they're going to have to be drumsticks. Fewer bones, more meat, totally more up my alley. However, if you groove on wings, this marinade will work just fine for those, as well as for larger pieces of chicken (breast, legs, thighs, you know), and for various cuts of pork.
Despite making these bad boys for weeks on end, I hadn't bothered – er, managed – to take a single photo of them, so yesterday morning, before the Indy-KC game, I figured I'd cook up a batch, take some photos, and post 'em on up here. A good plan. An easy plan. What could possibly go wrong?
Well…as it turns out, our oven died between roasting Friday night's country style spare ribs and my Saturday morning desire to make drumsticks. Who would have predicted that? Not I, that's for sure.
JR dismantled the oven to see if perhaps he could simply relight the pilot, but no. He called the appliance store from which we had purchased the stove (this should tell you something – we purchased the stove long enough ago that we went to a special appliance store, rather than a big box store), and, not surprisingly, their repair person required weekday scheduling. It's all good. Sometime this week, we should have the use of the oven back.
But this timeframe didn't help my lack of photos problem, and football games surely aren't going to wait for me, or the oven repair dude, to solve it. Playoffs march on, drumsticks or no drumsticks.
JR is a trooper, and, apparently, quite sympathetic to the requirement of a photo to accompany a recipe. He fired up the charcoal grill, and slow cooked these bad boys (indirect heat, people, indirect heat) – all while the outdoor temperature here hovered in the low 20s (F, not C).
For those of you who prefer grilling your drumsticks or wings, and who hopefully live in a warmer climate than New England, grill away, just be sure to go slow and low when you do.
These drumsticks are good with or without the Orange-Gorgonzola Dipping Sauce, and if you wanted to use the sauce as a variation on blue cheese dressing for your salad, that's a good plan, too.
Orange-Maple Chicken Drumsticks with Orange-Gorgonzola Dipping Sauce
Ingredients
12 chicken drumsticks (approximately 3 1/4 to 3 1/2 pounds)
kosher salt
freshly ground black pepper

For the Marinade:

2 tablespoons olive oil
the zest and juice of one large Navel orange (roughly 1/4 to 1/3 cup juice)
6 tablespoons maple syrup
1/4 cup deli-style or German mustard
1 tablespoon fresh thyme, or 1 teaspoon dried
1/8 teaspoon crushed red pepper flakes

For the Orange-Gorgonzola Dipping Sauce:

3/4 cup sour cream
the zest and juice of one large Navel orange
1/4 cup crumbled Gorgonzola cheese
kosher salt
freshly ground black pepper
Instructions
Season the drumsticks with salt and pepper. Place them in a large, shallow baking dish, or in a large, resealable plastic food storage bag.
Whisk together the olive oil, orange zest, orange juice, maple syrup, mustard, thyme, and crushed red pepper flakes.
Pour the marinade over the drumsticks, cover or seal the container, and place in the refrigerator. Allow the drumsticks to marinate for 2 to 24 hours.
Preheat the oven to 375 F.
Arrange the drumsticks in a single layer on a 10 by 15-inch rimmed baking sheet.
Roast until the skin is golden brown with some darker spots and the meat easily pulls away from the bone, 55 minutes to 1 hour.
While the drumsticks roast, make the dipping sauce. In a medium mixing bowl, whisk together the sour cream, orange zest and orange juice. If the sauce is thinner than you'd like, feel free to add additional sour cream. Mix in the crumbled Gorgonzola, season with salt and pepper, and serve alongside the drumsticks.
Notes
Reserve the orange halves if desired, and add them to the dish or bag while the chicken marinates. I throw them on the baking sheet while the drumsticks cook, too.
I've used deli-style mustard and German mustard in the marinade, but please feel free to use whatever spiced/brown mustard you have on hand (I'd avoid using yellow mustard in this dish, is all).
http://www.tinyfarmhouse.com/2014/01/orange-maple-chicken-drumsticks-with-orange-gorgonzola-dipping-sauce/