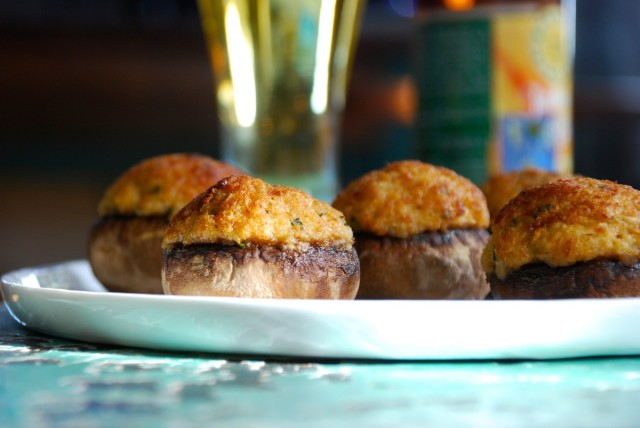 Come Big Game time, there are plenty of meaty treats available: chicken wings, burgers and their diminutive slider cousins, hotdogs, meatballs and sausage, pulled pork, barbecue spare ribs, beef stew, nachos, chili.
Sure, nachos and chili can be made vegetarian, but how often does that happen for Super Bowl? Not often, at least not in my Super Bowl party attendee experience (we never host. Never. No one seems to like watching tv in our tiny little living room. So strange. But come fire pit season, look out. That's our time to shine.).
With main dishes so meaty, you might think that game day appetizers would err on the side of the healthful vegetable, but no. They still seem to lean toward the carnivorous – not that there's anything wrong with that – but it can be a bit of a drag for our vegetarian friends who are relegated to noshing upon cheese and crudité, or the occasional deviled egg, while we all chow down on warm, substantial fare.
And, you know, every once in a while, even we omnivores want more vegetables. Even if the motivation is to leave more room for meatballs.
Eschew the sausage, and even the crabmeat, and try these cauliflower stuffed mushrooms instead. Having them on your smorgasbord offers a bit more variety for the non-meat eaters, and the nuttiness of the roasted cauliflower combined with the cheese makes these hearty, yet not like the lead sinkers we're used to (or is that just me? Don't get me wrong, I like sausage-stuffed mushrooms, and I'll definitely eat more than one, but afterwards, well, I tend to feel a little like a sunken anchor.).
As an added bonus, they're gluten-free, so viola! Nearly everyone can partake (with the exception of vegans, as my vegan sister noted with a groan when I confirmed the inclusion of dairy in the 'shrooms – however, substitute vegan cheese, and off you go!).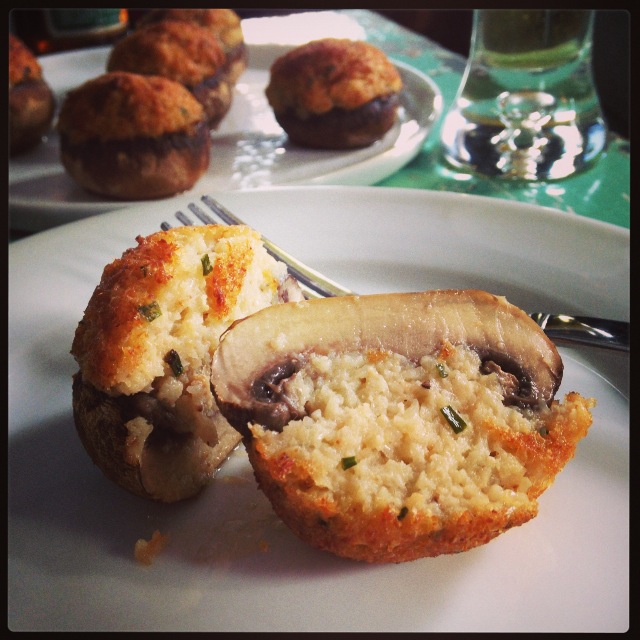 Vegetarian Stuffed Mushrooms with Roasted Cauliflower and Chives
Ingredients
1 medium head cauliflower (approximately 2 ½ pounds), trimmed and cut into florets
3 tablespoons olive oil
½ cup crème fraiche
1 cup freshly grated Pecorino Romano cheese
2 tablespoons finely chopped chives (approximately half of a 0.75 ounce package)
kosher salt
freshly ground black pepper
16 stuffing mushrooms (from (2) 14-ounce packages), washed, stems removed
Instructions
Preheat the oven to 375°F.
In a large mixing bowl, toss the cauliflower with the olive oil, then season with salt and pepper.
Place the cauliflower on a 10 by 15-inch rimmed baking sheet or large baking dish, and roast until the cauliflower is golden brown, 40 to 45 minutes.
Allow the cauliflower to cool slightly, then puree it in a food processor (or with an immersion blender) until it is the consistency of hummus. It may take a little extra time to get to this state, and you may need to scrape down the side of your food processor to insure that all florets are pureed.
Transfer the cauliflower puree to a medium mixing bowl, stir in the crème fraiche, Pecorino Romano, and chives, then season the stuffing mixture with salt and pepper. Fill each mushroom cavity with stuffing, patting the top into a half-round.
Place the stuffed mushrooms on a 10 by 15-inch rimmed baking sheet or baking dish with a low edge (if using a lasagna pan, or another deeper dish, you'll need to increase the cooking time slightly).
Bake until the mushrooms are cooked through and the cauliflower stuffing is golden brown, 45 to 50 minutes. If using a deep dish for baking, increase the baking time by 5 to 10 minutes.
Transfer to a party platter, and serve 'em forth.
Notes
So after all this meatless hype, you know, if you wanted to add a little crumbled bacon, it wouldn't be a bad thing. Or, you could spice these up with a pinch of crushed red pepper flakes. Or add crumbled blue cheese to the stuffing.
You can also substitute Greek yogurt for the crème fraiche (or low-fat Greek yogurt to keep the calorie count down).
These are also very good the day after they're made, so don't shy away from reheating leftovers.
http://www.tinyfarmhouse.com/2014/01/vegetarian-stuffed-mushrooms-with-roasted-cauliflower-and-chives/