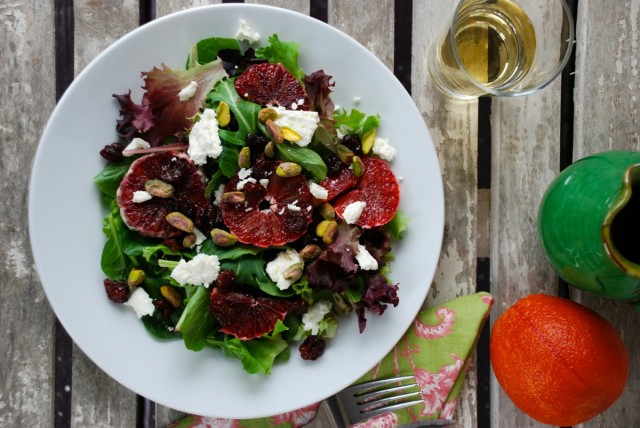 The citrus craving that I succumbed to months ago – following an overload of starch, gravy, and meat around Thanksgiving – continues. My new favorite lunch is this blood orange and goat cheese salad, inspired in part by a relentless craving for oranges (please see previous posts. There's a lot of orange in them thar recipes.), and in part by another favorite salad, a mixed greens salad served at Winfield's on Block Island.
It's probably not a coincidence that by the middle of January, particularly during one pummeled by polar vortices and arctic blasts, my mind has turned to thoughts of summer pastimes.
Some may call this denial, or fantasy, but I'm willing to accept seeming delusional if it helps get me through the doldrums. My mind wanders, and I'm in the garden in its full, ripe, green glory, killing squash bugs, harvesting tomatoes, the scent of basil wafting through the air. Or my toes are in the sand, white puffy clouds floating lazily above, the sound of crashing waves beckoning me in for a swim. Or JR and I are on the ferry to Block Island, wind whipping our hair, as we sit in our usual seats, starboard, closest to the bow, on the upper deck – of course – so we can watch the North Light appear on the horizon, the northern bluffs jutting up from the ocean, the Victorian facades of grand old hotels in Old Harbor as we arrive, ready for long, lazy days at Scotch Beach, and late dinners at our favorite restaurants.
The three that we frequent most regularly, Eli's – where the food is fabulous, and the staff even more so (hi Becky, Emily, and Rosemary!) – The Spring House Hotel, whose lunches, served on their wrap-around veranda overlooking the Atlantic can't be beat, and Winfield's.
Winfield's, like Eli's and The Spring House, is always crowded, so we take our place at the bar, saddle up and scoff down starter salads of baby greens with dried cherries, pistachios, the greens sometimes topped with thinly sliced tenderloin, followed by Block Island swordfish, or fried chicken, or lobster mac and cheese, or tenderloin topped with pimento cheese (more tenderloin! We're on an island! Let's eat more meat!).
However, workaday lunches are a bit less rich, and so, from the Winfield's-inspired salad, I omit the meat, add orange slices, and augment the citrus with blood orange-honey dressing. Simple, bright, and a distraction from yet another cold, snowy day outside.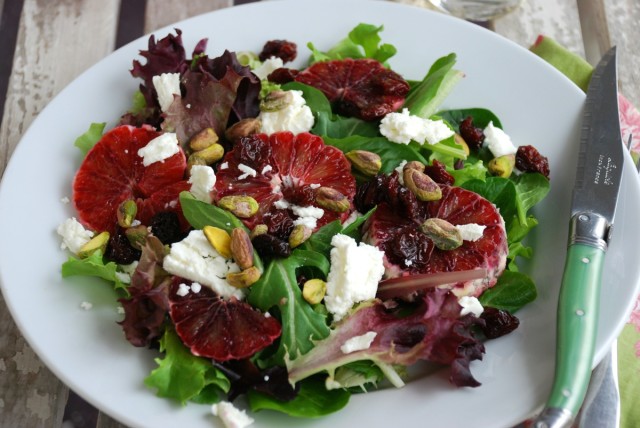 Blood Orange and Goat Cheese Salad
Ingredients
For the dressing:

the zest and juice of one blood orange
1 tablespoon olive oil
¼ cup honey

For the salad:

2 to 3 cups mixed baby greens, or ½ head Romaine, sliced crosswise into ½-inch ribbons
1 medium blood orange, peeled, sliced crosswise into ½-inch rounds
1 ounce goat cheese, crumbled
2 tablespoons dried cherries
1 tablespoon shelled pistachios
kosher salt
freshly ground black pepper
Instructions
It's a salad, so it's pretty easy. Let's get the dressing ready, then assemble, shall we?
In a small mixing bowl, whisk together the oange zest, juice, olive oil, and honey until the honey dissolves into the liquid. Season with salt and pepper.
Place the lettuce on a plate, then arrange the orange rounds atop the greens.
Sprinkle the goat cheese over the greens, then the dried cherries, then the pistachios. Or mix up the order. Whatever works for you.
Season with salt and pepper, drizzle a little dressing over, serve it forth.
Notes
If you're making this to bring for lunch the next day, Romaine holds up better than the mixed greens when packed in advance, though both options are equally good. Also if packing in advance, store the pistachios separately, along with the dressing, and add both just before eating.
You'l end up with about 1/2 cup of dressing, just about enough to last for a workweek of salads. Store the dressing in an airtight container in the refrigerator, where it will keep for up to a week.
http://www.tinyfarmhouse.com/2014/02/blood-orange-and-goat-cheese-salad/