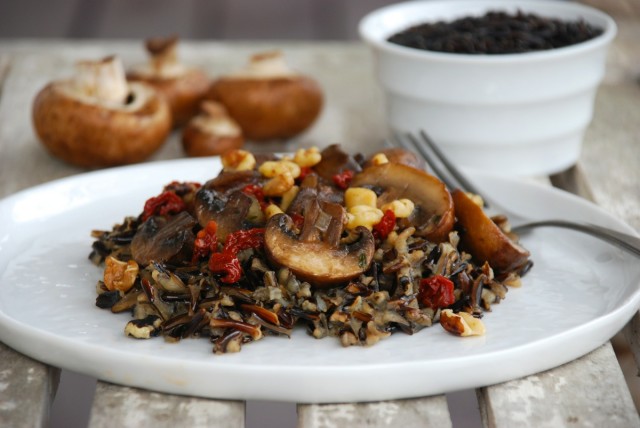 The giveaway is now closed. Congratulations, Julie! I hope that you enjoy the whole grain goodies!
In the interest of full disclosure, I was provided a slew of whole grain products to sample, but was not otherwise compensated for this post. As always, all opinions are my own.
Like the 81% of Americans who are trying to include more whole grains in their diet, so, too, am I. I'm the 81 percent!
As such, I've been on a wild rice kick of late, making salads with the grain, adding it to soup, serving it alongside chicken and pork.
My family has a history of heart disease, and, not being a spring chicken any longer (darn you, middle age!), I have to start thinking about these things. Oh denial, I'll miss you, but I do have to start facing facts over here. Eating an average of 2 ½ servings of whole grains per day can lower risk of cardiovascular disease by almost one-quarter, so, yeah, sign me up for that, please.
Wild rice does take a little longer to cook than white rice (and, yes, of course longer than that boil-in-bag stuff), but the nutty flavor is so worth it, and, in the case of workday lunches, it's really filling – helping stave off the before dinner cheese and crackers attack. I know I'm not the only one who succumbs to the pre-dinner cheese fest – also not so good for the old ticker, so better to try and avoid it by filling up on less rich foods.
This salad strikes me as a bit of a healthy cheat, as it tastes a bit meaty. Mushrooms are good for that veggies-as-meat flavor, of course, and the addition of sundried tomatoes doesn't hurt either. Even steak-loving JR scoffs this salad down. Try it. I think you'll scoff it down, too.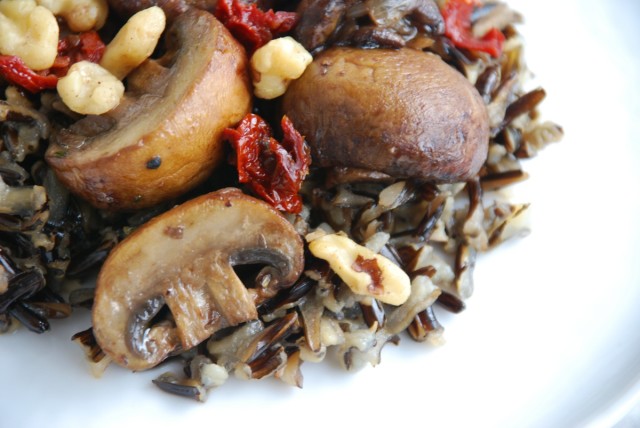 Giveaway details:
The Whole Grains Council is sponsoring a giveaway for one lucky reader of tiny farmhouse. The winner will receive the exact same slew of whole grain goodies that I received, including baking mix, granola, crackers, and, yes, even wild rice. And that's just naming a few items.
To enter, please leave a comment below about your favorite whole grain product – could be bread, could be oatmeal, could be graham crackers, could be freekeh – you choose. Let me know how you like to enjoy your favorite whole grain in the comments section of this post, and you're entered to win.
Please be sure to leave a method to reach you in your comment, either your email address or a Twitter account would be fab.
For a second chance to win, tweet to the Whole Grains Council/Oldways (@OldwaysPT) and me (@poorgirlgourmet) about your favorite whole grain dish. Something along the lines of:  "Hey @OldwaysPT & @poorgirlgourmet, my favorite whole grain dish is ____! #WholeGrainsSampling" will do.
Feel free to be creative with it, though. So long as you tweet to us, let us know that you're on board with whole grains and include the #WholeGrainsSampling hashtag, you're entered to win.
The giveaway will run through Friday, April 11 at 11:59pm EST.
A winner will be drawn at random and will be announced by noon EST, Saturday, April 12.
Apologies to readers outside the United States, this giveaway is open to residents of the U.S. only.
Wild Rice and Mushroom Salad for Whole Grain Sampling Day (+ a giveaway)
Ingredients
1 cup uncooked wild rice, prepared according to manufacturer's instructions
2 tablespoons olive oil
1 medium shallot, finely chopped
1 teaspoon fresh thyme
(1) 10 ounce package baby bella (cremini) mushrooms, washed, trimmed, then sliced in half lengthwise
¼ cup coarsely chopped sundried tomatoes
¼ cup chopped walnuts
kosher salt
freshly ground black pepper
Instructions
In a large skillet over medium heat, warm the olive oil, then add the shallot and thyme and sauté until the shallot is softened and translucent, 1 to 2 minutes.
Add the mushrooms to the pan and sauté until the mushrooms are lightly browned, 5 to 7 minutes.
While the mushrooms cook, transfer the cooked rice to a large serving bowl.
Once the mushrooms are done, add them to the bowl with the rice. Add the sundried tomatoes, season with salt and pepper, and stir well.
Place ¼ of the salad on each of four plates, then sprinkle 1 tablespoon of walnuts over top of each salad, and serve it forth.
Notes
I used Goose Valley Natural Products Wild Rice for this dish.
As mentioned, this is a good workday lunch. Simply store in the refrigerator in an airtight container and dole out ¼ of the salad into a travel-ready container each day. Wait to top with the walnuts until you're ready to eat to insure that you still get that nice walnut crunch.
http://www.tinyfarmhouse.com/2014/04/wild-rice-and-mushroom-salad-for-whole-grain-sampling-day-a-giveaway/