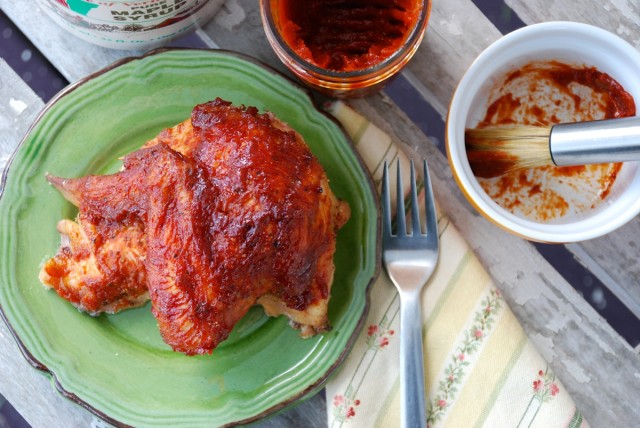 Grocery shopping day at our house is Tuesday. Kind of odd, really, but it makes sense if you know that I do the shopping after I collect what JR and I call "slop" and what the Whole Foods team calls "compost". The compost is Whole Foods' waste produce, which they very generously share with us so that we can feed it to Prudence, Rebecca, and Zeke Pig (yes, last name "Pig").
The pigs (ahem, Pigs) absolutely love the slop, especially if it contains fruit, or fennel, which is a veggie fan favorite here (for swine and humans alike), and I appreciate shopping on a low-crowd day. However, when one doesn't plan well for a holiday weekend, that can leave few options for dinner on the Monday of the holiday weekend.
Unless, of course, one has a freezer full of farm-raised pork. Hey! That's us! We have a freezer full of farm-raised pork. Whew!
Whether or not you eat meat, barbecue sauce is a good thing to have on hand during the summer. Or anytime, really. Because what sauce goes better with more ingredients than barbecue sauce? Okay, I just gave that some thought, and perhaps salsa verde is as versatile. And my beloved red sauce (comfort food extraordinaire) can also be used with much success in many dishes. But what sauce is so versatile and screams "summer"? SUMMER! ALL-CAPS SUMMER! Yes! Barbecue sauce!
Okay, I'm glad that we worked through that together. Though it did make me realize that salsa verde and (easy weeknight) red sauce need equal time here as well. I'm on it.
But, while we're discussing Maple-Chipotle Barbecue Sauce, it should be noted that it went quite well with the country style pork spareribs that JR slow 'cued over low heat last night. And by quite well, I mean, holy fark, we thought we were barbecue pit masters. What a save. We went from no meal plan to a meal that exceeded expectations, so much so that we're making the spareribs again tonight, and considering whether we should file a late application to participate in the Big Apple Barbecue Block Party. Just sayin'.
This barbecue sauce is easy, made primarily with pantry ingredients you likely already have on hand, and aside from the chopping of the shallot, prep is more like gathering than actually preparing ingredients.
Whatever sauce remains after your big barbecue pit master moment can be refrigerated in an airtight container for up to a week, or frozen for up to a month. In the event that you need assistance coming up with a short list of uses: it's also good for topping burgers in place of ketchup, or slathered (I love that word, slathered) on grilled portobello mushrooms, grilled chicken, beef, tofu – basically, anything you like slathering barbecue sauce upon, this is good for. Obvi. Because it is barbecue sauce.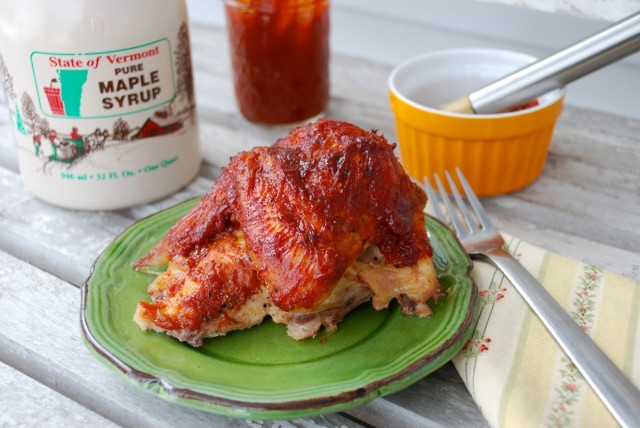 Maple-Chipotle Barbecue Sauce
Ingredients
1 tablespoon olive oil
1 medium shallot, trimmed, chopped finely
(1) 6-ounce can tomato paste
1/2 cup maple syrup, preferably dark amber
1/4 cup Dijon or deli-style mustard
1 tablespoon chipotle salsa or adobo sauce (from chipotle peppers packed in adobo)
kosher salt
freshly ground black pepper
Instructions
In a medium saucepan over medium heat, warm the oil, then add the shallot and sauté until it is soft and translucent, 1 to 2 minutes.
Add the tomato paste, maple syrup, mustard, and chipotle salsa, stir well, then reduce the heat to medium-low and simmer, stirring occasionally, for 20 minutes.
Season with salt and pepper, and slather atop your favorite grilled item at will.
Notes
Sugars in barbecue sauce will burn if applied to your dinner at the start of grilling. To avoid this, grill until the meat or veggie is nearly done, then slather (I can't get enough of the word "slather", clearly) the grilled items within the last 5 minutes of cooking, turning once to cover both sides with the sauce. Viola! Delicious barbecue taste with none of the unpleasant charring.
The sauce itself is vegetarian and vegan, so it can be used for vegetarian or vegan grilled dishes.
http://www.tinyfarmhouse.com/2014/05/maple-chipotle-barbecue-sauce/