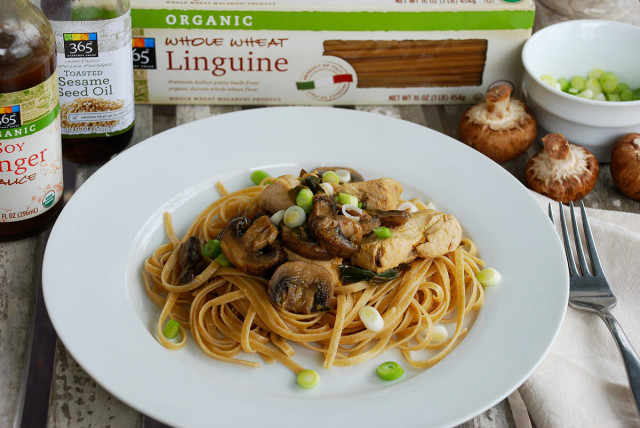 This is really more of a sauté than a stir fry, if we're being fussy about it. Stir frying requires high heat, while this dish is asking for an ever-so-slightly more gentle medium-high heat instead. Adjust the name as you like, it's still simple and delicious, and is the dish that I demonstrated this past weekend at Whole Foods Market's LiveTent at Earthfest.
If you aren't in the know – and if you don't live in or near Boston, it's highly unlikely that you would be - Earthfest is a giant, free, all-day-and-into-the-night concert hosted by Radio 92.9 on Boston's Esplanade, the same spot where the Fourth of July Spectacular is held (yes, that's what it's called. Spectacular, indeed).
Free music, free food, and all sorts of entertainment are on offer all day long, and one stop for the entertainment is Whole Foods Market's LiveTent, where this year, there were demos by Chef Ana Sortun (she is so very interesting and smart, and her Chef Set meal kits are awesome); Scott Meyer, the former editor-in-chief of Organic Gardening magazine, author of The City Homesteader, and gardening rock star (seriously. people swarmed him at the end of his talk, gathering the gardening goodies and plants that he gave away, and asking advice about their own gardens); Green City Growers, who installed and manage the rooftop farm at Whole Foods Market's Lynnfield store; and Whole Planet Foundation, who, along with partners like Genji Sushi have supported slews (slews = hundreds of thousands of people with millions of dollars) of small businesses around the world through microfinance. Sometime, if you're bored, ask me about microfinance, because I love microfinance. It's totally badass.
Speaking of micro and finance, this stir fry, no, no – sauté – was made for less than $15 and easily serves four. In fact, if you use the whole pound of pasta, you'll likely find it serves more like 6, or you can use about 3/4 of the pound of pasta and save the rest for another time, for pasta doesn't go bad.
The other great thing about this technique is that it can easily be modified. During the demonstration at Earthfest, we suggested using tofu and snap peas rather than chicken and mushrooms, or go all-veggie with broccoli, carrots, and kale, or sirloin tips rather than chicken, or swap out the Asian-inspired flavors altogether, and, with an eye to the summer harvest season, using olive oil to sauté the dish, whip up chicken with corn shaved off the cob, chopped summer tomatoes, and top it all with a little bit of pesto or torn basil leaves.
If you are gluten intolerant, whole grain rice would be perfect in this dish instead of the pasta, and if you have a nut allergy or don't have sesame oil on hand, simply substitute olive oil in place of the sesame oil – it's nice to have it in the dish, though the soy-ginger sauce and orange juice provide plenty of flavor on their own.
Orange Soy-Ginger Chicken Stir Fry
Ingredients
1 pound 365 Everyday Value Organic Whole Wheat Linguine, cooked according to package instructions
1 tablespoon 365 Everyday Value Toasted Sesame Oil
1 whole boneless skinless chicken breast, trimmed of fat and cartilage, sliced into 1-inch cubes
1 bunch scallions, divided: dark green parts sliced crosswise into 1-inch long pieces, and, for garnish, light green and white parts sliced thinly crosswise.
(1) 10-ounce package baby bella mushrooms, trimmed and sliced lengthwise (from top to stem end) ¼-inch thick
1/4 teaspoon 365 Everyday Value crushed red pepper flakes
1/4 cup 365 Everyday Value Soy-Ginger Sauce
the zest and juice of one Navel orange
Instructions
Start the pasta water before preparing the stir fry ingredients.
In a large sauté pan, heat 1 tablespoon of the toasted sesame oil over medium heat, then add the chicken breast pieces, stirring frequently for 1 to 2 minutes until the exterior of the chicken has started to cook.
Add the dark green scallions, the mushrooms, the crushed red pepper flakes, and sauté, stirring frequently, until the chicken is cooked through, 5 to 7 minutes.
Pour in the Soy-Ginger Sauce, stir well, then add the orange zest and juice, stir well, and simmer for 1 minute to blend flavors.
Add the pasta to the sauté pan, stir well to combine, and serve it forth, topping with the thinly sliced white and light green scallions.
Notes
Starting the pasta water before preparing the stir fry ingredients helps keep from waiting for the pasta to be ready to serve, and speeds up total time for the dish.
The amount of crushed red pepper flakes may be adjusted to your preference. If you don't love spice, start with 1/8th of a teaspoon rather than 1/4 and work up from there.
http://www.tinyfarmhouse.com/2014/05/orange-soy-ginger-chicken-stir-fry/
To break down the cost for you, as I am wont to do:
1 pound Organic Whole Wheat Linguine is $1.39 – as we've discussed, it's not really necessary to use the whole pound to serve four, but in the interest of keeping to what the serving size on the box is telling us (and in case you and yours are really hungry), 1 tablespoon Toasted Sesame Oil costs $0.14, 1 bunch of scallions costs $1.29, (1) 10-ounce package baby bella mushrooms is $2.99 – and you could use white button mushrooms to decrease the cost slightly if you'd like, 1 whole boneless skinless chicken breast, sliced into strips, which works out to approximately 1 pound, though each time I buy a whole chicken breast, they come in slightly under 1 pound, however, for the purpose of our math, 1 pound of boneless, skinless chicken breast costs $6.99, 1/4 teaspoon crushed red pepper flakes costs $0.12, 1/4 cup Soy-Ginger Sauce runs us $0.46, annnnddddd…the zest and juice of one Navel orange costs roughly $1.00 – the ones I buy tend to come in around $0.97-$0.99, like magic! All that adds up to a total cost of $14.38.