La Bandita Townhouse, a boutique hotel on Pienza's Corso Il Rossellino, opened during the spring of 2013, with a primo main street location, extremely friendly staff who speak fluent English (and a menu in both Italian and English, though I do prefer using Italian when in Italian restaurants – it doesn't hurt to have a little something like needing to eat to force me to use my limited l'italiano).
Though we didn't tour any of the hotel rooms (the hotel is a converted nunnery with large, modern rooms replacing the nun's quarters), the dining space was sleek yet rustic, employing modern touches with rustic antiques, such as the orange-painted bar chairs in the main dining room (pictured above), and the gorgeous wood flooring. Our server, Mikey, a Scotsman  - whose brother happens to be the chef – was chatty and engaging, which, as a fellow chatty person, I appreciate (and, in that case, speaking English is fabulous, as the scope of my Italian allows me to understand what is being said by my conversation-mate, then curses me with the lack of vocabulary to respond properly. Or at least to respond as I would like, because as I'd like excludes the options of pantomime and frantic pointing. I'm trying to be an adult here.).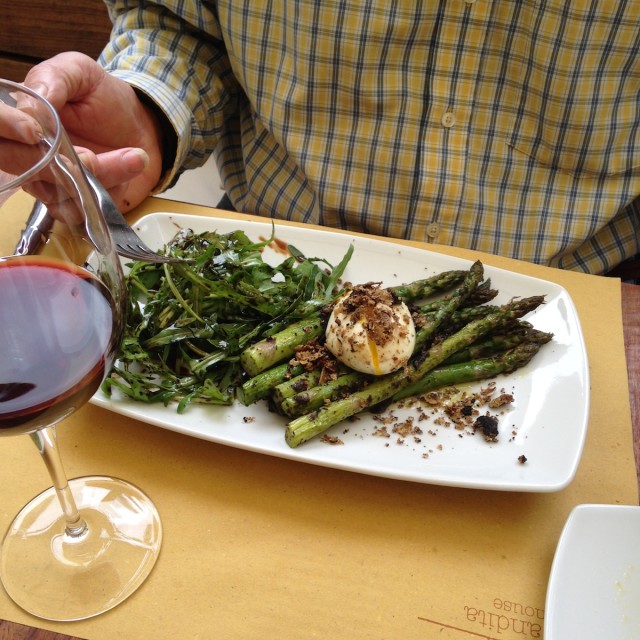 Speaking of the chef, he formerly worked at The Gleneagles, so he's clearly no slouch, and we very much enjoyed our first courses, JR's choice of asparagus with egg and spring truffles was impressive – I'm still trying to figure out how they got the egg to poach in that form (I know, I know, it's as simple as a mold, but still, rather impressive to see it sitting atop the asparagus all ovaline as it was), and the spring pea soup with lemon mascarpone had bright, fresh flavors.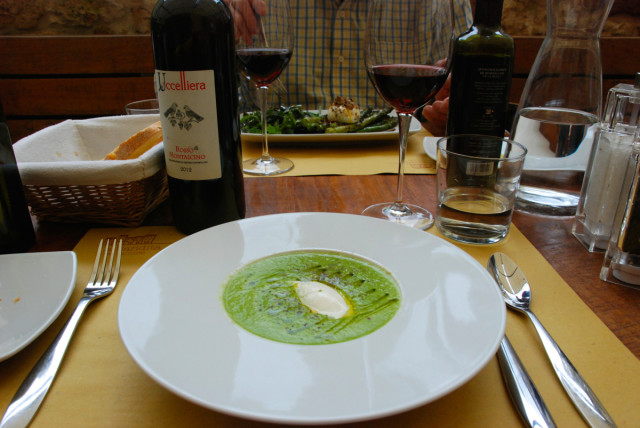 I've started using lemon mascarpone on a slew of dishes since we've returned home, and will post a recipe for it, along with peas (not souped, though. We're getting lazier the warmer the weather becomes here at home) tout de suite.
Chianina beef burgers are a Tuscan trend (or perhaps mini-trend) that JR and I first encountered in 2011 at Lungarno 23 in Florence, where the burgers and fries are fabulous. I highly recommend Lungarno 23, particularly given that, in my opinion, the fries are second only to The Back Eddy's in Westport, Massachusetts, and I spend much of my summer dining excursions (obviously not fine dining) comparing and critiquing French fries and fried whole belly clams the whole of southeastern Massachusetts and Rhode Island over (for the record, The Back Eddy also has the best whole belly clams I've had, though they aren't always on the menu).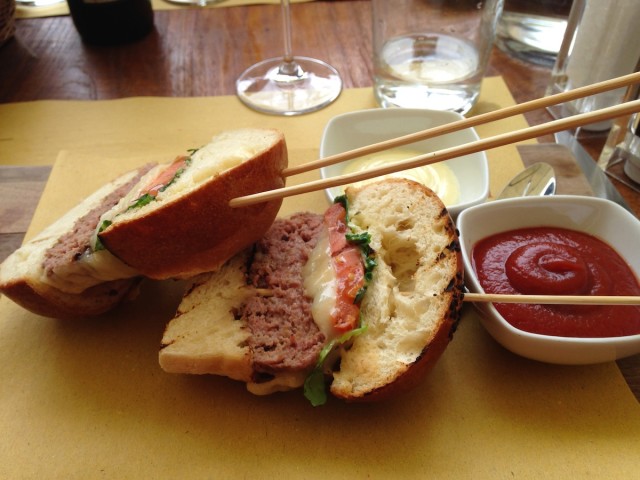 La Bandita Townhouse's use of mint mayonnaise on their Chianina burgers was intriguing, which is what led me to order the dish, and we learned from Mikey that the burger is La Bandita Townhouse's most popular menu item. Given our deeply ingrained American tradition of eating burgers out of hand, the knife-and-fork quality of the burgers was not really off-putting, as the quality of each ingredient was quite good, however, because the burger required slicing and eating with a fork, it was more difficult to appreciate it on the whole. Possibly just a quirk of ours (JR agreed with the assessment), but worth noting if you're an inflexible and not-quite-open-to-new-ways burger eater, as we seem to be.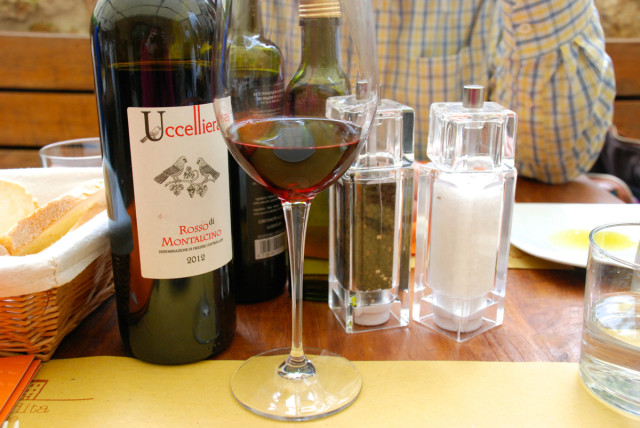 We were thrilled to be able to have a bottle of Uccelliera's Rosso di Montalcino with our lunch. We visited Uccelliera a few years ago and were given a tour by Andrea Cortonesi, the vintner and proprietor of the property. We had become smitten with his Brunello di Montalcino the year prior after carting it home from the now-defunct Vinoteca Terra Toscana in Montepulciano and holding it for 5 years before drinking (rather than drinking it immediately upon arrival home, a temptation that was difficult to resist), as had been recommended by Fabio, the vinoteca owner. We finally opened the bottle on Valentine's Day five and a half years later, and quite soon after our first sips, planned to visit the vineyard on our next trip to Italy. Fortunately, Uccelliera is starting to be more readily available in the United States, so we can get our fix a little more frequently. Still, it's always nice to have a favorite wine in a favorite place.
Lunch at La Bandita Townhouse is served every day but Monday and Tuesday, while dinner is served daily. Children under 5 who are guests of the hotel and are dining with their parents dine for free.