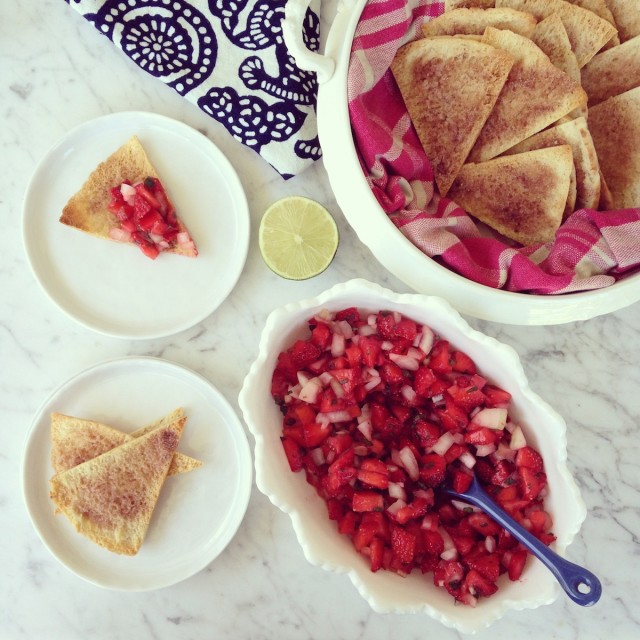 Congratulations to Christina who won a copy of The Coastal Table. The giveaway is now closed. Thank you to everyone who entered and to Union Park Press for providing the book for this giveaway.
You know that friend you have who has great taste in all things style and food? And who makes it all seem so effortless? Yeah? Well, for me, that friend is Karen Covey.
Karen has impeccable taste. Her food is fabulous. I know, for I have eaten at her lovely house, and now covet her kitchen as well as her fire pit area – it really is a fire pit area, whereas our fire pit is a pile of stones culled from the yard with some chairs scattered about. Hers is out of a magazine.
Karen has written a cookbook, The Coastal Table, that is gorgeous, full of delicious recipes, and that evokes all that is good about the coastal area in which we live.
Even if you don't live near the coast, this is the kind of book that will transport you there, driving past rolling fields bordered by ancient stone walls, visiting small front-yard farm stands with coffee cans overflowing with bunches of zinnia and sunflowers along with vegetables – all available for purchase on the honor system, shucking oysters for dinner, visiting the local beef farm, learning about small-scale cheese producers, who happen to be bashful – and brothers, and, when the seasons change, hunkering down for hearty coastal fare, fare that isn't always seafood.
As the farm stands are chockablock with strawberries right now, and you may be in need of an impressive side dish for your July 4th (or other summertime) cookout, I wanted to share Karen's recipe for Strawberry Salsa with Sugared Pita Chips.
I, for one, am addicted to the bright flavor of the salsa, and the chips sometimes disappear on their own. Or, I allege that they disappear on their own.
There were so many recipes to choose from in Karen's book it was difficult to narrow it down, from bacon jam to campfire brownies (hello! These are basically make-ahead s'mores in brownie form – also highly recommended for your next barbecue.), to entrees like chilled paella with shrimp, baked fish with nasturtium butter, or chouriço-stuffed pork loin with garlic mash, there are so many wonderful, creative recipes here, and so many gorgeous photographs, it's no wonder that I've gifted The Coastal Table out many times over.
Speaking of gifting, Karen's publisher, Union Park Press, has generously offered to provide one lucky reader of tiny farmhouse with a copy of The Coastal Table.
I'm telling you, you will love it.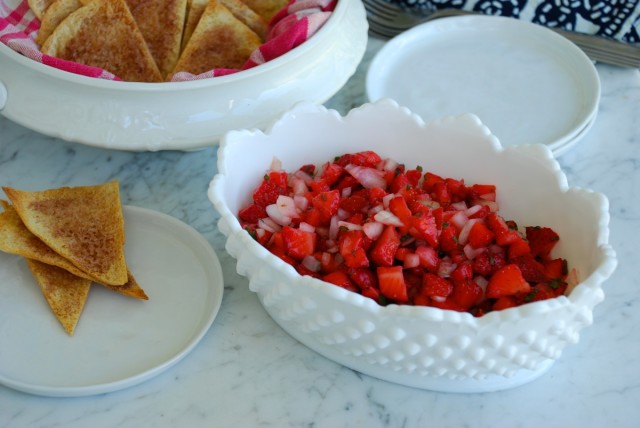 To enter:
The giveaway will close on Tuesday, July 8, 2014 at midnight EST, and a winner will be announced on Wednesday, July 9, 2014.
Ah, yes, disclosure: As you may have inferred from reading that I've eaten at Karen's house and that she is my friend, she is, in fact, my friend. Friendship notwithstanding, my opinions are my own, as always, and Karen makes really good food. Really, really good food. And The Coastal Table is a gorgeous cookbook.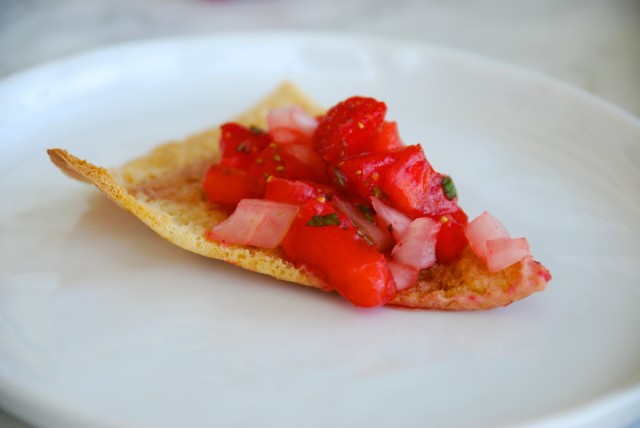 Strawberry Salsa & Sugared Pita Chips from The Coastal Table cookbook
Ingredients
For the Sugared Pita Chips:

2 tablespoons granulated sugar
¼ teaspoon ground cinnamon
3 tablespoons unsalted butter, melted
(2) large (approximately 8-inch diameter) pitas

For the Salsa:

1 pint strawberries (3/4 pound), washed, hulled, and diced
¼ of a small Vidalia onion, finely minced (approximately ½ cup)
½ small jalapeño pepper, seeded and finely minced
1 tablespoon finely minced mint leaves
kosher salt
freshly ground black pepper
the zest and juice of 1 lime
Instructions
Preheat the oven to 425°F.
In a small bowl, mix together the sugar and cinnamon.
Using a sharp knife, carefully slice around the perimeter of each pita to separate the halves from one another.
Place each pita half on your work surface with the inner (coarse) half facing up. Gently brush the melted butter over the coarse surface of each pita half, then sprinkle each round with ¼ of the cinnamon-sugar mixture.
Slice each pita round into 8 pie-shaped wedges, and arrange the wedges in a single layer on a rimmed baking sheet, working in batches if necessary.
Bake the pitas until they are golden brown, 3 to 4 minutes.
Remove the pitas from the oven and set aside to cool for 5 to 10 minutes before serving.
While the pitas bake, assemble the salsa: In a medium mixing bowl, stir together the strawberries, onion, jalapeño, mint, lime zest and juice until just combined. Season with salt and pepper, and serve it forth.
Notes
The salsa isn't just for snacking. Use it alongside grilled chicken or pork to dress up those easy summertime dinners. But if you've been called upon to bring a snack to your next barbecue – this is the one to bring.
http://www.tinyfarmhouse.com/2014/06/strawberry-salsa-sugared-pita-chips-from-the-coastal-table-cookbook-a-giveaway/