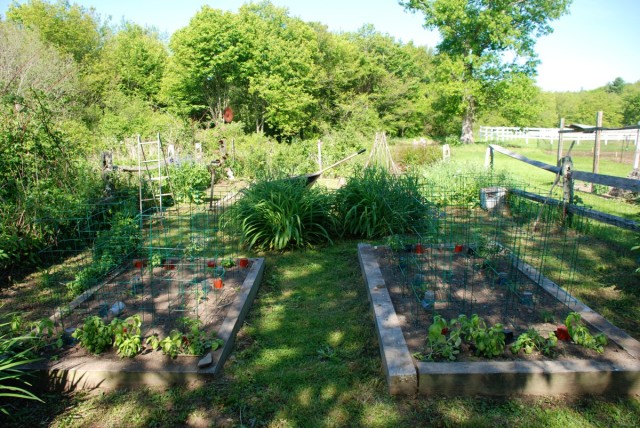 Perfect spring days are like hallucinogens. Hallucinogens that I am happy to take, even while our perennial gardens' progress is proof positive that this spring has been less than kind.
Our southern New England growing season has been set back slightly, a result of the brutal winter, and the still occasionally brutal spring. But a lovely day like today lulls us into forgetting about the cold, rain-soaked days, and too-cool nights when the temperature drops below 40 degrees – like it did, for instance, on May 31 (shouldn't we be past that by now?).
That drop in temperature had me concerned about the basil crop, but our plants survived quite nicely, and we'll soon be enjoying pesto. By the gallon, I think. I got a little carried away and planted 12 basil plants. But we love basil. Twelve probably isn't too many, right?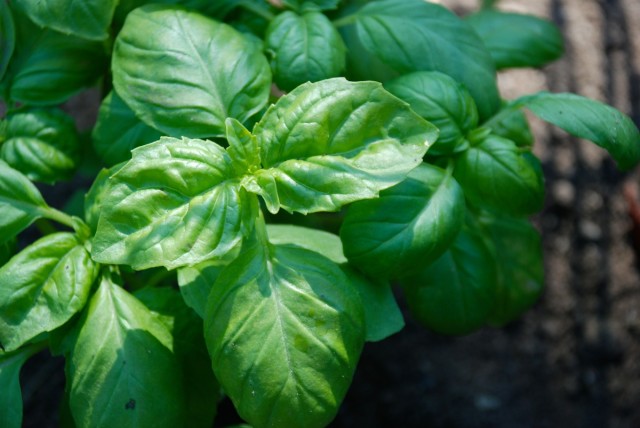 In a typical year (i.e., any other year that we've lived here aside from this year we're in), we can usually tell the date by both the peonies in the garden border, and the poppies in the flower garden in front of the barn. Both usually burst into flower (burst is the proper word, both plants are so exuberant in bloom) on June 1. Not this year, though. From the looks of the peony buds, I'm hoping for June 8. Likewise for the poppies. Hoping.
The asparagus was also late getting started this year, though we now have plenty – about a pound – to harvest each day. With any luck, we'll be able to harvest for another week beyond the normal end of the season this year, though we do stretch the limits in general. Asparagus season is roughly 6 weeks, from the beginning of May through the second week of June here in Massachusetts, but our wedding anniversary is in the third week of June, so we usually harvest the last of our asparagus loot on our anniversary and have it grilled as part of our anniversary dinner. So far, no harm, no foul, and we get to enjoy asparagus from the garden on our anniversary.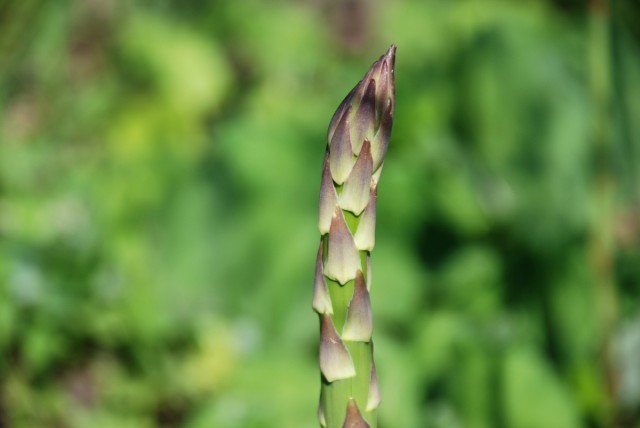 Another wedding anniversary tradition is homemade strawberry ice cream. We have loads of berries coming in now, though all still green. They should be ripe in time to keep the ice cream tradition alive. I hope.
Aside from squash bugs and asparagus beetles, my next least favorite garden pest is the tomato hornworm, one of the most vile creatures I have ever had the misfortune to see – and touch. Just the thought of its suction-cup feet clinging onto my tomato plants as I tear its writhing body off of said plant makes me grimace and squirm. This year, we planted borage in the tomato beds, as it is a deterrent for the dreaded tomato hornworm.
If there's one prevailing emotional theme of this post, it's got to be hope. I sure hope the borage does the trick.
The other theme is "green" (as in "unripe") and/or "stunted". But those are states, not emotions. However, I do see a causal relationship between the states and the emotion.
The newest addition to our garden is an herb bed. We had an herb bed next to the asparagus bed, but it had become a mess, overgrown, and under-tended, so we decided to transplant the few remaining happy-looking herbs – garlic chives, lemon thyme, and sage – and start fresh in a new bed with mostly new herbs, as well as a few annual flowers. I have high hopes for the zinnia and the sunflowers in this bed. I hope that they don't disappoint. I also have high hopes (so many hopes!!! all in one paragraph!) for the lemon verbena, which I'm about to start harvesting for syrup-making. Lemon verbena soda on the back deck, anyone?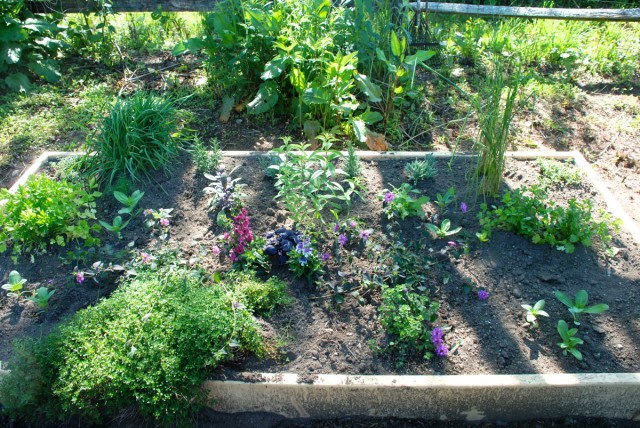 What's going on in your garden this week? I'm waiting for you southern and western and Mediterranean gardeners to make me jealous of the bushels of garden-fresh produce you're already eating. Sigh.