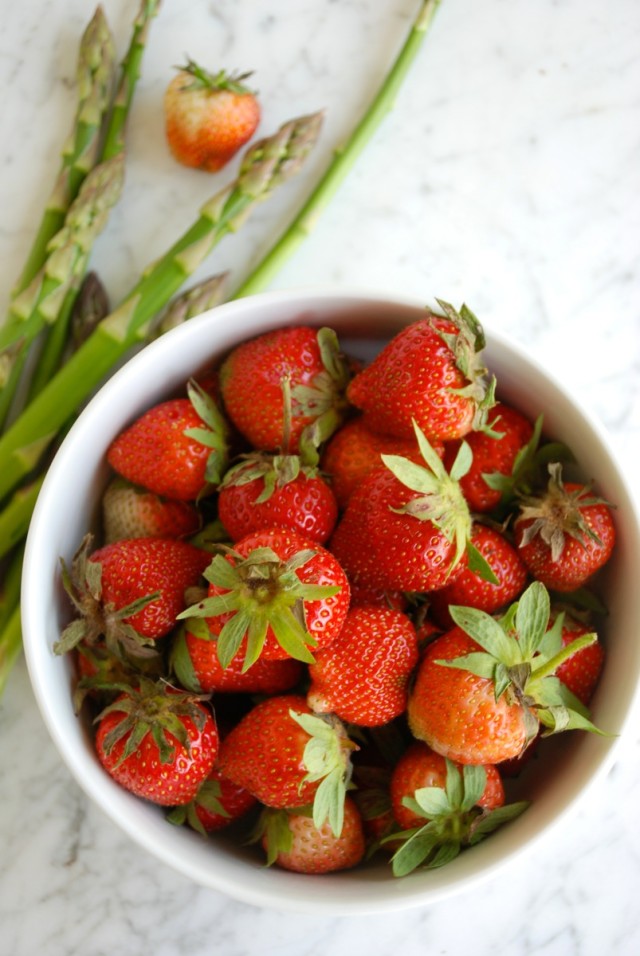 I'm a little tardy with this week's garden update. JR and I took a very quick trip to North Carolina, stayed at a lovely bed and breakfast, ate outstanding North Carolina-style pulled pork (in vinegar and crushed red pepper sauce) and Brunswick stew, then hoofed it around Pinehurst No. 2 for the final day of the men's golf U.S. Open Championship. A pretty sweet weekend, all in all.
When we returned, summer had finally, truly arrived in southeastern Massachusetts – if you're not from this area, we have a number of false summer starts, followed by a succession of 50-degree days (usually including pouring rain and requiring the wearing of sweaters. In June.), then one maybe 70-degree day, then a few more 50-degree days with rain, always with rain, then comes the 85- to 90-degree heat blast for two and a half months.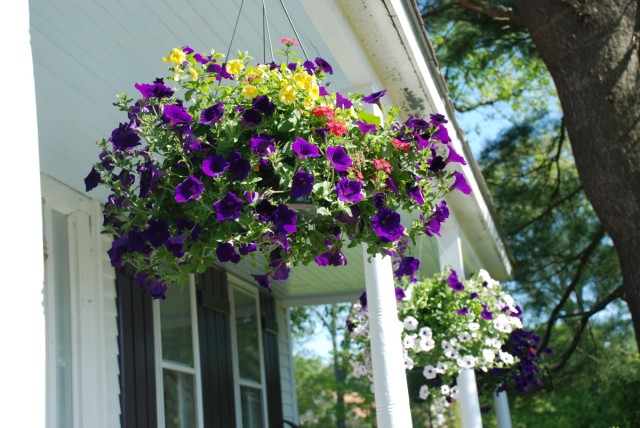 With temperatures now leveling out for the long, slow summer bake, our potted plants were a little less than happy by the time we arrived home from our weekend getaway. What I've started calling "one hundred dollars worth of happy" (they were worth it. every last penny) – the hanging plants on our front porch – were looking a little more like a dollar's worth of droop, as was our newly acquired lemon tree (a positively rational purchase for a New England gardener), and even our garden plants were looking a little tired, despite having received five straight days of rain – and coolness – before we left. Fortunately, generous watering brought all of them back, so I'm still feeling good about the flower investment. So much happy for a hundred bucks.
In other happy news, we finally have our first green tomato. That's not a small victory, my friend. No, no. That is a large, huge, giant victory. Even if the victorious tomato itself is tiny.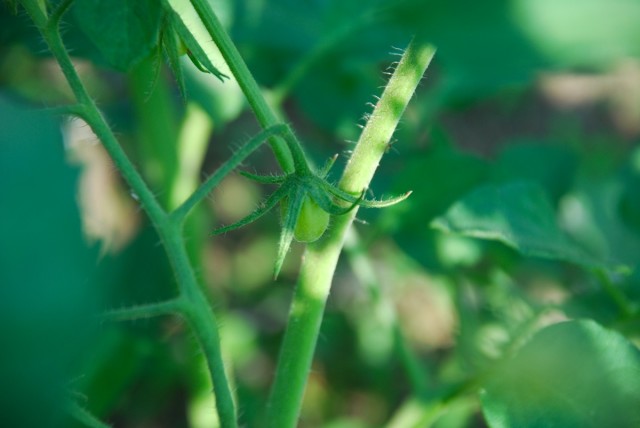 The asparagus is winding down now, and we'll be sad to see it go, though the treasure hunt for strawberries is officially on.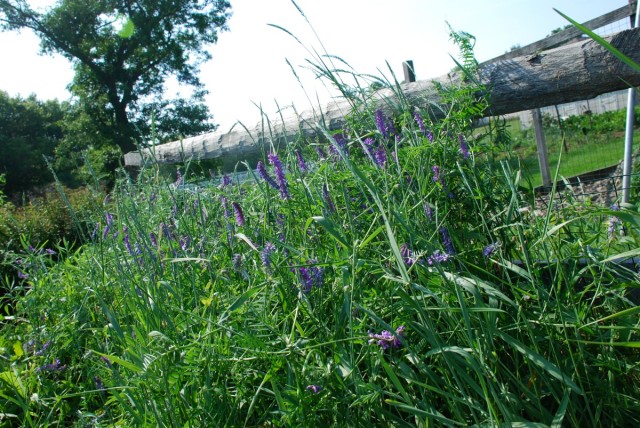 Vetch (the purple-flowered plant above, and yes, that mess is our strawberry patch) from our neighbor's hay field has sown itself in our garden, and our strawberries lie below, amplifying that treasure hunt feel. Under every leaf, a strawberry. It's like they materialize while you turn your back for one minute. "Oh, hey! Yeah, I just ripened up while you were looking at the kale. Fast, huh?"
This spring, rather than dig up the new strawberry plants that had scooted under the garden fence, we let them go, stretching toward the chicken run, now giving us additional hunting ground. And who couldn't use more strawberry hunting ground? Just look at those bad boys.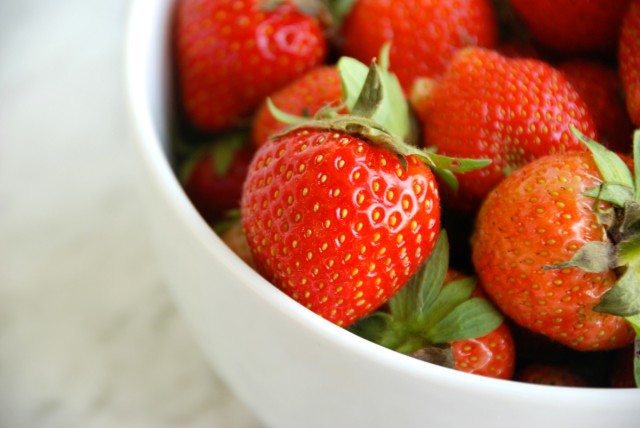 We had thought that the strawberry patch outside the confines of the garden was a little less secure than inside the garden, as rabbits and birds (and probably our resident fat squirrels – who do quite well on spilt pig grain) like to eat them, right up until JR found a nest containing two wild turkey eggs tucked away in the middle of a clump of day lilies. Inside the middle of the garden. Like, the very center, the furthest point away from the fencing on all sides. Clearly not turkey-proof. And having seen one fly straight up to the top of a 50-foot tree in order to roost, I, myself, can vouch for how easy it would be for any and all turkeys to fly over our measly 4-foot fence, which, of course, forces me to accept how silly it was for us to think that wild turkeys wouldn't hang out in our garden.
The hen isn't setting on her eggs, though, so there won't be any babies here – at least not now – and we're definitely clear that our fenced-in garden is not at all safe from wildlife in need of a snack. That's a good thing to learn. It's all about setting expectations.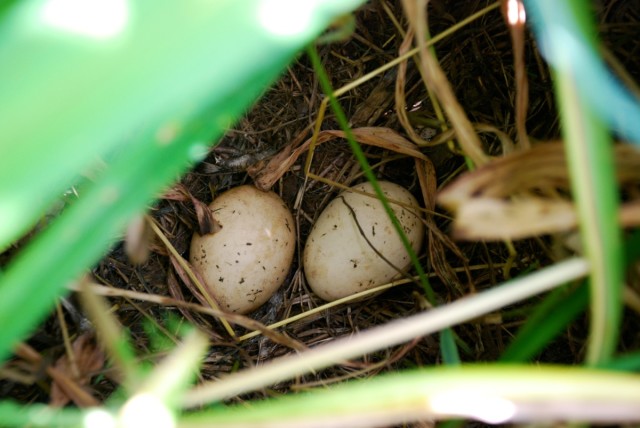 There are a lot of deer in our neighborhood as well, though we don't worry too much about them getting into the garden (dopes! until it happens, we'll just learn one lesson at a time), as you can see behind the greens bed (and the sunflower that JR made), there's a lot of bramble on the outside of the fence, and this has served as a deterrent for the deer who graze in our neighbor's horse paddock, just 50 yards from our garden. I used to think the bramble was unsightly, but after years without a deer disaster in the garden, I've decided to embrace it. It is, after all, all natural, and it works. At least for now.