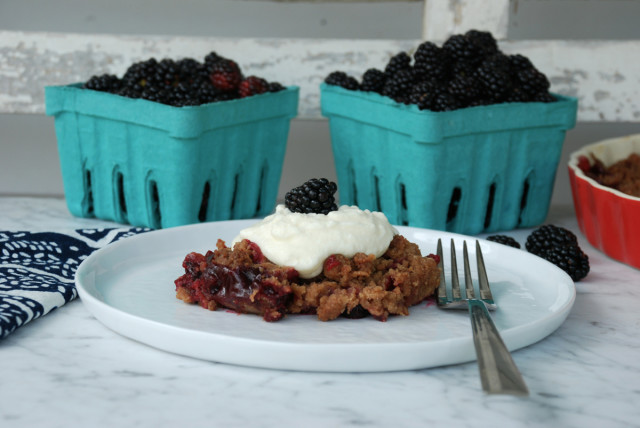 You know how you don't arrive at someone's house without a gift – food or otherwise? Yes, well, my dear friend, who I've known since she was four and I was five, has been visiting her mother in New Hampshire from her home in Ireland this summer.
Obviously, as she lives in Ireland, and we live in New England, our get-togethers are less frequent than we'd like, so on this visit, JR and I arrived at her mother's with toys for the children, a giant potted zinnia – an absolute riot of zinnia, in fact – for her mom, and a bit of wine and a blueberry crumble for she and her husband. And for us, of course. We like wine, too.
They made such a meal for us on the night of our visit that no one was able to dig into the crumble afterward, leaving it for breakfast the next morning, which, truth be told, is almost the better use for fruit crumble.
After crumble and coffee, we visited Yankee Magazine's barn sale, then headed home, a bit rougher for the sharing of wine the night before.
The next morning, I received a text.
"Must get blueberry recipe as matter of urgency. There was a row at breakfast over the leftovers."
Now, I saw and understood the use of the word "urgency", but my urgent and her urgent diverged slightly. I did make a blackberry crumble – this blackberry crumble – and put it on the list to share with you – and my dear friend – here.
But then there was the small matter of the perfect beach weekend last weekend, and evening plans with friends, and, on Sunday, as I floated in the Atlantic under a bright blue, puffy-clouds sky – toes out of the water, framing the lifeguard chairs (that's a great little diversion, by the way. If you haven't ever tried it, you must – frame up all of the things on the beach with your feet while you float about. You'll feel so much better about everything in the world once you do.), I thought, "That post can wait. I've got floating to do."
But matters of urgency, even if they involve something as seemingly non-critical as a fruit crumble, are still matters of urgency. I received another text:
"Hey. Is your blueberry thingy online?"
Oh, thank goodness. It was. It is. It's here.
Turns out, the gift of blueberry crumble had become more of a burden. She was now being badgered by her family to make one. A kind of forced baking exercise on a hot August day. Not exactly the intended result.
The now-burdensome crumble had been adapted slightly from the original recipe that appears in my cookbook, which calls for one cup of sugar in the filling.
As my friend and her husband are European (or one is and the other is a multi-decade expat), and Europeans don't groove on super-sweet desserts, I had adjusted the sugar down in the crumble that started the row that started the on-demand crumble baking.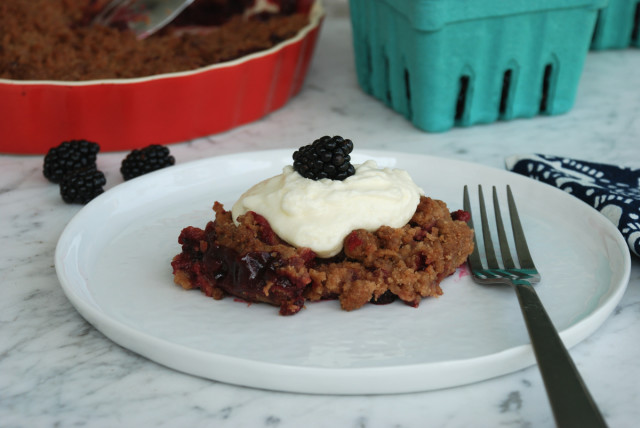 I texted her back:
"For the filling, cut the sugar to ½ cup.
Use the zest and juice of one lime in place of lemon.
Increase the ground cinnamon to 1 teaspoon.
Crumb topping remains the same."
I found that I rather liked that change myself, first time out with it. And I then made this blackberry crumble – with a small percentage of the total berries from our blackberry glut – and even with the tart nature of blackberries, I liked the less-sugar version.
Maybe age is dulling my sweet tooth? That would be a fabulous effect of age, but not nearly fabulous enough to offset the increasing pile of gray hairs on my head.  Could we get some sort of calculation going of fewer sweet-sweets ingested, to waistline size decrease, to total percentage of gray hairs to brown hairs (and fake blonde-ish hairs), and analyze the benefits of aging that way? Just a thought.
My friend ended up supplementing the blueberries with peaches. Another text arrived just before dinnertime:
"Do peaches go with blueberries?"
"Yes. With blackberries, too."
"Must I peel them?"
"Not if you don't want."
"Of course I don't want. I don't even want to bake this!"
Around 10pm, I received another text:
"Peach blueberry thingy was smashing."
Whew. I suggest you try it. Whether with more sugar or less, I think it's worth the burden.