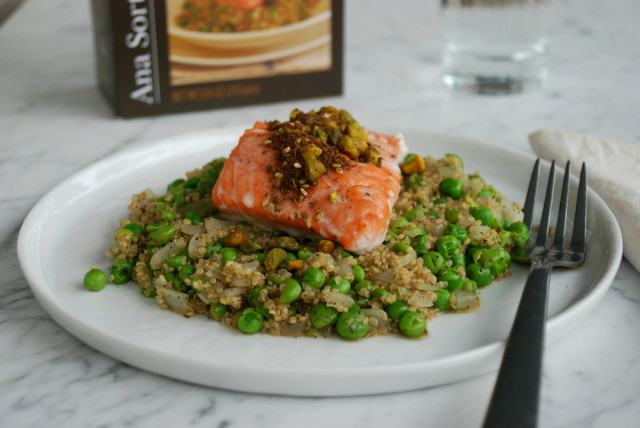 This drawing is now closed. Thanks to everyone for entering, to Ana Sortun for the fun and informative interview, and, of course, for the Chef Sets. Congratulations to Randi, Tierney, and Coupon Boss!
So, what's your favorite herb or spice? Fennel seed is probably mine, followed closely by basil, then there's a tie for oregano and thyme. I do also like lemon verbena a lot, for the record.
What that dictates those preferences (with the exception of the lemon verbena) is my love of Italian cuisine (had you not guessed that was the reason). And there's nothing wrong with that, but holy cow, there is a whole world of spice out there.
One person who knows an awful lot about spices is Ana Sortun, James Beard Award-winning chef , owner of the critically-acclaimed (see above mention of James Beard Award-winning chef) Oleana – which is fabulous, and if you happen to be in Cambridge, Massachusetts anytime soon, I suggest you make a reservation STAT – and co-owner of Sofra, Sarma, and, with her husband, Siena Farms.
Ana came to Boston from her hometown of Seattle after wrapping up culinary school in Paris. She spent a bit of time in Spain and in the south of France, and, once settled here in Boston, began cooking Mediterranean food.
About a decade into her time here in Boston, right around the same time that she started thinking she would open her own restaurant, Ana was offered a cuisine-changing opportunity: The chance to go cook with two women in Turkey over a two-week period. She spent a week with each woman, in two different cities, sampling the food and learning about the local cuisine, an experience that became the turning point in her culinary path. Those intensive cooking lessons, and, in particular, the use of spices, drew Ana into the world of eastern Mediterranean food. Shortly thereafter, Oleana was born, showcasing these flavors – and winning rave reviews.
The beauty of using herbs and spices, as you probably know, is that they lend a ton of flavor without the need for large amounts of of fat. By nature, spices and herbs help us to make healthful, flavorful dishes. The difference in flavor that occurs simply by adding herbs or spices is remarkable – just recently, while out to dinner with family, I was exhorting them to "eat the leaves! Eat the leaves!" The leaves were mint and basil, and their flavors enhanced everything else on the plate.
This is no small skill to hone, this understanding of how to create bursts of flavor with spices and herbs, so it's not surprising that while Ana was sharing her passion for Turkish cuisine through Oleana, word got out that she was pretty talented with spices. Yeah. Pretty talented, indeed.
Ana was then approached by a company that provided healthful meal kits to people with medical conditions, like diabetes. For many of these people, cooking was a skill they didn't possess, or they lacked confidence in, but they needed to get cooking for the sake of their health.
As Ana said when I spoke with her, the cooking kits – Chef Sets – were a tool to help people who don't know how to cook make quick, easy, flavorful, healthful meals.
"I took it on because a.), it seemed challenging, and b.), also because if it could help people to develop confidence in the kitchen, I wanted to do that."
The Chef Sets were not originally intended to become a retail item, but then people started requesting them, and they made their way to Whole Foods Markets, first, to a store in Cambridge, Massachusetts, and eventually into stores throughout the Northeast region.
I first noticed Ana's Chef Sets at the Providence Whole Foods, where I shop, and then I saw Ana cook with them at Whole Foods' Earthfest Live Tent this past May. When I tell you that the entire wedding-sized tent filled up with the most incredible aromas from Ana's Chef Sets, I'm not joking. It was intoxicating (and it's pretty much that way as soon as you open up the spice packets in the Chef Sets in your own kitchen – such wonderful smells).
Ana demonstrated how to cook the Chef Sets, added three fresh ingredients – each Chef Set calls for the addition of 3 fresh ingredients, all very common, like onion, frozen peas, carrots, feta cheese, cucumber, and a protein – and all of the Chef Sets can be modified to be vegetarian – and served the eager audience. We were not disappointed.
At Earthfest, Ana also spoke about different spice blends used in the eastern Mediterranean. For me, an Italian cuisine-influenced person, it was impressive to hear her explain that Italians get their spice from wine pairings. For instance, a rich, Piemontese pasta dish (tajarin with sage and butter, or a meat ragu, for instance) is balanced by the spice of Barolo – this sounds so obvious once stated, but it was like a light bulb went off for me. Also, I was practially drooling over the scent of her Couscous with Moroccan Spices and Almonds at the time, so it was like a double-whammy: education AND deliciousness.
One of the star herbs in Ana's Chef Sets is dried spearmint, which we discussed at length, because, selfishly, I wanted more information on its use in savory dishes. I have a ton of it growing in my yard – safely away from the vegetable garden, though, as it can and will take over.
As Ana put it, "we know it as mint tea, but it's used in Turkey like the Greeks and Italians use oregano." She then shared an Italian dish that features dried spearmint: salt-roasted new potatoes. "They cook them until the potatoes are leathery and shriveled, then toss them with olive oil, garlic, and tons of spearmint. Because they're salt-roasted, they suck up all of that flavor." You know I'm trying this soon, right?
We also discussed sumac, one of Ana's favorite seasonings.
"Great-quality sumac is life-changing. It's got a sun-dried, raisiny quality, like a sundried lemon, with some caramelized flavor. It can be smoky. It's a spice that really shows its terroir. It's bright and fresh with a beautiful crimson color, and you can use it with a heavy hand on anything – it's so versatile," Ana said.
Ana's sumac is imported from Lebanon, and they usually have it in stock at Sofra, however, it's also used in her Chef Sets in the za'atar spice blend, so you can sample it there as well.
When Ana was creating the Chef Sets, it was a bit of a cooking-in-reverse project. Rather than start with what's in season and building the dish up from there with grains, spice, protein, and garnish, she began each dish with the spice and the grain, then developed each recipe so that the fresh ingredients would be easy for anyone anywhere to locate. There are four Chef Sets: Bulgur Pilaf with Turkish Spices and Pistachio, served with ground beef (or lentils), Couscous with Moroccan Spices and Almonds, served with chicken breast (or chickpeas), Quinoa with Crushed Pistachio and Za'atar Spice, served with salmon (or black beans), and Quinoa with Greek Herbs and Raisins, served with shrimp (or white beans).
As Ana put it, these sets are just the bones – you can really modify them in any way you like, substituting different vegetables or protein to create what you like. You could use the Chef Sets primarily as a side dish and grill meat or vegetables to go alongside, they're a great alternative to take-out, and one woman even reported back to Ana that she hosted a dinner party for 35 and served Ana's Chef Sets to her guests.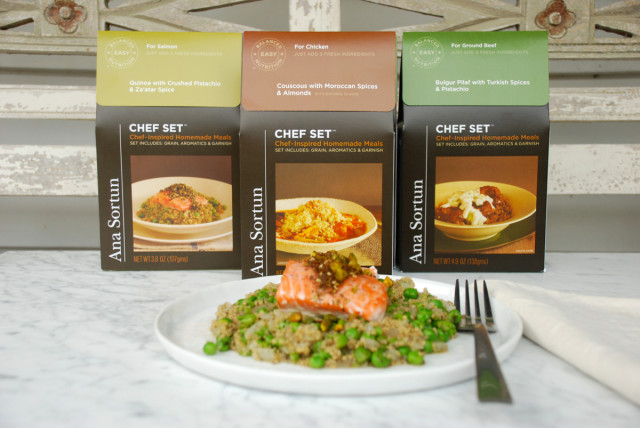 So that you can try Ana's Chef Sets out as well, she has generously offered to give away a full set (all 4 varieties of Ana Sortun's Chef Sets) to 3 tiny farmhouse readers.
To enter, do any (or all) of the following. Each will count as one entry:
Leave a comment below with your favorite herb, spice, or spice blend (and please feel free to share how you like to use it as well – I love to hear these things!).
Follow Ana (@chefsetmeals) and me (@poorgirlgourmet) on Twitter and let me know that you've followed us in the comments below. Or let me know that you already follow us – that works, too.
Tweet to us with your favorite herb, spice, or spice blend (also how you use it, if you're so inclined). For instance: "Hey @chefsetmeals and @poorgirlgourmet, I'm totally mad about sumac! I love it on everything!"
The giveaway is open to residents of the United States only, and will close on Wednesday, October 8, 2014 at 11:59pm EST. Winners will be determined by random drawing.
The winner will be announced on Thursday, October 9, 2014 by 12:00pm EST.
Best of luck, and thank you for entering!
Full disclosure: I was provided 4 Ana Sortun's Chef Sets free of charge along with a gift card to Whole Foods Market in order to purchase the fresh ingredients required for preparation. As always, all opinions are my own.