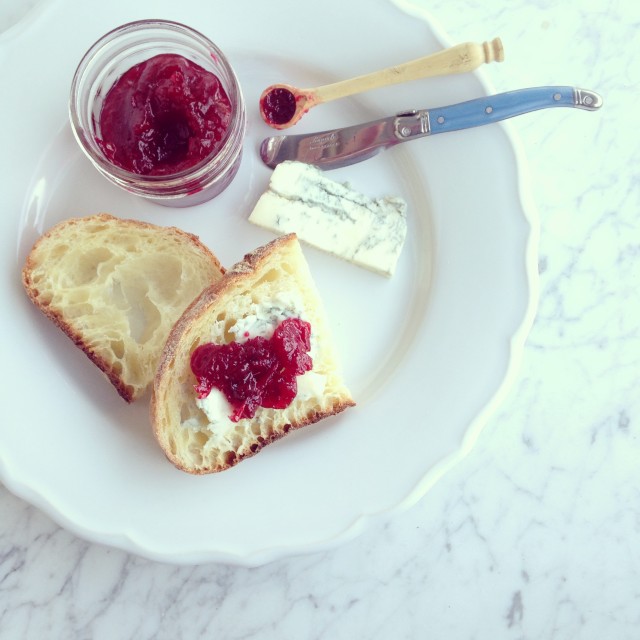 The weekend before Thanksgiving is always a bit hectic – for all of us – and this one was no different, though between the food preparation and tidying of the house (or, in our case, the studio in the barn, as we're hosting our family for barbecue in the barn the night before the feast), we were spoiled with one last warm(ish) day, a glimmer of spring, almost, if not for the piles of leaves on the ground, and the occasional whiff of rotting leaves and warming soil – the certain inspiration for patchouli, so indistinguishable from one another as they are – and, then, this cranberry sauce on the stovetop, I might have been forgiven for thinking that the daffodils were only days away.
Instead, it is Thanksgiving, the most ideal holiday – to my mind, at least – that is only days away. Just days before we gather with family, stuff our faces, and tell ridiculous stories into the wee hours – some of those stories may even be new, if we're lucky (or unlucky, depending upon the new story content), some tried and true, and important to retell, particularly if there's a good/embarrassing punchline of an outcome.
This year, instead of cooking the turkey in a hole in the ground, as we've done for seventeen or eighteen years prior (we've lost count. We're that old.), we're cooking two turkeys on the rotisserie at JR's niece's house. Last weekend, we tested their outdoor grill, during the week, JR and our soon-to-be nephew-in-law did the necessary troubleshooting, and on Tuesday, we'll brine the turkeys before bringing them back to JR's niece's early Thursday morning.
Ours is not an innovative Thanksgiving dinner. We all make our same dishes each year – this is usually the one time per year that we have them, with the exception of Welsh Rabbit and JR's mother's carrot casserole (both of which we have at Easter as well).
My list varies a bit from year-to-year, though this year (as always), I'll be making my mother's mushy stuffing. My variable dish is always a vegetable dish, and this year, it's these Brussels sprouts, though this year, rather than store-bought bacon, I'll be using the brown sugar-fennel seed cured bacon that JR and I smoked in our backyard – using pork belly from our litter of pigs.
With the pear-ginger chutney done, the apple cake for Wednesday out of the oven, and a triple batch of barbecue sauce stowed away in the fridge (that recipe is in my cookbook, hence, we're linkless), there was only the cranberry sauce left to make. But it was nice out, and I wanted to be quite quick with ye olde cranberry sauce so that I could enjoy a bit of that warmth. Spotting a couple of Navel oranges in the fruit bowl, and having a bit (ahem) of honey on hand, I thought I'd make a three-ingredient cranberry sauce. But then I didn't have quite a cup of orange juice, so I augmented the oj with water. Then I got a little nervous that I hadn't made the sauce sweet enough (you'll understand where this comes from when you learn that every year, in addition to homemade cranberry sauce, I always bring a tin of cranberry sauce as well – just to be sure that there is the cranberry sauce of our youth available when the sauce I've made ends up too tart for some). So I added sugar as well. I probably could have gone ahead and kept it unprocessed with honey in place of the sugar, but – as mentioned – I was fatigued and needed to be done with this weekend's Thanksgiving prep, and therefore, my judgment was a bit clouded.
You'll forgive me, I think, once you taste this sauce – sweet, but not too, and good with cheese (try Gorgonzola or goat) as well as turkey.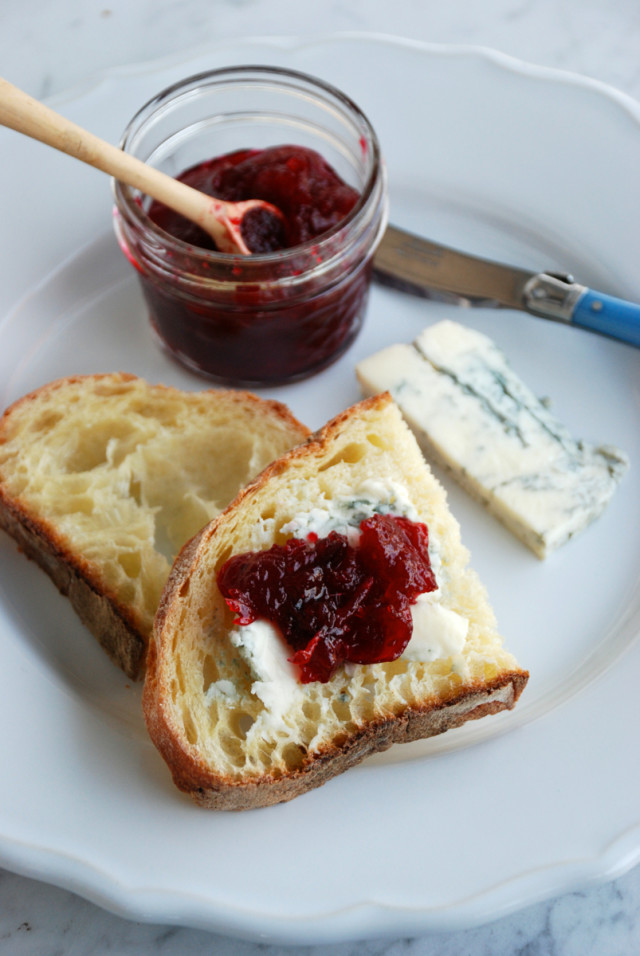 Easy Orange-Cranberry Sauce
Ingredients
1 pound cranberries, picked through and rinsed
the zest and juice of 2 Navel oranges (approximately ¾ cup orange juice)
water (to combine with orange juice to total 1 cup total liquid)
1 cup granulated sugar
½ cup honey
kosher salt
freshly ground pepper
Instructions
In a large, non-reactive saucepan, combine the cranberries, orange juice and zest, water, sugar, and honey. Stir well, then bring to a simmer over medium heat.
Cook, stirring frequently, until all of the cranberries have burst, 20 to 25 minutes. Season with salt and pepper, stir well, and allow the sauce to cool slightly.
Transfer the sauce to an airtight container and store in the refrigerator for up to one week. You'll have a sauce that is chunky, but still has that familiar jarred cranberry sauce color – if not the tin can indentations.
Notes
I made this for immediate use, so it hasn't been tested for canning and long-term storage.
To make the OJ-plus-water combination easier to measure, squeeze the oranges into a liquid cup measure no smaller than 2-cup capacity. Add enough water to the orange juice to reach 1 cup total liquid.
http://www.tinyfarmhouse.com/2014/11/easy-orange-cranberry-sauce/