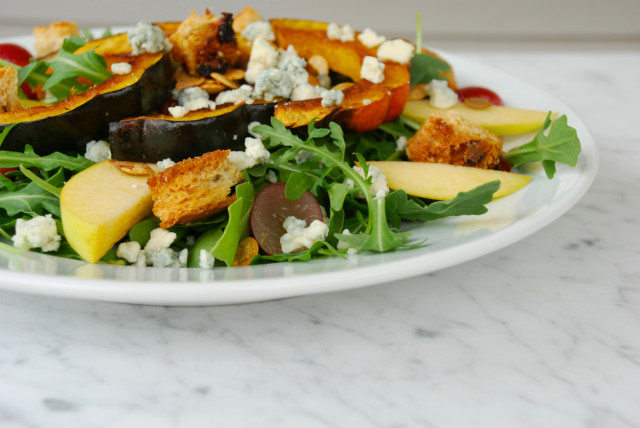 My friend Aimee from Small Eats recently posed a question about food phases. She was talking specifically about her Thai food phase, having posted a photo on Instagram of Meatless Kabocha Curry (the recipe for which is on her site, btw).
This whole mention of food phases started me thinking. Aside from a year or so during college when I was vegetarian, I haven't had too many food-world sanctioned food phases, or so I thought. No vegan, no paleo, no Atkins. Not even a Thai food phase. Though the short-lived Thai food restaurant in my hometown did know my order before I'd say it when I'd call it in – daily – from my bartending gig way back in the early 1990s ("Oh, hi Amy. Chicken Cashew Nut again today?" "Um, yeah. Thanks.") – so it was starting to look like I was a little bit wrong with this no-food-phase assumption I had made. Maybe I have had a few – or, um, many – food phases.
So yeah, more contemplation pretty quickly revealed that I have had quite a few specific food phases that border on the obsessive (not that this says anything about me personally, or anything about a particular personality flaw that I may or may not have, of course).
In high school, there was my Mrs. T's pierogies phase. Then there was the ice cream-only phase (I did not eat any other food aside from ice cream – in a sugar cone – for about a month. Fortunately, I was also playing field hockey at the time, so aside from the obvious nutritional problems, I didn't gain any weight – in fact, I lost some. Still, not advised).
Now, fortunately, my food obsessions are much more healthy and wholesome in nature. Last winter, it was this Blood Orange and Goat Cheese Salad that I ate every weekday for months. I expect I'll do that again this winter once Blood oranges are back in season.
The year prior, it was this Sicilian-style Roasted Cauliflower. Eat it hot, eat it warm, eat it at room temperature, it's all good – and great for weekday lunches.
This autumn, my new salad-that-cannot-be-eaten-enough is this one. Roasted Squash with Apples and Grapes – served with arugula, or mixed baby greens of any type.
The first time I made this, I used acorn squash and honeycrisp apples. Then we acquired a bushel of butternut squash, so butternut squash it is – for a few more weeks, anyway.
I've tried mixing it up with leftover roasted sweet potatoes (fab), adding just a bit of prosciutto (yes, also fab), and have switched out the squash seeds for walnuts – turns out, I prefer the walnuts.
It doesn't look quite as lovely in my to-go container for work, but it still tastes just as good – so much so that I don't see any reason to make a different lunch for a while yet to come.
Like, probably not until the Blood oranges are back.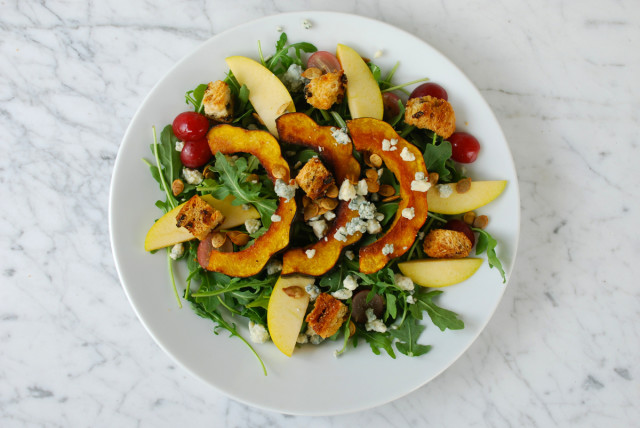 Green Salad with Roasted Squash, Apple, and Grapes
Ingredients
Giving it to you loosely here, adjust your portions of squash, fruit, cheese, and nuts as you see fit:

1 medium acorn squash or peeled butternut squash, seeded, sliced crosswise into ½ inch rounds (see note)
1 tablespoon olive oil
¼ teaspoon thyme
kosher salt
freshly ground black pepper
Arugula or baby greens
½ Honeycrisp apple (or any other apple of your choosing/desire), sliced into ¼-inch pieces
10 or so red seedless grapes, sliced in half lengthwise
1 to 2 tablespoons Gorgonzola crumbles
1 tablespoon toasted squash or pumpkin seeds or walnuts or pecans or almonds or pine nuts or hazelnuts
a smattering of homemade croutons if you have them (completely optional – see note)
Instructions
Preheat the oven to 375°F.
Toss the squash slices with the olive oil and thyme, season with salt and pepper, then transfer to a large, rimmed baking sheet and arrange in a single layer.
Roast until the squash is golden brown, approximately 40 minutes, turning the squash slices mid-way through the cooking time to insure even browning.
Allow the squash to cool slightly before assembling the salad.
Arrange a bed of greens on your plate. Top with the roasted squash, apples, grapes, Gorgonzola, nuts (or seeds), and croutons.
I skip the dressing here (there's so much going on!), but if you would like to dress the salad, a drizzle of saba would be delish, as would a drizzle of good olive oil, or a balsamic vinaigrette.
Notes
If using acorn squash, the skin can be eaten, so no need to peel. Simply trim the stem end and the base to avoid unpleasant crunch.
In these photos, the salad is served with raisin challah croutons. To make croutons, preheat the oven to 350°F. Cut stale bread into 1-inch cubes, then toss the cubes with a drizzle of olive oil (you don't want the cubes soggy, just lightly coated). Transfer the bread cubes to a large, rimmed baking sheet and bake until they are golden brown, 12 to 15 minutes.
http://www.tinyfarmhouse.com/2014/11/green-salad-with-roasted-squash-apple-and-grapes/