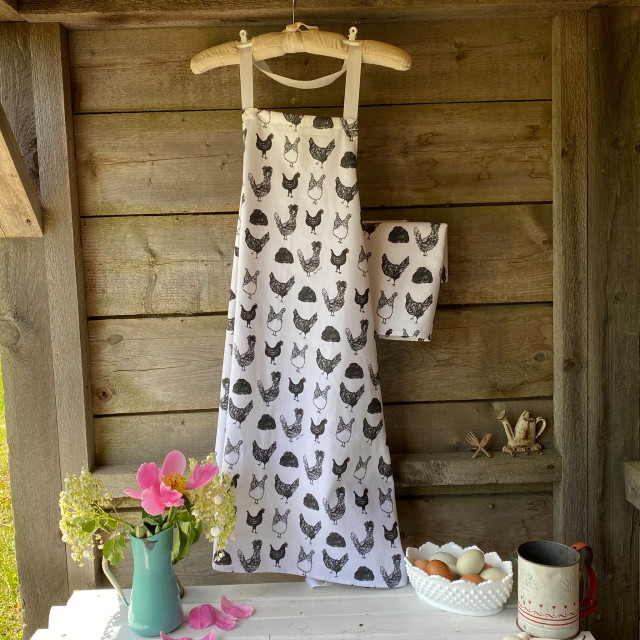 Hi there! I hope that you're doing well, and that you and your loved ones are staying safe and staying well.
Having had all this time at home, I finally have a chance to update you on something I've been working on for quite a while – a line of eco-friendly kitchen linens and paper goods inspired by life at our tiny farmhouse – and, as you can see in the photo of the apron and tea towel above, the chickens made the cut! I'd been selling mostly at markets in Boston and Providence, and with everything that we're all collectively going through right now, it seemed like the right time to move it all online.
Those are five of our 29 (!) chickens, who were kind enough to pose for me and to let me draw them. Well, okay, they didn't actually sit while I drew, they sat just long enough for me to take a photo and give me the side-eye while I did – THEN I went and drew them.
If you'd like to see what I've been up to, please head on over to amymccoy.com and check out the shop.
Because you've been hanging here with me for YEARS, I think it's only right that you get some cake off your first order, so just use FOODFRIEND15 at checkout, and you'll get 15% off your first order.
Speaking of cake! There's some now!
I've been shooting the tea towels and aprons in a hand-me-down mobile chicken coop that we inherited from one of our neighbors. It's taken a while to shoot everything in what I've been calling The Shoot Coop, and the tea towels, aprons, and I share it with some ants (they missed out on cupcakes and star-shaped sugar cubes, but they did seem to enjoy the watermelon that was in another shot!). There are also a number of bumblebees in The Shoot Coop, so I spent a fair amount of time dodging pollen spills and blowing tiny wood shavings off of the goods – the bumblebees were busy collecting food AND boring their little homes into the walls the whole time I was in there, so please don't mind the occasional bit of pollen you'll see – like on this cake tea towel below!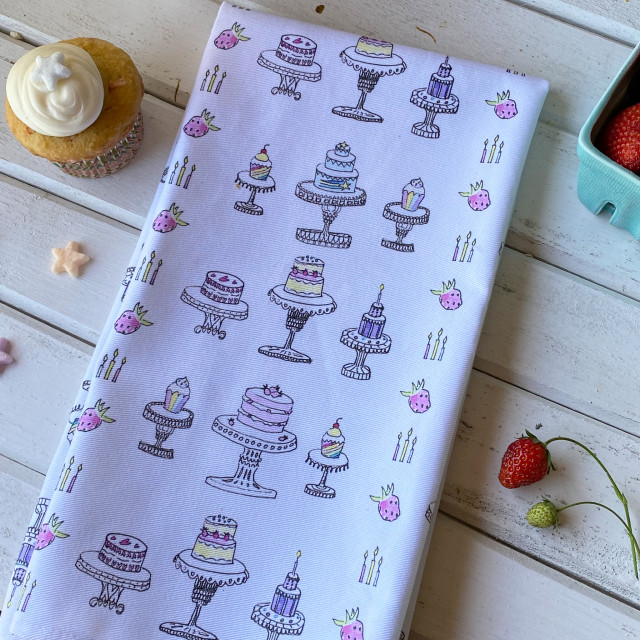 I'll be adding some recipes and such to the tiny farmhouse shop site as time goes on, so please swing by there from time to time, and please feel free to email me with questions, comments, deep thoughts – whatever you like, at hello@tinyfarmhouse.com.
Thank you, and stay well!
xoxo!