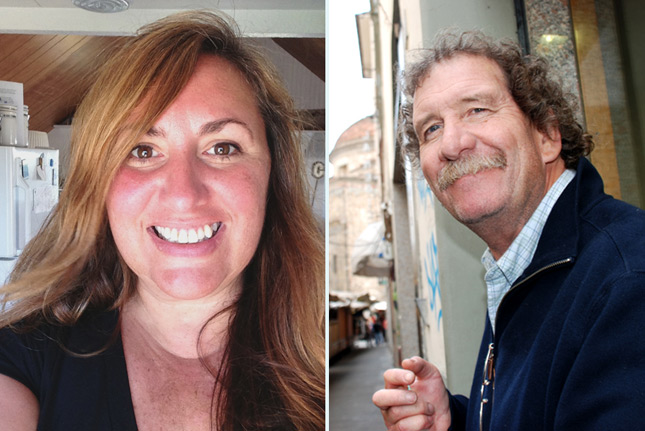 Ours is the typical college-aged bartender woman meets middle-aged golfer-farmer man (recreational golfer man – the bartending gig was at a local golf course), they fall in love, but only after a few years of on-again, off-again tumult, until one day, approximately 13 years after their first date (if you consider watching Hale Irwin win the U.S. Open playoff on tv a date), they get married in Tuscany, surrounded by family and close friends. A classic storybook tale, indeed.
Today, more than 20 years after that first date, we live in the tiny farmhouse (ah-ha!) that JR had bought when he was in his mid-thirties, and have continued to expand the farming endeavors here over the years.
JR, as you may have inferred, is the golfer-farmer, now more farmer than golfer. At 10 years old, during a turbulent time in his family's home life, he spent his spare time volunteering at a local farm, helping the farmer tend to chickens and cows. After 6 years of helping out on the farm, JR knew that he would always want to raise animals.
Once he settled into the tiny farmhouse, he began raising chickens and pigs – which he named Lunch and Dinner – then expanded to Black Angus cattle.
After I showed up on the property with my toothbrush and a suitcase, he scaled back on the cattle, we expanded the vegetable garden, began keeping bees, and shortly after we were married in 2003, added laying hens to the mix.
We continue to raise hens for eggs, keep bees, and have dabbled in raising meat birds, both chickens and heritage breed turkeys.
We still harvest a slew of vegetables from our garden each year, starting with greens and asparagus in the spring, tomatoes, cucumbers, and zucchini during the summer, winter squash and beans in the autumn. To increase the fruit production on the property, we've planted apple trees, blueberry bushes, and a cherry tree, and in early 2012, added Gloucestershire Old Spots pigs to the menagerie.
I am the former bartender whose memories of family dinners at my Nana's Italian-American restaurant ingrained in me a sense of meals as grand social event. They may have been far more normal – and therefore less grand – to the adults at the table, but this proved to be the foundation for a lifelong appreciation of good food and good company.
My love of making food also originated at a young age, when, at age six, I learned to make jam from a woman whose horse farm I visited each summer in the mid 1970s. During those visits, we'd walk the stone-walled perimeter of her horses' fields, plucking boysenberries from the brambles, then return to her kitchen to cook the berries down, sterilize the jars, and seal up the taste of summer in tiny Ball jars.
For years, my kitchen duties at home were relegated to table setting and preparing the salad, until my teens, when I began developing recipes, primarily copying the food that my Nana and mother served us. The first recipe I made was a recreation of my Nana's red sauce, and later, in college, I recreated my mother's calzones to serve my friends who were staying at my house after a Grateful Dead show. Because who wouldn't need a giant calzone after a Dead show?
It wasn't all Dead shows and cooking up cures for munchies in college, though. My arts and communications studies led to a career in broadcast production, producing graphics and promo packages for A&E, CBS Evening News (for both Katie Couric and Dan Rather's newscasts), Discovery, History Channel, and ESPN, to name a few.
While my career was in broadcast, my passion was always food, wine, and art, and even more so if any of those things were Italian. I began licensing my photography – primarily Italian landscapes – for home décor and note card use, worked to learn all that I could about Italian food and wine (it's still not enough – so much to learn, so much to learn), and continued developing recipes, though now influenced by travels to Italy and the experience of growing our own food.
In 2008, my broadcast work dried up, and I launched the blog Poor Girl Gourmet. The blog led to book, and in 2010, "Poor Girl Gourmet: Eat in Style on a Bare-Bones Budget" was published by Andrews McMeel Publishing.
Today, we are small-scale farmers, obsessed with food, of course, but also with living well and surrounding ourselves with the people, food, places, experiences, and, yes, even things that we love. While JR handles the bigger farming tasks, such as building pig sties, I share livestock feeding and watering responsibilities with him, manage the gardening, and, of course, do the cooking.
Here, we'll share our journey as beginning small-scale farmers, along with seasonal recipes, our experiences homesteading, gardening, traveling, entertaining, and decorating. JR doesn't do quite as much of the decorating, but he is a darned good furniture maker, so he isn't totally removed from it either.
Welcome to our tiny farmhouse. We're happy to have you here.