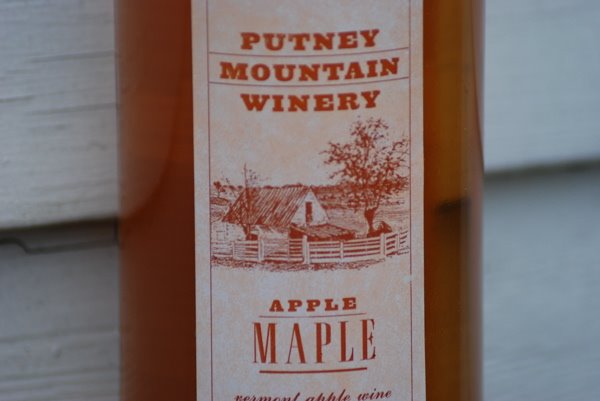 I keep getting distracted from this wine post, and it is a great injustice to the wine, let me tell you. Yesterday it was the savory pie crust, which, I assure you, you cannot live without. Today it's been espresso that's kept me from the blog. I've been out of my favorite espresso for about a month and have been subsisting on some long-since stale espresso that has actually clumped onto itself such that I have to chisel it apart to get it into the espresso maker. Like sugar that sits around for too long and accumulates moisture and then forms those sugar rocks. You know the ones. So I've been contending with the stale espresso-rock coffee for about a month, and then I found a coupon to my favorite Italian market in Providence, which gave me just the reason to head down there and purchase some items for a meat ragu, as well as some mortadella (boy, do I love that stuff), and my favorite espresso, Danesi. Danesi has a bit of a mocha taste, which perhaps makes me an espresso wimp, but it is so smooth that I don't care if you do call me a wimp.
As soon as I got home, I poured the contents of the bag into my coffee jar, and then stood sniffing the bag while waiting for my long-anticipated Danesi espresso to brew. It was so good – both the actual drink and the smell of the bag – I almost couldn't tear myself away long enough to get to the computer and tell you about Putney Mountain Winery's Apple Maple wine, but guilt and the realization that you really do need to know about their wines got the better of me, so here I am. One last thing about the Danesi – and then I'll talk wine, I promise – for just over the cost of one latte in a store, I get a bag of espresso that lasts about three weeks, having two cappuccino-sized cups per day. It cost $4.19, and I save whatever hot espresso I don't drink (refrigerated, of course) and will have iced latte when I don't have time to brew hot. Don't get me wrong, I like the convenience of Dunkie's, but when I make coffee at home, I am always guaranteed that it will be exactly the way I like it. And that's important when one is starting out her day.
Now, let's start out the wine portion of this post, shall we? JR and I had previously sampled Putney Mountain Winery's Apple Maple and Cranberry wines at the Dorset, Vermont Farmers Market. They were surprising in that they weren't cloying, and I didn't immediately dismiss them with my wine snob nose up, as I have been wont to do with other non-grape fruit wines. JR and I decided that on our next trip to Vermont, we would stop at the winery and pick up a few bottles to sample and so we did just that this past weekend.
Grapes seem all but created for the purpose of producing wine. Within each grape are all of the basic components necessary for fermenting into a balanced alcoholic beverage, with tannins in the skin and the seeds, sugars in the pulp that will ferment into alcohol, and yeasts on the skin that assist in the fermentation. Other fruits do not have the advantage of being a mini-fermenting machine that will produce balanced flavors as does the grape, and, in the European Union, at least, wine is defined legally as a beverage made solely from grapes.
Putney Mountain Winery's winemaker, Charles Dodge, has done a remarkable job, then, in creating a smooth and balanced Apple Maple wine. This is a wine that each time I sipped it, I exclaimed, "No – really, I really like this wine!" It was almost as though I couldn't believe that I would enjoy a fruit wine to this degree (she says, with her wine snob nose down now). It is light, refreshing, and though it smells like apple juice (or to be fancy, "has a nose of apple juice"), and then apple pie (which we know I love), it does not at all taste like apple juice. Nor apple pie, for that matter. At one point, I said, still somewhat surprised, "I feel like a jackass even saying it again, but this is really good." And it is. It's just acidic enough, it's bright and refreshing, and I really do think it's a perfect Thanksgiving wine. Particularly with the low alcohol level – 11% – and the fact that it is semi-dry. Which is to say, semi-sweet. So it will cut through the richness of the dinner, which you know you need. Now, I am a red wine lover. And I have had pinot noirs, dolcettos, and the like at Thanksgiving, but I do think it's time for me to accept that a white wine – and an apple wine at that – is the drink of choice for the bird and its accoutrement.
In this month's Wine Spectator, columnist Matt Kramer discusses "rich" wines. Rich wines are wines that are semi-dry, and Kramer speculates that because Americans don't have a means by which to communicate what "rich" means in terms of wine, we don't understand it as a concept (he backs this hypothesis up with a study of the vocabulary of a tribe in the Amazon, conducted by a Columbia University psychology professor, and, if I may be honest, I don't feel qualified to dispute these claims). Let's just say that a rich wine has a certain je ne sais quoi that might not be suited to our everyday American taste, but for a holiday meal where so many flavors are competing for the attention of your palette, I think it's a good bet. And you and your American taste may find yourself surprised as I was and find yourself longing for this very same semi-dry wine on a more regular basis. Who can know if you don't try?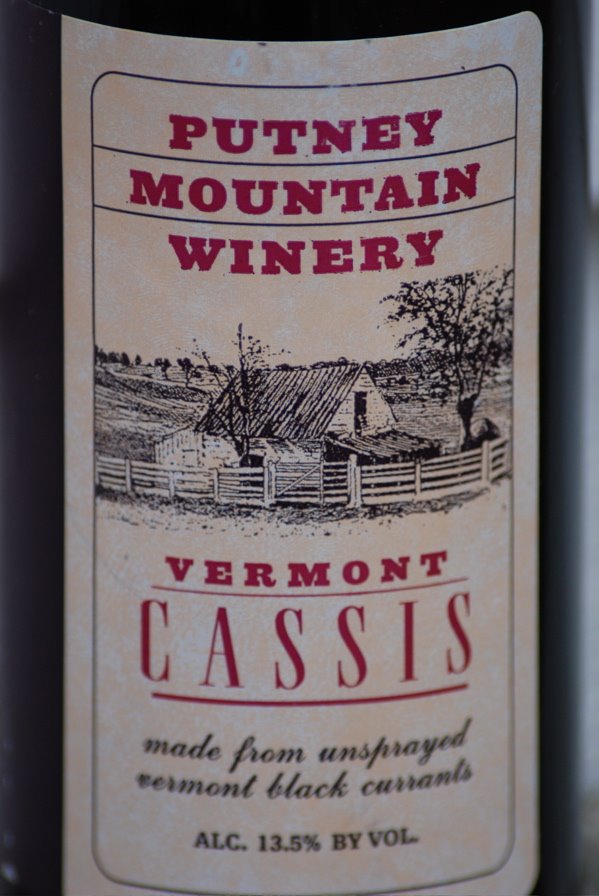 I realize that earlier this week, I promised a review of the Cranberry wine as well as the Cassis wine, but, as you know, I do not spit my wine, and there is only so much wine drinking a gal can accomplish in a week – particularly one during which she didn't feel so great to start out. However, JR and I did have a few sips of the Cassis wine, and it is also quite good, though it is most definitely a dessert wine. The wine is a ruby red color and smells like berry jam. We drank it relatively cold, and I would recommend letting it warm up a bit once you take it out of the refrigerator – maybe take it out a half-hour before you intend to drink it so that the flavors aren't stifled. It has a very concentrated berry flavor, and Dodge has amended it by adding blueberry and raspberry to the black currant to give it more oomph, which it certainly has. It reminded me a bit of Sweet Tarts (first Jolly Ranchers on Tuesday, now Sweet Tarts on Friday – I must have a penny candy jones brewing up here), with a slight tang in the finish, and I found it a bit tannic. JR and I both agreed that it would be excellent drizzled over vanilla ice cream, and I am planning to test it out heated to lukewarm and poured over vanilla ice cream in an effort to create an affogato di cassis, which I think will be fabulous. It would also be great in a pan sauce for game meats, in addition, of course, to its primary purpose as a dessert wine.
Putney Mountain Winery does ship UPS, and there is enough time if you order in the next week or so (provided you live in New England or the Tri-state area) to receive your wine in time for Thanksgiving. I'll be calling my brother-in-law in Vermont tonight to ask him to pick up a few more bottles of the Apple Maple wine so that we have enough for all of the turkey-in-a-hole-in-the-ground Thanksgiving revelers. The Apple Maple wine is $14.99 a 750ml bottle – this is a holiday we're talking about, people, you can do it – and the Cassis is $16.99 for 375ml. If you'd like to order the wine, you will have to call the winery (contact information below), and if you think you can't possibly need enough to have it shipped, consider roping a few friends into the action and splitting the order. JR and I received a 5% discount on six bottles of wine, and the winery offers 10% off a full case (12 bottles), so ordering in bulk could be well worth your – and your friends' – while.
Putney Mountain Winery
71 Holland Hill Rd.
Putney, Vermont 05346
802 387-4610
putneywine@aol.com
Dinner tonight: So so so excited – it must be the prospect of red meat, even ground red meat – that has me so looking forward to dinner! Meat ragu with pasta and a salad of garden romaine (the romaine should be pretty much dead by the middle of this upcoming week with the cold we have on the way, so we're going to enjoy it now). The meat ragu is basically a bolognese sauce, but we like tomato, so I add tomato to the mix, which is not traditional for bolognese. I was going to make homemade tagliatelle, but I have to pick my battles, so we will probably have store-bought pasta, and I am going to make a skillet apple pie as well. Next week, I take on the pandowdy, so I'm working my way up the apple dessert challenge ladder. In any event the estimated cost for two for the meal tonight is: $5.28, excluding dessert. The ground meat was $3.79 per pound at Venda Ravioli, the carrot, celery, and onion for the soffrito (which is the slowly simmered base of the sauce) were about $1.00, the tomatoes were $2.00, and the amount of milk I'll use in the sauce will be about 50-cents. I'm also using anchovy paste and a bit of tomato paste, so let's call those $1.00, to be generous about it. And don't go all nose-scrunchy on me about the anchovy paste. The purpose of the anchovy paste is to add a depth of flavor to the sauce that is indistinguishable as anchovy, but instead, adds to the savory quality of the sauce. The total cost of the sauce is $8.29 for approximately 8 servings, so $1.04 per person for that. The pasta was $1.79 for the box, and we'll use half of the box. We will not mess around, however, and will use parmigiano-reggiano cheese, which was not on sale, and so that is about $2.00 for the amount we'll use and the type I splurged upon (Red Cow is the splurge variety – I'm living large today, let me tell you!). The lettuce is from my garden, we like to call it 30-cents because that's what I paid per plant when I bought the lettuce-starts, as they are known.