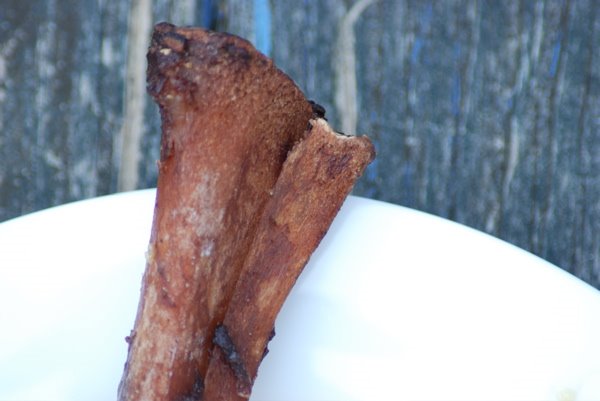 Apologies to those who are put off by the sight of cooked bones. I should have made three lamb shanks last night, but we really are on a budget, so, though I'm certain JR would have been thrilled with an extra shank, I have only picked over bones with which to illustrate today's post.
The Sunday meal is a big event in our house each week, particularly during the winter. It is the big fancy meal of the week and requires the most effort. Even in the summer, it's the day that we splurge and buy steaks – well, last summer anyway. We'll see what happens to those steaks during summer '09. Cue the violin player. I'm sure we'll find a way to afford steak during the summer even in this god forsaken recession.
Once the days grow shorter and the weather pushes us indoors earlier, JR and I both crave slow cooked meals. In the past, that could mean anything from Osso Buco (braised veal shanks) to standing rib roast to homemade pasta and Bolognese sauce. The Bolgonese sauce received an invitation to stick around during the recession, but, for better or worse, the Osso Buco and standing rib roast don't get to grace our dining table any longer. For the time being, at least. However, there are plenty of so-called lesser cuts of meat that are just as flavorful, allow you to enjoy the smell of slow-cooked provisions lilting through the house, and won't cause you to eat pasta with butter all week long because you decimated your food budget on Sunday. I had been eyeballing the lamb shanks at Whole Foods for a couple of weeks now, even having a conversation with my favorite butcher there about them last week ("How will you cook them?," he asked me. "I'm going to cook them in red wine and stew 'em," I responded, a little skeptical myself having never cooked lamb shank before.). This Sunday, I finally pulled the trigger and purchased two very healthy-sized shanks. They cost $5.99 per pound at Whole Foods for bone-in New Zealand lamb shanks. My favorite butcher informs me that American lamb is priced the same as New Zealand lamb at Whole Foods, so if you have a preference for American lamb, you're still at the same price point. I checked Peapod.com (Stop&Shop's delivery service), and they have boneless American lamb shank for $6.99 per pound. I'd wager that in-store, they're probably a bit less, and if you have a good butcher nearby, you should suss them up for they might have an even better price on the shanks.
I had long been thinking that it would be good to riff off of traditional Mediterranean lamb accompaniments in making my shanks, so I decided that I would use dried figs and raisins in the sauce, and then contrast the sweetness with goat cheese and toasted pine nuts. At the last minute, I decided that some orange flavor would be a welcome addition, and I have about 100 clementines in my house (they're on sale), so I added two to the mix. I read a little bit about lamb shanks before embarking upon my stewing of the jaspers, and then jumped right in. This being the day after I made them, my final analysis of the dish is that I would eat this every night if I could. With Bolognese and apple cake on the side. You know, if I were committing to eating just one or two or three things every night for the rest of my life. Also, could I get some cheese with that? Cheese should definitely come along to the island of favorite things.
Oh, right. The shanks.
The sauce is a little bit sweet, so if you don't share my unabashed love for sweet and savory combinations you can counter that with additional goat cheese crumbled over the top of the dish, or you could spoon less sauce on your plate, or you could use toasted walnuts in place of the toasted pine nuts, or you could omit the honey. You could also use different fruits in the sauce. I think dried apricots would be pretty amazing, as would my darling prunes (and yes, I know I still owe you the pasta with ricotta and prunes recipe – I haven't forgotten). I served this with goat cheese risotto – I'll post that recipe tomorrow – and balsamic caramelized cippolini onions. This dish is holiday- or guest-worthy, or just Sunday-is-a-good-day-for-cooking-worthy.
Lamb Shanks in a Clementine and Fig Red Wine Reduction
Ingredients
2-4 lamb shanks - the sauce is enough for four servings, you just need to be sure you have enough room in your pan to accommodate four shanks. I would try to get shanks that are around 3/4 pound each.
salt and pepper
3-4 tablespoons olive oil
1 medium onion, chopped
3-4 cloves garlic or roasted garlic. If using fresh garlic, peel skin off and leave whole. If using roasted, slide the garlic from its skin and leave whole, it will disintegrate in the sauce.
1 tablespoon thyme
1 tablespoon Dijon mustard
1 tablespoon honey
2 cups red wine
2 cups chicken stock
6 dried figs cut into quarters
2 seedless clementines, cut into 1/4-inch circles. Wheels of clementine, as it were. As you are cutting these into 1/4-inch pieces, you will see if there are seeds. If so, just remove them. You don't want to be crunching on seeds at dinner.
a handful of raisins. In all honesty, I'm not much of a measurer (made-up word, fyi). Keeping this blog has forced me to measure more, but in cooking (not baking), I'm a big fan of, "yeah, that looks right." However, I think we can estimate that a handful of raisins is roughly equivalent to 1/4 cup.
1 bay leaf
1 tablespoon unsalted butter
Instructions
Remove shanks from the refrigerator approximately an hour before you intend to start cooking to allow them to come up to room temperature. This allows the meat to cook more evenly as there isn't a cold interior that requires more time to come up to the proper cooking temperature. This whole recipe process takes about 3 hours from prep through reducing the sauce, so plan your day accordingly. Generously salt and pepper the shanks.
Over medium-high heat, heat oil in a large, deep pan with a large bottom surface area. I used a braiser pan, but a large dutch oven would work equally as well. In either case, you must have a lid for the pan. Add the lamb shanks to the oil and brown well on both sides. Depending upon the heat, this will take 3-5 minutes per side. Once the shanks are browned, remove them from the pan and place on a plate where they will stay until you have prepared the cooking liquid - which later becomes the sauce - and can return them to the pan.
Reduce the heat to medium. Add the chopped onion and garlic. Saute until onion is translucent, approximately 2-3 minutes. Add thyme, mustard, and honey, and stir to combine, cooking for 1 minute to meld flavors. Add the red wine and cook at a simmer for 1 minute. Add the broth, cook at a simmer for 1 minute. Add the shanks to the pan, and scatter the clementine pieces, fig pieces, and raisins around the shanks. Toss the bay leaf in as well. The cooking liquid should come approximately 1/2 way up the side of the shanks. Bring to a low simmer, cover, and cook until the meat falls off the bone - test with a fork to see if it does - approximately 2 hours, and flip the shanks over a few times during the cooking process to insure they are evenly stewed/braised/cooked.
Remove lamb shanks from the pan, and tent with foil to keep warm. Bring liquid in the pan to a boil and boil until reduced by half, approximately 10 minutes. Remove from heat and stir in the butter until it is completely melted and combined with the sauce. Remove the bay leaf. Serve shanks and sauce with goat cheese risotto (recipe is coming tomorrow, don't fret.). Not to be a total control freak because you must do what works for you, but it looks pretty darned attractive - not to mention scrumptious - if you mound the risotto in one "corner" of your round plate, then place the shank so that the meaty end is perched along the side of the risotto and the end that is exposed bone rests in the air over the risotto. Then there's probably a little space for some caramelized onions on the side of the shank next to the risotto - yes, the caramelized onion recipe is coming as well - and then you should spoon the sauce over the shank. Sprinkle some toasted pine nuts or walnuts over the dish, maybe a bit of crumbled goat cheese if you like, and serve it forth. As a purely informational tidbit, and because I know some of you will be wondering, the rinds of the clementines are completely edible, even the bit where the flower meets the fruit is softened enough to eat. I know this, for I tried. All in the name of science. Or love of food. Whichever.
http://www.tinyfarmhouse.com/2008/12/lamb-shanks-worthy-of-a-holiday-celebration/
Dinner tonight: We have leftover sauce from the lamb shanks and left over risotto, so I bought a cheap-ass chicken at my local poultry farm today, and I am going to roast some Brussels sprouts to go with the dish. Estimated cost for two: $10.32, but this includes what will be leftover chicken that will either go into a pasta dish later this week or will be chicken salad for JR's lunches. Maybe we should call it $8.04 for two. The chicken was actually pretty large for the poultry farm – this one cost $4.57 and was 3.28 pounds. We'll use half of that. You might have read me mentioning chicken salad or pasta later this week. That's what we'll do with the other half of the bird. The Brussels sprouts were $1.81. The oil I'll use to roast the sprouts is 20-cents. The leftover risotto is a bit expensive, but it was part of the special Sunday dinner, and was a test-drive for the holidays, so there we are. We have to have these small luxuries, don't we? The carnaroli rice was $5.49 for what is the rough equivalent of 16 servings at my house. So the rice for the risotto is 68-cents for two. I used 6 cups of stock in total for the risotto, so at $2.19 for 4 cups of Whole Foods store brand stock, that's $1.40 for tonight's portion of risotto. I actually used turkey stock I made from the turkey-in-a-hole-in-the-ground carcass, so if you're making turkey for the holidays, keep the carcass, break it up into manageable pieces, and follow the stock recipe for the chicken soup, but with enough water to cover the turkey carcass (32 ounces in my case) then just freeze it up for when you need it next. The shallot for the risotto was about 30-cents, and the goat cheese was about $1.35 for the amount we used.