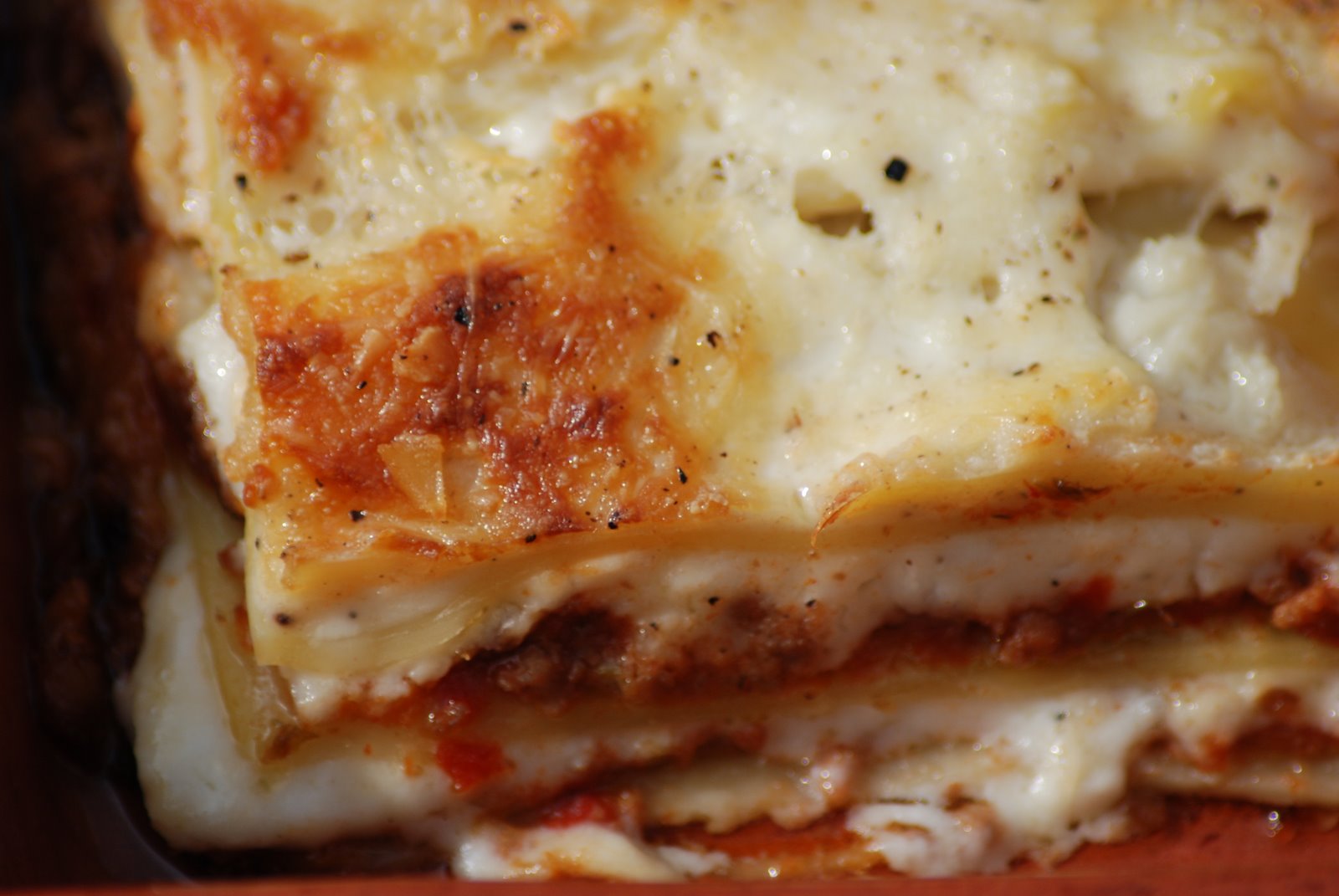 Of what we will so fancily call my oeuvre of comfort foods, the Untraditional Bolognese sauce is perhaps the most adored, which is convenient as it happens to be rather inexpensive to make ($8.29!), freezes well, and is quite versatile. The first day of each new batch's existence, it is always served in its purest form – a ladle-full over pasta – preferably homemade pasta, at that. If I'm lacking motivation, I might continue to serve it in this fashion – and most definitely over dried pasta, but to jazz up the next few servings, I like to make either baked ziti or Lasagna Bolognese. Lasagna Bolognese has the added benefit that it feels like a special dish, for one must craft a Bechamel Sauce for it, and Bechamel Sauce alone is special, is it not?
Ingredients
Untraditional Bolognese - it's ok to use the entire recipe for the lasagna, but you can also get away with serving two adults from the batch, and then using the remainder for this lasagna.
6 tablespoons unsalted butter
1/2 cup flour
4 cups milk
1/4 teaspoon nutmeg
salt
pepper
9 lasagna noodles, cooked to al dente - firm, but cooked through - according to the manufacturer's instructions
1 1/2 cups grated Pecorino Romano cheese, divided. You will use 1/2 cup per layer of the lasagna.
Instructions
Melt the butter in a large saucepan over medium heat. Add the flour and whisk continuously until the butter and flour mixture is golden brown, approximately 5 minutes. Add the milk in one continuous stream, and cook for 10 to 12 minutes, whisking frequently to prevent scalding of the sauce - particularly around the edges of the saucepan - until sauce thickens to the consistency of pancake batter. Remove from heat, add the nutmeg, and salt and pepper to taste.
Preheat the oven to 350 degrees.
Spread 1/4 cup of the Bechamel Sauce over the bottom of your lasagna pan. Place three of the al dente lasagna noodles over the Bechamel sauce to cover it. Top with half of the Untraditional Bolognese sauce, and then a third of the remaining Bechamel Sauce. Sprinkle 1/2 cup of grated Pecorino Romano cheese over the Bechamel, and repeat. Cover the second layer with the remaining three lasagna noodles, cover those bad boys with the remaining Bechamel Sauce, and sprinkle the last 1/2 cup of grated Pecorino Romano over top. Set the lasagna pan on a foil-lined baking sheet to protect against spills - if you want, of course. If you like cleaning the oven, do as you please, you crazy risk-taker, you. Place in the oven on the middle rack and bake for 40 to 45 minutes, until the cheese has browned and the sauce is bubbling around the edges of the pan. Remove from the oven, allow to cool for 5 to 10 minutes to avoid a slippery, falling apart lasagna disaster, and serve it forth.
http://www.tinyfarmhouse.com/2009/03/lasagna-bolognese/
Dinner tonight: Honey-mustard cider marinated Pork Spare Ribs with polenta and roasted carrots. Estimated cost for two: 9.01. The spare ribs were on sale for $2.29 per pound. They came in a 3-pound-ish package, which cost $6.93. I divided the package into 3 sort-of-equal-sized portions – ahhh, the irregularity of cut meat – so calculating tonight's serving as one-third, that costs $2.31. The honey is 40-cents at 40 tablespoons for $8.00. The Dijon mustard is $2.99 for 10-ounces, and we are using roughly 4 ounces, so that's $1.20. The olive oil is 45-cents at $7.99 for 67 tablespoons and 4 tablespoons in a quarter-cup. The apple cider is $2.99 for 8 cups, so 1/4 cup is approximately 10-cents. The brown sugar is 6-cents per ounce, and we're using roughly 6 ounces, so that's an additional 36-cents. I'll serve the ribs with polenta, which will consist of 4-cups of broth at $2.19 for Whole Foods store brand, 56-cents for one cup of polenta, and 9-cents for the butter to finish it off – oh, and there will be leftovers of the polenta as we can eat only but half of what I am making, so half of $2.84 is $1.42. I might have mentioned that many, many carrots have been roasted here this week, and so we will have carrots, at 80-cents for the one pound being served, plus 45-cents in olive oil, and 10-cents in thyme.