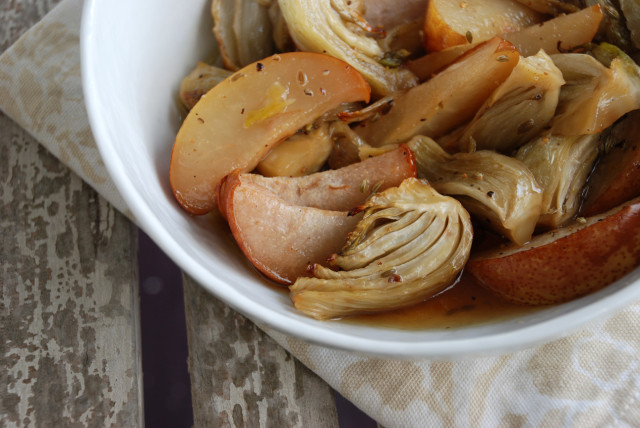 Oh, woe is fennel. Not enough people are enamored of her, and as such, not enough people know her charms.
Yes, I did just assign a sex to fennel, though, as finocchio in Italian, I guess it's already been decided that fennel is male. But the curves! Have you seen the curves?
We grow fennel in our garden, though never enough to satisfy my fennel cravings. From the bulb, so good roasted, braised, or pan-fried, to the fronds – delicious in vegetable stock – to the seeds, which I use nearly as obsessively as I do crushed red pepper flakes, fennel has so much to offer.
For instance, in this dish, which could not be any easier, particularly when considering all of the labor that normally goes into a Thanksgiving side dish (though I wouldn't limit this to Thanksgiving at all. It's fantastic with chicken, pork, and on its own). For ease of preparation, and for so few ingredients, the flavors are fabulous.
The maple syrup permeates the fennel wedges and the pears, though we're not using so much syrup as to render the dish cloying. Be sure to use firm-ripe pears in order to keep them from turning to mush – part of the appeal of this dish is the texture of both the fennel and the pears, and we want to have to bite into the pears. We're not aiming for pear sauce here.
If you aren't ready to wholesale jump on board with fennel for Thanksgiving, give this dish a test run beforehand. I think you'll be swayed.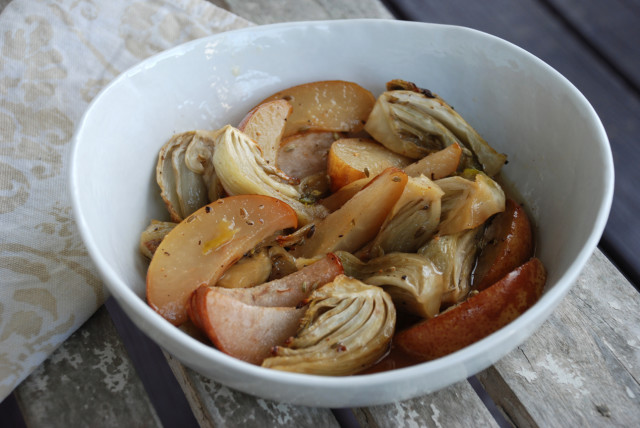 Maple-Roasted Fennel and Pears
Ingredients
(2) medium fennel bulbs (approximately 3-inch diameter at the base, or roughly the size of a Navel orange, and with both bulbs together weighing in around 1.75 to 2 pounds), trimmed and any outer tough leaves removed, then sliced lengthwise into 8 wedges per bulb (as if you were slicing a pie, only it's fennel).
(1) large firm-ripe Asian, Anjou, or Bosc pear (10 to 12 ounces), cored and sliced into 12 wedges (same deal: it's a pie-pear)
2 tablespoons olive oil
¼ cup maple syrup (preferably Grade A Dark Amber)
½ teaspoon fennel seed
kosher salt
freshly ground black pepper
Instructions
Preheat the oven to 375ºF.
Place the fennel and pear wedges in a large mixing bowl.
Drizzle the olive oil and maple syrup over top, then add the fennel seed, and season with salt and pepper.
Transfer the fennel and pears to a large baking dish, such as a lasagne pan. We want the fennel and pears to soak up the cooking liquid, so it's best to roast in a baking pan rather than a rimmed baking sheet.
Roast until the fennel is easily pierced with a fork and is looks slightly translucent (as opposed to opaque white), 45 to 50 minutes, stirring midway through the cooking time.
Notes
Prep time on this dish is under 10 minutes, which includes time to gather ingredients, and also to locate the measuring tape, measure the base, width, and height of each fennel bulb, and also to grab a Navel orange with which to compare relative fennel bulb size. You probably won't do any of those things, so, for the amount of effort – actually, even if a lot of effort was required – this is one very tasty dish.
I preferred the texture of the Asian pear over Bosc and Anjou in this dish, but any of the three will work just fine.
http://www.tinyfarmhouse.com/2013/11/maple-roasted-fennel-and-pears/