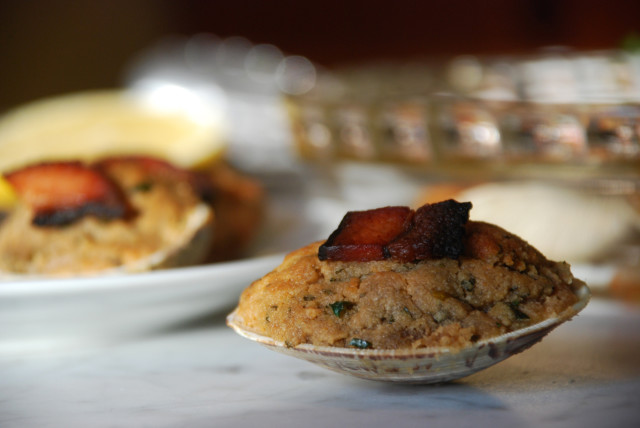 Our Christmas Eve celebrations were always of a red sauce sort. Not surprising, given that my Nana owned an Italian-American restaurant – not a Calabrian restaurant, not a Tuscan restaurant, not a Piemontese restaurant – a restaurant specializing in all things breaded, stuffed, and red sauced.
Chicken Parmigiana is still my go-to comfort food. If I haven't the energy for dredging and breading, a nice plate of rigatoni with simple red sauce will do. Comfort me with al dente noodles and a giant heap of tomato sauce, please.
For Christmas celebrations, we always had calzones – meatball or ham and cheese – and a big pot of my mother's red sauce stewing away, her homemade meatballs, sausage, and half-inch thick rounds of pepperoni simmering in the giant saucepot. We were not a Feast of the Seven Fishes family.
A couple of years ago, I decided to go rogue, eschewing the antipasto platter, calzones, meatballs, and sauce for an improvised Feast of the Seven Fishes.
Very little research was involved, and some of the dishes materialized based upon what was available at the fish market, the only criteria being that most servings be tapas-sized, a format that lends itself to improvisation.
The meal was a success – there was much laughter, joking, anticipating what dish would come next, and ended with a family nearly too full to eat Course Eight, clams with chourico (I got excited about the whole thing. I went overboard. What can I say?).
After the succession of fish dishes, from those for the mildly adventurous (anchovy, raisin, and orange crostini – funny, I loved these, but not too many people came up to snag their second crostini. Anchovy haters.), to the lazy (shrimp cocktail – perhaps this doesn't even count as a course, and can get us back to seven from eight?), to the simple (butter-poached salmon), to the not-quite perfect, yet still showing some potential (salt cod fish and chips), we were sated. We were happy. And we had expanded our Italian-American culinary horizons.
Though the meal – and the celebration – was wonderful, there was one dish I missed, a favorite from my youth: Nana's clams casino, along with their classic 1970's aesthetic – breaded, buttery, and lemony.
Earlier this year, I started working on recreating this recipe, and after one failed attempt with regular breadcrumbs, it dawned on me. I was missing the secret ingredient. And from what I could surmise, that secret ingredient could be nothing other than Ritz.
After confirming with my aunt that Ritz crackers were, indeed, the secret ingredient, Nana's clams casino were finally back on the menu, and make them, I did. In fact, I believe I made them every weekend for six weeks last winter and into the spring. And this Christmas, we're back to our normal red sauce celebration (nothing wrong with that, and my sister-in-law makes a mean lasagne, too), but I think I'll be serving these up as well, an appetizer Feast of the One Shellfish leading into the meatballs, lasagne, and rigatoni.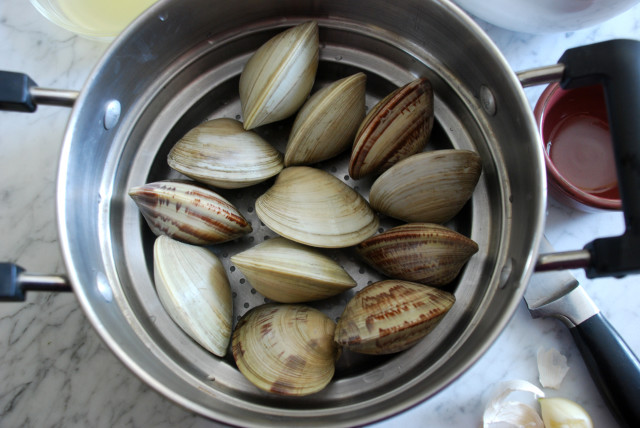 Feast of the Seven Fishes: Clams Casino
Ingredients
12 littleneck clams, shells scrubbed well
4 tablespoons unsalted butter
2 medium cloves garlic, minced (approximately 1 ½ teaspoons)
1 cup Ritz cracker crumbs (see note)
½ cup freshly grated Pecorino Romano or Parmigiano-Reggiano cheese
¼ cup (packed) parsley leaves, minced
the juice of one lemon (3 to 4 tablespoons of juice)
2 slices bacon, sliced crosswise into 6 pieces per slice
lemon wedges for serving
freshly ground black pepper
Instructions
Preheat the oven to 350ºF.
In a large steamer basket, steam the littlenecks until their shells open, 5 to 7 minutes.
Allow the clams to cool slightly. To remove the empty half of the shell, hold the clam with the open side of the shell facing up, twist the empty half toward you until it breaks loose, then discard it. Be careful to clean any wayward shards of shell from the clam.
When removing the empty shells from the clams, it's helpful to have two bowls at the ready: one to hold the clams while they cool after being removed from the steamer basket, the other for empty shells.
If there is liquid under the littleneck in its shell, drain it out, then place the littlenecks in their shells in a large baking dish or on a rimmed baking sheet.
While the littlenecks steam, melt the butter in a medium sauté pan over medium heat. Add the garlic and sauté until just softened, 1 to 2 minutes.
In a medium bowl, stir together the cracker crumbs, cheese, and parsley, then season with pepper – there's no need to add salt to this dish, you'll have all you need from the brine of the sea.
Pour the melted butter with the garlic into the cracker crumb mix, then add the lemon juice. Stir until all of the wet ingredients are incorporated into the dry.
Generously top the littlenecks with the crumb topping – it's helpful to make clam-sized clumps of topping in your hand, then place them over the clams.
Once covered with stuffing, place a slice of bacon atop each clam, and bake until the bacon is cooked and the crumb topping is golden brown, 40 to 45 minutes.
Though it's barely necessary, given the already intense lemon flavor, serve them forth with a wedge of lemon.
Notes
Cracker crumb note: process the crackers in a food processor for fine crumbs. One sleeve (32 crackers) yields approximately 1 cup of crumbs.
http://www.tinyfarmhouse.com/2013/12/feast-of-the-seven-fishes-clams-casino/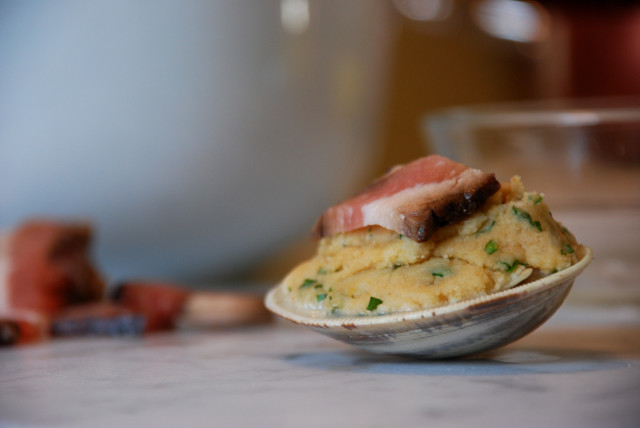 This recipe, along with the tale of coming to a full understanding of my Nana's business (restaurant and otherwise), was originally published on American Food Roots. If you like stories about family secrets, I suggest you check it out here.
Also, cookbook author and one of the founders of American Food Roots, Domenica Marchetti, is an expert on Italian cuisine, and shares some interesting information on the Feast of the Seven Fishes here. Spoiler alert: it's not called the Feast of the Seven Fishes in Italy – and the term might be just as Italian-American as my Nana's red sauce and meatballs served on top of spaghetti. Or, for that matter, as her clams casino.
Buon Natale a tutti!