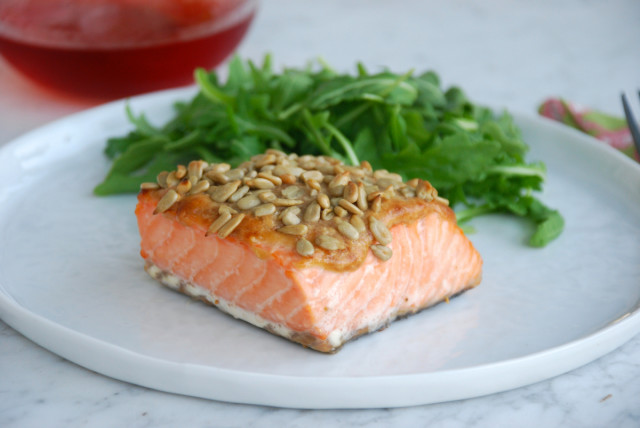 My friend, Colleen from Souffle Bombay, was recently thinking about which cookbook first made her fall in love with cooking, which led her to ask the same question of a number of her foodie friends – myself included – and #CookbooksandCalphalon was born.
We have 17 food bloggers' stories to share, recipes included (but of course), to help us celebrate our love of cooking and the fab pairing of Cookbooks & Calphalon. Of course, all this gathering up of stories wouldn't be complete without a giveaway for you to enter.
You gotta have some cookware in order to cook, right? There are two giveaway packages available, just use the Rafflecopter below to enter, and you could win a Calphalon non-stick roaster (I have this one – I think you'll groove on it, too) and 6 cookbooks OR a Calphalon non-stick panini pan and press (I want this one – stovetop panini = delish lunches with easy clean-up afterwards – great for the clean-up-challenged like me) and 3 cookbooks.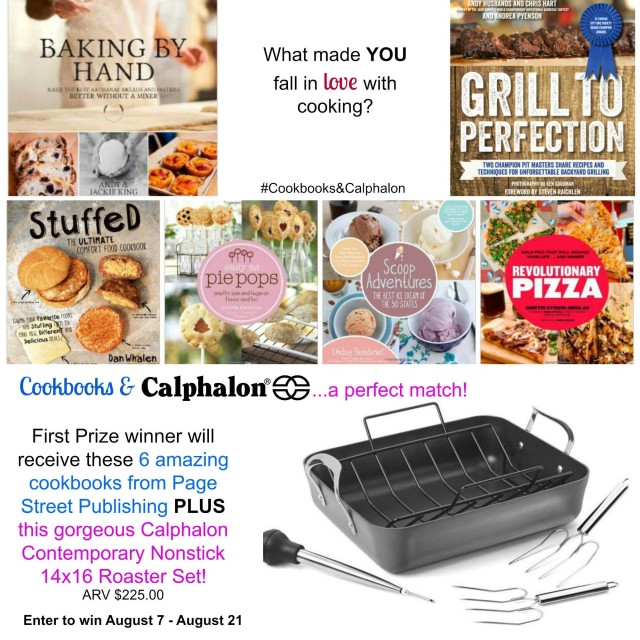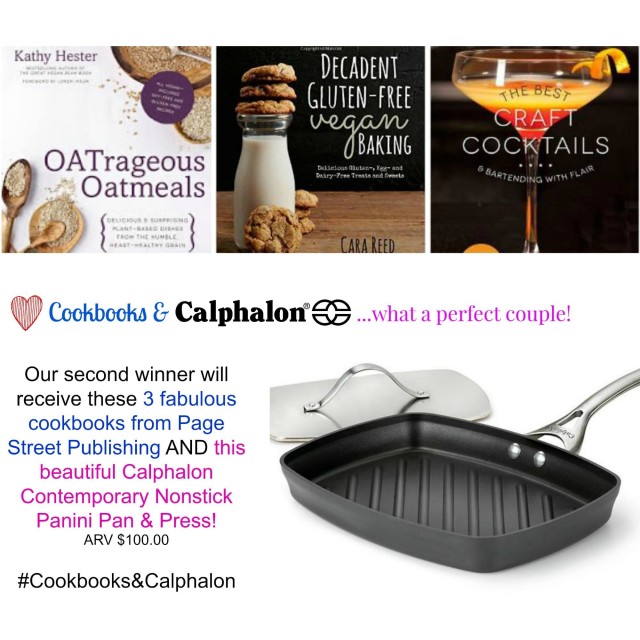 But this isn't the only Calphalon giveaway activity going on. No, it's not.
Now through September 1st, Calphalon is celebrating couples – with another giveaway. Yay couple celebration! From date-night-at-home dinners to weeknight meals (which, some weeks, JR and I analyze like we're recapping a sporting event – this past week was pretty close to the dinner Super Bowl – or dinner Tour de France – our most recent sporting obsession, and possibly a better analogy: diverse courses (ba-dum-dum)), we all know that meals made together create memories.
Our first meals together were made using my fancy new (at the time) Calphalon cooking set – a set that I would discuss with people at work for weeks after making the purchase, even with those who weren't so interested in hearing about my spiffy new cookware. Calphalon is giving props to geeks like me (sweet!) with a "Couples Cooking" giveaway.

To celebrate these #CouplesCooking moments, Calphalon is asking couples to share pictures of the meals they cook together for a chance to win $1,000 in Calphalon cookware. Hello. One thousand dollars in cookware. That's a lot of spiffy cookware, and a lot of material for at-work cookware conversation. Your co-workers will love it.
Head on over to Calphalon's Facebook page where you can share a photo of a dish that you and your significant other have prepared. To enter, you'll be asked to share what makes the dish unique or special you. Be sure to tag your photo with #CouplesCooking to be official about entering and all. Elsewhere in your social media world, keep an eye out for #CookbooksandCalphalon for great recipes and tips.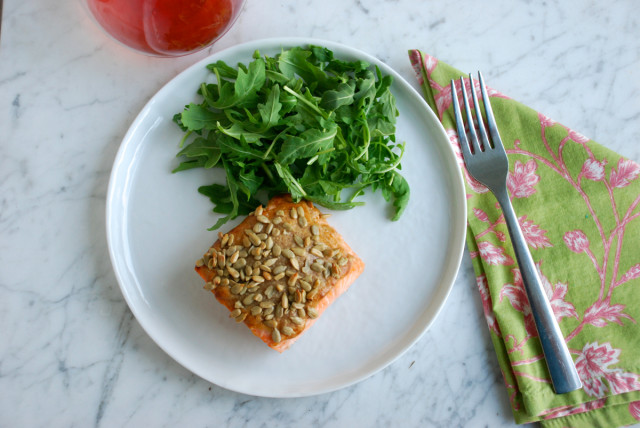 Without further ado, a story of an influential cookbook in my life.
In 1997, when I first moved in with JR, my cooking repertoire consisted primarily of Italian-American favorites that my mother and nana made, or an improvisation based upon Italian-American food ("Hey, look! I made tortellini with broccoli and pesto!" No matter that the tortellini was frozen or the pesto from a jar.), or, to push myself a bit outside of my comfort zone, I'd cook recipes from Gourmet (lovely, but time consuming, like mango chutney for which I dutifully toasted all of the spices as directed – during a heat wave. They couldn't have known, and I should have known better) or Bon Appetit (easier than Gourmet, certainly, yet still with quite good results – and no curry powder from scratch).
At that point, my experience cooking seafood was pretty limited. I could make a mean shrimp scampi, but nearly all other fish preparations intimidated me. I was certain my haddock would be too dry, my salmon flavorless, my littlenecks chewy, so avoid cooking seafood, I did.
Around six months after I had settled in here, I was invited to a baby shower for my friend, Rachel. It was to be held at her mother's house, just north of Manhattan. I drove JR's enormous Ford Bronco the three or so hours south to the shower, arranged that after the shower, I'd collect my brother at the train station nearby the party before driving us both into the city to meet my sister, who was in New York from Los Angeles.
Good thing I had plans that required me picking up my brother that night, otherwise, Rachel and her mother might never have rid themselves of me.
Rachel's mother, Leslie Revsin, had been a chef in Manhattan, was a contributor to Fine Cooking, and had just released her book, Great Fish, Quick – that year. To say I was an admirer would be an understatement. And that was before even getting to the baby shower.
Much of what I experienced that day stayed with me, and has influenced the way that I entertain – the quality of the prosciutto, the freshness of the figs, the tang of the Gorgonzola, the crustiness of the bread – all of these things made me rethink my standard-issue antipasto platter – the one I made with supermarket Parma ham, provolone, and mortadella. Plus, Leslie made it look effortless for her, even as all of her food looked like it was, well, out of a magazine. So pretty.
It didn't stop at the food, though. The walls of Leslie's upstairs bathroom (this is important – stick with me here) were orange. Boldly, deeply pumpkin orange. Boy, did I ever want a pumpkin orange bathroom after seeing hers. And her kitchen was a bright, cheery yellow – and is the reason that my kitchen is a bright, cheery yellow.  I relented on the pumpkin orange bathroom, but only slightly, that room is also yellow, and our upstairs hall is a pale apple green. Any boldness I have with color in my house is a result of that one visit to Leslie's home. And then there was her book.
Of course, I bought the book, anticipating that she would cure me of my fish fear. And she did, entirely because of how thorough she was in providing friendly instruction in each recipe, additional information about what to look for – and what to avoid – when purchasing seafood, and also, her sense of humor came through (in her recipe for Maine Lobster with Avocado "Whipped Cream", regarding making the avocado whipped cream ahead of time: "Or, cover and refrigerate it for up to 1 day – it will still be a pretty pastel green tomorrow, but I can't promise anything after that!").
It was a far cry from the more straightforward cookbooks that I had used to that point, and it felt like Leslie was in my kitchen with me while I cooked.
She – well, she through her book – also gave me the confidence to recreate a salmon dish that was a favorite of mine from date nights JR and I had at CAV, a restaurant and eclectic housewares shop in Providence. Basically, you could buy the hutch that the restaurant's serveware was stashed in, but you were not going to get the recipe for their salmon with peanut sauce and sunflower seeds. And I really badly wanted to make it at home.
Leslie's Roasted Salmon with Honey Mustard Sauce provided me the technique, and I improvised the rest.
Thank you, Leslie.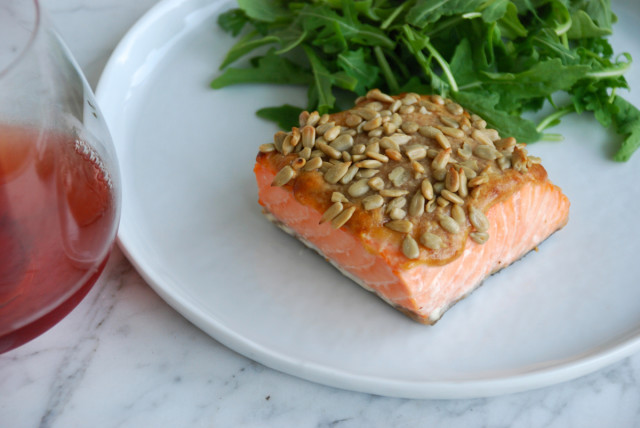 The peanut sauce is homemade, though you could certainly use purchased if you'd like. It is awfully easy to make, however, and is good on chicken, tofu, shrimp, and thinned a bit more, as a salad dressing.
Roasted Salmon with Homemade Peanut Sauce + a Cookbooks and Calphalon giveaway
Ingredients
For the Peanut Sauce:

½ cup roasted, lightly salted peanuts
2 tablespoons toasted sesame oil
1 tablespoon honey
¼ cup soy-ginger sauce (see note)
(2) 6-ounce salmon filets, approximately 1 ¼-inch thick at the thickest point
kosher salt
freshly ground black pepper
1 tablespoon sunflower kernels
Instructions
Preheat the oven to 425°F.
Puree the peanuts in a food processor (I like the mini-food processor for this task), pour in the sesame oil, honey, and soy-ginger sauce, and puree until the mixture has reached the consistency of thick pancake batter and is pale khaki in color.
Grab your non-stick rimmed baking sheet (a 12 by 17-inch or 10 by 13-inch will do), or line a regular rimmed baking sheet with parchment paper.
Place the salmon filets, skin side down, on the parchment paper and season with salt and pepper.
Top each filet with 1 tablespoon peanut sauce, spread it out to cover the top completely, using a little more sauce if necessary.
Sprinkle 1 ½ teaspoons of sunflower kernels over each filet.
Roast on the middle rack for 10 to 12 minutes, until the peanut sauce is starting to brown at the edges and the edges of the filets are completely opaque.
Notes
I used Whole Foods Market 365 Everyday Value brand soy-ginger sauce.
If you'd like, you can use agave in place of the honey, and if you can't track down soy-ginger sauce, use 3 tablespoons soy sauce, 1 tablespoon freshly grated ginger, one clove of garlic that's been finely minced, and 1/8 to 1/4 teaspoon crushed red pepper flakes in place of the already-seasoned soy-ginger sauce.
http://www.tinyfarmhouse.com/2014/08/roasted-salmon-with-peanut-sauce-a-cookbooks-and-calphalon-giveaway/
Good luck in both giveaways, and don't forget to check out these other Cookbooks & Calphalon stories and recipes!
Enter here: a Rafflecopter giveaway
*full disclosure: I was not compensated for this post, just sharing a little story of cookbook love. Many thanks to Calphalon and Page Street Publishing for the fabulous prizes.