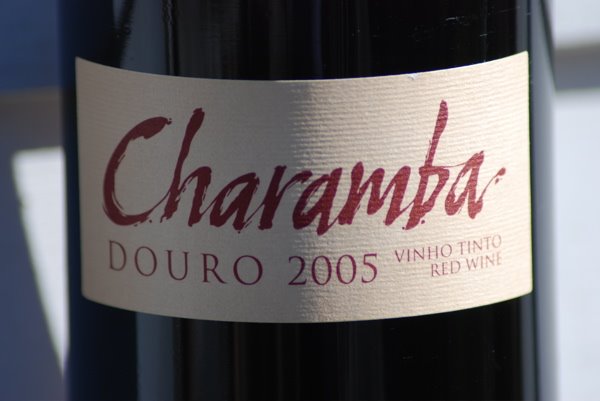 No wine was spit out in the making of this post. I swear. Last Thursday, after having sampled the Ajello Majus Nero d'Avola on Wednesday night, I trekked into Somerville to meet my brother and sister-in-law for a field trip to the Wine and Cheese Cask. As you know, I'm on a mission to find good quality, low cost wines while we weather the economic storm (just because the markets appear to be on an upswing, don't forget, some of the greatest market fluctuations occurred during what we'll just refer to as the "G.D.". I don't want to get too bogged down in financial doom and gloom – this is a wine column, after all.), and Portuguese wines are getting a lot of attention these days for being a good value and having a low price point.
And, oh boy, do they ever have a low price point. The first wine, a 2005 blend from the Duoro called Charamba, which I sampled with my brother and sister-in-law cost $5.99 a bottle. I don't think I've bought a wine for $5.99 a bottle since, oh, I don't know, maybe that time in high school where I bought on the east side of town. Or maybe it was the time in high school that I bought over the border in Rhode Island. Or maybe it was that time in high school where I was about to head into the liquor store, but my mother pulled into the parking lot and parked three cars down because the grocery store was in the same plaza. You get the idea. It's been a long time, and quite possibly not since I've been legal. (Yes, I admit it. I have grown into a wine snob. And worse still, I am a wine snob on a budget.)
The Charamba Vinho Tinto, produced by Aveleda, was a pleasant wine. Yes. Pleasant. My brother, sister-in-law, and I all agreed that its flavor – which was not overtly fruity but was quite tannic – belied its price point, but none of us were particularly overwhelmed with joy by the wine. Add to this that I had been completely overwhelmed with glee by the Majus Nero d'Avola just the night before, and one might think that perhaps it was unfair to put the Charamba in such a tough follow-up spot. However, for $5.99 a bottle, it was perfectly pleasant enough for a slosher, and one that your family probably won't complain about if you're having them all over for a barbecue. Or for cheese, as was the case on this particular evening.
Charamba is produced in the Duoro, which is in the northeast of Portugal bordering on Spain. The Duoro is known for its Port production – mmmmm…Port – and is poised to be the greatest region for red table wine vinification in Portugal. Or so I read. I will keep looking, but in the meantime will recommend this wine as an everyday-type wine with a price that can't be beat.
The second Portuguese wine I sampled was a red blend produced in the mountainous Dao region which is in the north-central area of Portugal. The wine was produced by Quinta de Cabriz and is called Colheita Seleccionada 2005. It is a blend of three varietals: Alfrochiero, which is also known as Pe do Rato, or, rather appetizingly, rat's foot, which has a propensity toward rotting in rich soil; Tinta Roriz, which is the same grape as the Spanish Tempranillo; and Touriga Nacional, which is the most important grape in the Dao for Port production. Does anyone else see a trend with this Port-production thing? Mmmmmm…Port.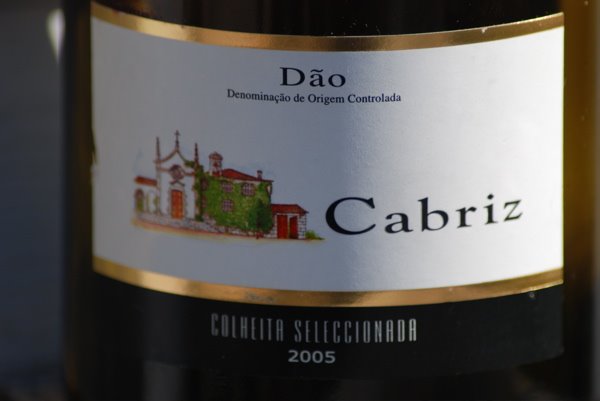 JR and I tried this wine with the Hearty Pasta Fagioli, and I found it to be somewhat rustic in its style. That is to say, a bit everyday. It was light, had a thin mouthfeel (mouthfeel being translated as "texture" in the mouth. Or, yeah, the way it feels in your mouth. How's that for a definition?), and reminded me of a lighter-style Chianti. JR tasted prunes and figs, and there was a slight buttery taste as well. We did also taste a bit of strawberry. Oddly, the wine was a bit boozy; it had a sharp bite for being somewhat thin. Maybe you like that. Maybe you don't. Either way, at $7.99, this wine is a no-brainer. As with the Charamba at $5.99, you wouldn't think, "oh, hey, I'm drinking a $7.99 wine" with the Colheita Seleccionada, only you know, if you've tried them both, that you've moved up two dollars in quality with the Colheita Seleccionada. Not bad for two bucks.
Dinner tonight: Rigatoni with chicken and pesto. Estimated cost for two: $3.68. One-half of the 99-cent-per-pound chicken is $2.28, and one-half of a box of rigatoni is $1.40. I made the pesto from the last of the basil in the garden, and it does include pine nuts, olive oil, and pecorino romano, so let's just say that I put $8.00 into making 16 ounces. We'll call it another dollar, then for what I'm going to use in tonight's meal. Pesto isn't meant to coat your teeth when you eat it, you know. So $4.68 for a grand total. And we are going to have the apple cake and vanilla ice cream that I made yesterday. I'm not sure if I can accurately describe the scrumptiousness of that combo. Oh, but I will try. Tomorrow and Saturday, I will try, in fact.