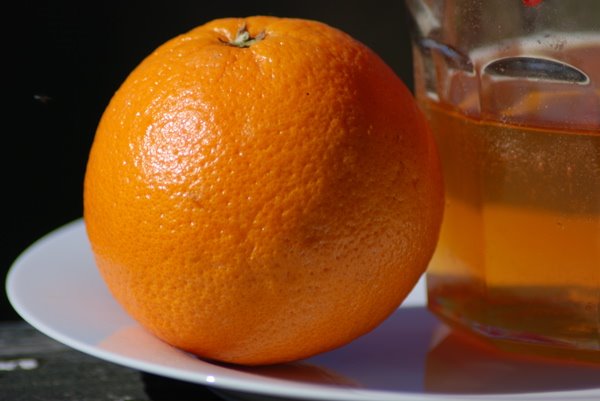 Let's face it, chicken is good food, but, boy, could it use some sprucing up from time to time. You know, just to keep it, well, interesting. Two nights ago, which now seems like it may as well have been August given the change in temperature between then and today, JR and I grilled chicken and finished it with an orange-honey glaze. It's a simple thing to make, and elevates the chicken beyond it's 99-cent a pound status. Which, by the way, isn't a bad thing – I'm all for 99-cent a pound chicken, but you know what I mean. You can use this glaze on roasted chicken as well, and can mix it up by changing out the rosemary for thyme, or by substituting grated ginger and Thai basil for either rosemary or thyme.
Ingredients
1 cup orange juice
1/2 cup honey
2 tablespoons orange zest
1 tablespoon chopped rosemary
1/4 cup honey mustard
crushed red pepper
black pepper
Instructions
In a small saucepan, combine the orange juice and honey and heat over medium heat, stirring frequently, until honey dissolves. Add the honey mustard, orange zest, rosemary, and crushed red pepper to taste. Simmer gently over medium heat until mixture thickens and becomes syrupy, about 10-15 minutes. Add fresh ground black pepper to taste. Yield: enough to generously glaze a whole chicken, plus have enough left to use as a sauce on your plate - maybe it helps the beets out, or perhaps some sauteed kale or roasted carrots would enjoy the pleasure of its company. You decide.
When the chicken comes out of the oven or off of the grill, brush glaze over chicken. If you like burnt chicken skin, you're free to add it to the chicken before you're done cooking the bird, but the sugar in the honey will burn. You have been warned. As you might expect me to say, this would also be good with pork in most of its forms.
http://www.tinyfarmhouse.com/2008/10/nearly-instant-orange-fanciness/
Dinner tonight: pasta fagioli with curly kale and sourdough ciabatta crostini. Estimated cost for two: $2.72 for the soup, and 16-cents per slice of bread. So maybe 64 cents in bread, and a grand total of $3.36. The soup costs $10.86 for 8 hearty servings. The tomatoes were $2.00, the broth $2.19, the beans 99-cents, the pasta $1.17 (and you know you can get small pasta for 99-cents as well, don't you? I used orzo because it's what I had on hand and it's a little more expensive than, say stellette or tubetti. I think you should try racchette if you get a chance, though. Is there an Italian love-bordering-on-obsession with tennis of which I was unaware? I mean, I could see making up nonsense Italian pasta-shape names like macchinette (little cars) or bialettiette (little espresso makers) for pasta shapes, but tennis racquets? I had no idea.). Oh, boy, do I digress. The vegetables – onion, celery, kale, and garlic – were $3.50. I think I'll share the recipe tomorrow because, if I do say so myself, it rather effectively demonstrates how satisfying tomato soup and bread can be, and without even a bit of that sinking resignation feeling ("oh, has it really come to this? Tomato soup and bread? Sigh.").
p.s. turns out that macchinette il cafe is Italian for espresso maker. And I just grabbed two things I thought Italians might actually be obsessed with – cars (macchina) and their favorite brand name espresso maker (Bialetti) – to mess around with. Uncanny!