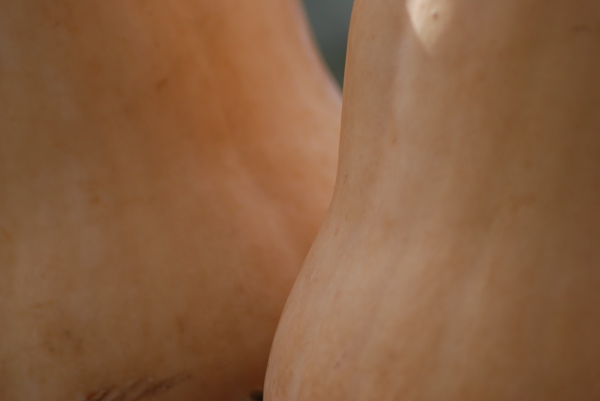 Phase One of the focaccia dough for tonight's dinner is complete, the dough is safely on the rise, so I have a few minutes to write. We're having roasted butternut squash soup with creme fraiche, bacon, and balsamic caramelized onions with the focaccia. It's nearly meat-free, but I have 4 pieces of bacon hanging around, and one of the biggest changes I've made in my treatment of food is that I now actually use all of the food I have on hand. I was always quite guilty of hoarding food, and then, of course, throwing away an entire shopping bag's worth of perishables every couple of weeks, but this behavior is no more in my household. My pantry is still quite overrun, but slowly the shelves are becoming more visible, and I've been able to keep myself from the grocery store for nearly two weeks now, without noticeable withdrawal symptoms, for I do love the grocery store. Of course, we have bought some food in the last two weeks – notably milk, chicken from our local poultry store (yes, we do have a local poultry store), and butternut squash and apples from one of our neighbor's farmstands. The butternut squash is 50- or 75-cents a piece, and the three 75-cent butternuts I've bought have all weighed in right around 4 pounds. Tonight's meal will cost around $9.75 including the focaccia, and we will definitely get another few servings from both the soup and the bread. So here's what I'm doing with my 75-cent butternut: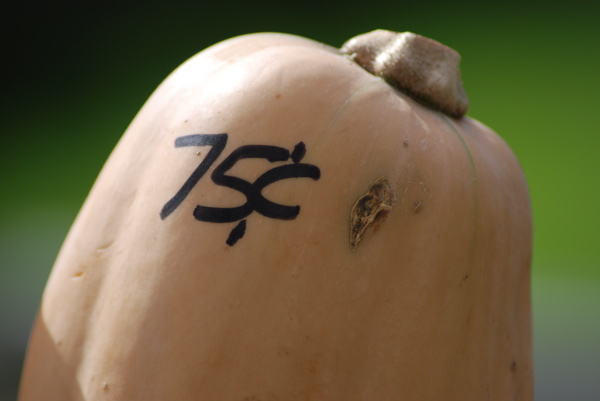 Roasted Butternut Squash Soup
Ingredients
1 4-pound butternut squash (even at the more "commercial" farmstand nearby, butternut is selling for 79-cents a pound)
2 tablespoons olive oil
1 head of garlic, skin peeled down to last layer or so of skin, the very tops of the cloves cut off for roasting
olive oil for drizzling on garlic
3 tablespoons butter or olive oil
2 leeks well-rinsed and chopped into 1 inch pieces, white and light green parts only (optional - I'm getting these from my garden. You could use one whole shallot, chopped, or a half of a small onion, finely chopped.)
4 cups of chicken broth, divided (3 cups/1 cup)
2 tablespoons fresh thyme or 1 teaspoon dried thyme, plus additional fresh thyme for garnish if desired
4 pieces bacon
2 small onions cut across the center into 1/2-inch rings and then across the center to create half-circles (any type will do, yellow/Spanish onions tend to be least expensive)
5 tablespoons unsalted butter
1/4 cup sugar
3 tablespoons balsamic vinegar
2 tablespoons creme fraiche or sour cream
Instructions
Preheat oven to 375.
Peel and seed the butternut squash, then cube into 2-inch pieces. toss with 2 tablespoons oil in a bowl, transfer to large rimmed baking sheet keeping butternut squash in one layer.
wrap head of garlic (which has been peeled down to its last layers of skin and the tops of the cloves cut off to expose the cloves) in foil, drizzle with olive oil, add a pinch of salt and a small amount of pepper, seal foil tightly around garlic.
Roast butternut squash in oven until squash is soft and is beginning to brown, about 45 minutes. At 15 minutes into the cooking time, salt the squash. Stir squash midway through cooking time. Roast garlic in oven for 45 minutes.
Remove squash and garlic from oven. In a large sauce pan, melt butter or heat olive oil over medium high heat. Add leeks and saute until softened, about 10 minutes, stirring frequently, adding thyme mid-way through. Add butternut squash and 3 cups of chicken broth, stirring to combine. The 1 cup of reserved broth is to be used while you puree, to thin the mixture as you need (and avoid burning our your blender). If you are using an immersion blender, go ahead and add all of the broth at once. Let simmer for 20 minutes to meld flavors.* Once garlic has cooled, remove the cloves from the skin and add to soup. Remove soup from heat and let cool slightly. Working in small batches, puree the soup in a blender, being extremely careful as hot liquid will explode out of the blender and wind up on your walls, your spice cabinet, your face, and possibly your ceiling if you aren't careful (ok, this MAY have happened to me before. Once.). I find it best to use a batter bowl with a spout to pour the pureed soup into while you work your way to the bottom of the sauce pan. Return puree to the sauce pan and heat to desired temperature. Salt and pepper to taste.

While soup simmers, prepare the bacon and the onions:

For the onions: melt 5 tablespoons butter in large fry pan over medium-high heat, add the onion. Saute until onions soften, about 20 minutes, stirring frequently. Once onions are soft and translucent, add the sugar, stirring frequently, until sugar melts completely, begins to turn a light caramel color and thickens, approximately 7-10 minutes. Add the balsamic vinegar, stirring to combine. Let onions cook 5 minutes more, then remove from heat.
Cook bacon as desired. I cook it in the oven on a baking sheet at 400-degrees for about 10 minutes to conserve room on the stove top, but the microwave or stove top will work just fine.
Ladle soup into bowls. Top with caramelized onions. Place a tablespoon (or thereabouts) of creme fraiche or sour cream in the middle on top of the onions, crumble bacon over, and serve it up.
http://www.tinyfarmhouse.com/2008/10/roasted-butternut-squash-soup/
I happen to like making yeast breads, so the focaccia isn't a chore to me, but if you don't have the time to deal with the whole rising, punching down, rising, punching down, forming into a pan, and rising again process, clearly it is all good to use purchased rolls or bread. Or, of course, salad would also work, or, heck, salad and rolls! I save leftover caramelized onions (so frugal, I am!) for other uses – frittata, pizza, reheating and serving as a side, whatever strikes my fancy because I do love caramelized onions.
Dinner tonight: as described above. The soup alone – without any toppings – cost about $4.50 for 4-6 servings. If you skipped the bacon and the creme fraiche or sour cream, and only added the onions, you could save about $2.50 from the overall cost of the meal.