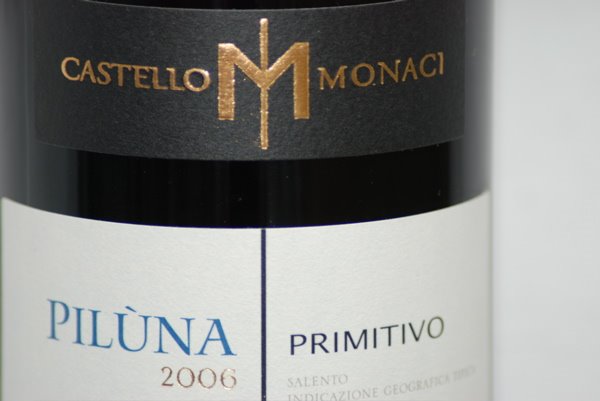 The Castello Monaci website has such a wonderful introduction page, I have to admit that after viewing it, I had already developed a positive outlook on their Primitivo which I had yet to open. In doing these wine reviews, my aim is to avoid polluting my perception of the wine with any "official" information on the wine prior to drinking it, but I had a few extra minutes yesterday afternoon, and thought I'd take a look at their website, though I did manage to restrain myself from reading their marketing blurb on the wine. The song in the intro held my attention, and I was also drawn in by the view to the ocean in their photomontage, which, whether it is or is not actually off of the heel of the boot, is as such in my mind. I think, "maybe I can see Greece from here". In the picture. Not in my studio. I know I can't see Greece from my studio.
In addition to other areas of Italy, the Greeks had settled in the heel of the boot, the region of Puglia where Castello Monaci is located, during the fourth and fifth centuries B.C., bringing their more advanced viticultural techniques with them. Prior to the arrival of the Greeks, the Pugliese (the people of Puglia) had been producing wine as early as 2000 B.C. (yes, 4008 years ago. Your eyes did not deceive you.). With the addition of Greek winemaking expertise, Puglia developed a reputation for high quality wines in the ancient world.
In the 19th century, there was an epidemic of phylloxera, a tiny root-destroying insect that is related to aphids, throughout Europe. This infestation wiped out enormous swaths of vineyards, nearly destroying the European wine industry at the time; by some estimates more than two-thirds and as many as nine-tenths of all European vineyards were wiped out. Following the replanting of vineyards in Puglia, winemaking was focused on quantity, rather than quality. This has recently changed and there are a number of good winemakers working in Puglia.
The wine we had last night is Castello Monaci's Piluna Primitivo. Castello Monaci is the vineyard, which is well-regarded with awards from Gambero Rosso and DueMilaVini for many of their wines. Piluna is the name of this particular bottling, and means "tufa pot" in Greek (tufa is a type of volcanic stone which is prevalent in Italy). The grape is Primitivo. Primitivo is a very ancient grape, and is the same grape as Zinfandel in California. The California Zinfandel likely found its way from Europe to California with settlers who had brought vines with them from Austro-Hungarian root stock during the 1820′s. During the 1970′s, scientists discovered similarities between Zinfandel and Primitivo, which they later confirmed were the same grape. The Primitivo of Italy likely arrived from Croatia, where it is known as Crljenak Kastelanski. I think we'll look at Crljenak Kastelanski down the line to see how terroir impacts winemaking – despite the fact that I am unable to pronounce said grape name – but for now, our history lesson on Primitivo is complete.
The Piluna Primitivo had much going on in its aroma. My first whiff smelled of blackberries, toast, and butter. I could smell something else which I just couldn't place – a common issue in wine smelling and tasting, I've found, unless, of course, you're Robert Parker, but, alas, I am not. While I had my nose buried in the glass in an effort to figure out what that smell was, darn it, my mouth began to water, and there was a little sting in my nose from the alcohol. Before you get a picture of me drooling and coughing, the mouth watering was completely under control and was merely a reaction to the sense that the wine was going to be quite good. I'd say that the sting in my nose was from the alcohol, which at 13.5 percent is a bit strong. In order to prevent the embarrassment of drooling (for whom, I'm not sure, but prevent it I did), I took a hearty sip. The wine was smooth. Immediately smooth. That doesn't always happen with high-alcohol wines, particularly not with ones that sting your nose upon smelling, I suspect, so this was a pleasant surprise.
I went back to the aroma. Now I was picking up a sweet sulfur smell, as though someone had lit a sugary match and quickly put it out. Next, I smelled honey, and then baked bread. JR smelled caramel. The wine was very pleasant tasting, but, for having so many different smells in its aroma, I could only discern blackberry when tasting it. It's probably me. Like I've said, I'm no Robert Parker. It was extremely pleasant and drinkable, with soft tannins and a lush mouthfeel. Well worth the $10.99 it cost me at Gasbarro's in Providence.
I did read up on the flavor profile of Zinfandel/Primitivo/Crljenak Kastelanski, and according to Ray Isle of Food and Wine magazine, its characteristic flavors are raspberry, blackberry, and pepper. JR thought there was something smoky in the taste – perhaps that was the pepper? No matter. This is a good wine and one which you could certainly serve guests or, hey, yourself. On, say, a Wednesday night. Or, how about a Thursday? There's still time to get a bottle for Thursday, you know.
Dinner tonight: Rigatoni with roasted butternut squash, sausage, and fried sage leaves. Estimated cost for two: $4.89 with leftovers. The rigatoni was $1.79 for a one-pound box. We'll use about half of that. The Italian pork sausage was $3.74. We'll eat all of that. Ahhhh, Primitivo would be good with sausage! The butternut squash cost 25-cents for two pounds at my neighbor's farm stand, and the sage is free from the garden. I'm also about to make Rustic Olive Rolls, so I'll get a cost on those for tomorrow's post.