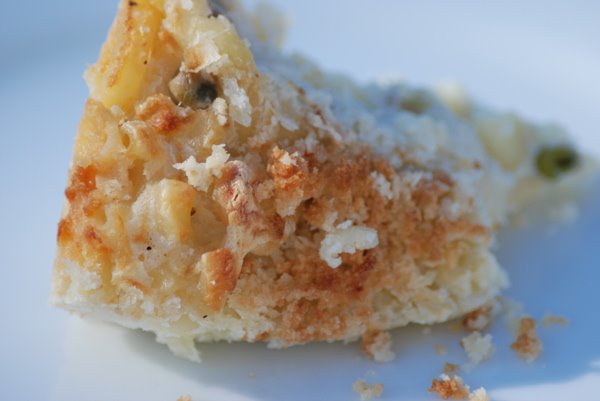 I like a rhyming post title/recipe name every now and again. And here we have one. I made this dish on Sunday because a rainy, 33-degree late-February Sunday requires comfort food. Preferably inexpensive comfort food. So with Ina Garten's macaroni and cheese from Barefoot Contessa Family Style as my guide, I added my favorite uncured pork product (pancetta) and some peas to great effect. See for yourself:
Pancetta and Peas Mac and Cheese
Ingredients
6 tablespoons unsalted butter
1/2 cup all-purpose flour
4 cups milk
1/4 teaspoon ground nutmeg
salt and pepper
10 ounces gruyere cheese, grated
3-4 tablespoons olive oil
4 ounces pancetta, thin sliced at the deli and then diced at home into approximately 1/2" pieces)
1 medium shallot, diced
1/8 teaspoon crushed red pepper
1 cup peas
1 pound elbow macaroni
1/2 cup panko bread crumbs (panko are Japanese-style bread crumbs and are more coarse than your average bread crumb)
2 tablespoons unsalted butter
Instructions
Preheat the oven to 375 degrees.

For the cheese sauce:

In a large saucepan over medium heat, melt the butter. Add the flour and use a whisk to blend. Cook until flour mixture is golden brown, approximately 5 minutes, being careful not to let the mixture burn. Slowly add the milk, whisking constantly to combine the milk and flour mixture. Cook over medium heat, stirring frequently, until mixture has attained the consistency of pancake batter, approximately 10 minutes. Remove from heat, stir in the nutmeg, salt, pepper, and shredded cheese. Set aside.
Heat the olive oil in a large saute pan over medium heat. Add the pancetta and cook for 3 minutes, stirring occasionally. Add the shallot and crushed red pepper, and cook until pancetta is beginning to for 2 minutes. Add the peas and cook until they are warmed through, approximately 3-4 minutes. Set aside.
Melt the 2 tablespoons of butter in a small pan, then add the breadcrumbs and stir to coat the crumbs with the melted butter. Set aside. There is much setting aside, as you can see. Not to worry, it's all about to come together now.
Cook the elbow macaroni according to the manufacturer's directions. Drain well. Combine the pancetta and peas, macaroni, and cheese sauce in an oven-safe baking dish with a 3-quart capacity, such as a large lasagna pan. Top the macaroni mixture with the buttered breadcrumbs, and cook on the middle rack for 30 to 35 minutes, or until the breadcrumbs are golden brown and the mixture is bubbling. Allow to cool for 5 minutes, and then serve it forth to your rhyming recipe name-loving family. Surely they love a food rhyme. Surely they do.
http://www.tinyfarmhouse.com/2009/02/pancetta-and-peas-mac-and-cheese/
Dinner tonight. Oh yeah. As there are only two of us in my house – excluding the dog – we get to enjoy this dish twice as leftovers. And tonight is one of those nights. Estimated cost for two: $5.60. The total butter in the dish was 8 tablespoons, so at $2.79 for 32 tablespoons (Whole Foods 365 store brand butter), that's roughly 70-cents. A half-cup of flour is 42-cents at $3.99 for a bag that contains 19 1/4 cups. The milk is half of a half-gallon which costs $1.99, so $1.00. The nutmeg seems negligible, but we'll call that 10-cents. The gruyere is your big expense here, and for 10 ounces, it cost $10.08. Ok, it was just a smidge over 10-ounces because this gruyere cost $15.99/pound (and a pound is 16-ounces, but you knew that already). The olive oil was 45-cents. The pancetta was 1/4 pound at $8.29/pound, so that's $2.08. The shallot was 25-cents, and the crushed red pepper we'll add in as 10-cents. The peas were 1/3rd of a bag that cost $1.29, so that's 43-cents. The bread crumbs cost $1.99 for 4 cups, therefore a half-cup is 25-cents. The elbow macaroni cost $1.39. So for $16.80, you have 6 hearty servings, each of which costs $2.83. If you aren't feeding six adults, or if one or more of your family members have a small appetite, this would easily feed 8, and then the price per person drops to $2.10.