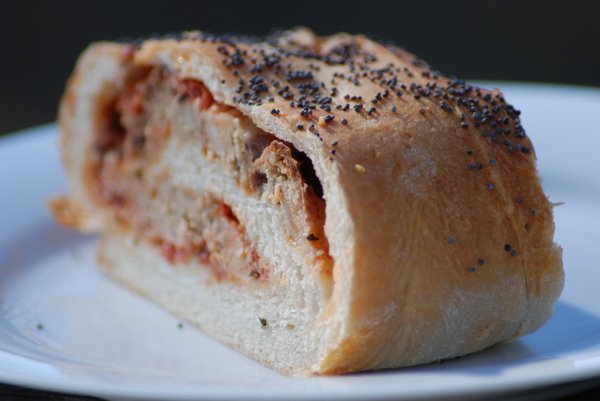 When I was a kid, my mother was famous for her calzones. I'm not certain how often we actually had calzones, but it seemed like they were perpetually sitting on the counter awaiting the carving of a slice so small as to not be noticed. Mostly because the slicer was sneaking a serving. With three siblings and any number of other friends at the house, you had to be resourceful to insure that you got your fill.
At my most-recent high school reunion, which, yeah, was my twentieth reunion – one of my most dear childhood friends approached me and said, "I've been trying to make your mom's ham and cheese calzone, and for the life of me, I can't get it to come out like hers. I just remember there was always a calzone on the counter at your house."
When you are dear childhood friends, and you spent all of your spare eighth grade time together singing (screaming) Aldo Nova songs while playing air guitar and playing Styx's Paradise Theater, like, three hundred million times, debating all the while as to whether Tommy Shaw was, in fact, the very hottest rock star of the entire early 1980s, you aren't really required to talk about what you've been up to for the past twenty years. But, if you're trying to figure out the mystery of Jan's ham and cheese calzone, you'd better speak up. You don't know how long it might be before you have the opportunity to ask again. (Life is just a fant-ah-see, can we live this fant-ah-see liiiiiife…oh no! Oh no! – Aldo Nova. In case you're looking for a point of reference. I hope this helped. My hair looked like his, too. By accident. It was supposed to look like Joan Jett's. But no. It did not. And that's a story for another day.)
I don't think I've made calzones since the summer before my senior year of college when a whole bunch of my college friends stayed at my dad's house for a Grateful Dead show taking place just down the road at what was then Sullivan Stadium (now Gillette Stadium, for you non-New Englanders). I'm not sure what made me think any of us would actually want to eat, given all of the other activities we were up to, and not being able to foresee my roommate Gabby and my police-escorted roller coaster of a walk toward the open paddy wagon doors, arrestees staring out at us, and then, at the last minute, a who-the-heck-knows-why police change of heart, setting us free. But still, I lovingly made the calzones in preparation for our big day at the stadium. One calzone of Italian cold-cuts, the other, ham and cheese. I believe that Gabby and I sat in the parking lot with our counterfeit Dead tickets (Dude, how could anyone be so cold? Counterfeit tickets? Maaaaannnnn.) eating slightly squishy and overheated – though not yet poisonous – slices of calzone that had been in the car, wrapped in plastic – a known double heat trap – all of that August afternoon and evening until our other ten friends who did get into the show returned to the parking lot.
You know, now that we've been through all of that, I think I know why I haven't made calzones in eighteen years. I'm glad we had this talk.
So this weekend, blissfully unable to recall this scarring calzone memory, I was considering my bread-baking responsibilities, and thinking about just how much JR would enjoy peanut butter and jelly every single day this week for lunch, when it hit me. I had made a batch of meatballs and sauce, why not make a meatball calzone? It's like making the bread and the sandwiches for the week all in one fell swoop. What could be better?
This dough is from the King Arthur Flour website, which you may know I think is the most fabulous resource for bread baking. The dough yields enough for two calzones – ham and cheese as well as meatball, if you're going to make two. However, I didn't have ham and cheese on hand – which is the reason why I had been pondering JR's love/not love of pb&j, after all – so I made 4 dinner rolls, 1 flatbread with pesto and one rolled up individual-type pesto calzone withe the other half of the dough. I think this dough has changed my life. You will please forgive me if every week we discuss calzone fillings instead of bread baking, ok?
Speaking of calzone fillings – you can use anything at all that you like for fillings – if you happen to have made some meatballs and sauce, I used 2 meatballs for this calzone, and with just those two meatballs, a bit of sauce, and about a cup of shredded cheese, JR has enormous calzone slices for his lunch all work-week long. If you were to make ham and cheese, my mother's secret ingredient is Dijon mustard spread over the dough before layering on the ham and the cheese. But don't stop there – if you have leftover chicken and some pesto, toss it on in. Or sauteed spinach or kale and cheese? Yum. Endless, endless combinations. And we will try to explore as many of them as possible, I assure you.
Ingredients
For the dough:

2 cups lukewarm (105 to 115 degrees) water
1 tablespoon sugar
1 tablespoon yeast
1 cup flour
2 tablespoons olive oil
1 tablespoon kosher salt
4 cups flour + more if necessary to form dough
1/2 cup flour for dusting counter prior to kneading dough

For the egg wash:

1 egg yolk
2 tablespoons milk
1-2 tablespoons poppy seeds or sesame seeds (optional)
Instructions
In a large mixing bowl, combine the lukewarm water, sugar, and yeast. Stir to dissolve the sugar and yeast, and let stand for 5 minutes to allow the mixture to fester. I mean this in a good way. It will bubble. You want that.
Add the one cup flour to the festering yeast mixture and mix well. Add the olive oil and salt, and then add the remaining 4 cups of flour one cup at a time until the dough holds together and pulls away from the sides of the mixing bowl. If this isn't happening, add additional flour a tablespoon at a time until it does pull away from the sides of the bowl.
Knead the dough on top of the pile of flour (the 1/2 cup, which, of course, you have scattered on your counter top such that it really isn't a literal pile) until the dough is no longer sticky and is silky, approximately 5 to 7 minutes. Let the dough rest on the counter while you grease a bowl in which it will rise, then knead the dough once more for 3 to 4 minutes. Place in the generously-greased bowl, toss to coat the dough, and then cover with a clean kitchen towel or plastic wrap and set in a warm, draft-free area to rise until it is doubled in size, anywhere from 1 to 2 hours depending upon heat and humidity at your house.
Once the dough has doubled in size, punch it down, remove it from the bowl, and cut it in half. If making two calzones, each half must be rolled out to approximately 10 x 13 inches. If you're confident in your ability to stretch dough by hand, you can also stretch the dough rather than roll it out. If you go the stretching route, one tip is to not use your fingertips as they can punch through the dough, instead, use your knuckles to stretch.
Now, make a layer of your fillings in the center of the dough, leaving at least an inch-wide border free of toppings all the way around the dough rectangle. Once you have filled to your heart's content, begin rolling the dough over itself, starting with the long side, as though you are making a jelly roll. Or an old-style calzone. Not the type of calzone that looks like a clam shell. Once the roll is complete, tuck the short ends under themselves, and be sure that the long end is securely under the bulk of the calzone. If you have any holes in the dough when you roll it over itself, it is possible to patch by taking a small piece of dough, stretching it to fit the hole, then dabbing warm water onto both the part of the dough patch that will be placed on the hole, as well as on the solid dough area around the hole. Once you join the patch dough to the calzone dough, work gently to adhere the patch to the calzone. None will be the wiser once it's been cooked.
Place the rolled calzone on a large baking sheet lined with parchment paper, cover once more with a clean dish towel or a buttered piece of plastic wrap, and place in a warm, draft free area for 1 hour.
Slice 5 two-inch long slices across the top of the calzone(s).
Combine the egg yolk and 2 tablespoons milk in a small bowl and beat well to combine. Brush the surface of the calzone with the wash and sprinkle poppy seeds or sesame seeds over top if desired. I used poppy seeds because I had them, but believe me you, if I don't have seeds here, I will not be purchasing seeds specially for calzone. So don't feel compelled to do so just to follow the recipe.
Preheat the oven to 450 degrees about 15 minutes before you want to put the calzone in. Here's a little trick if you want crispy crust, but be sure to use a metal pan for this trick - not a pyrex pan - lest you spend a half hour cleaning bits of shattered glass from inside your oven because you are clearly a dope. Clearly. So, the for the crispy crust trick, place a metal roasting pan on the bottom of your oven just before you start to preheat to 450. The moment before you are going to put the calzone in, add 4 cups of water to the preheated roasting pan. You can see how this might not work well with glass, which, when heated to 450 degrees, will shatter with the addition of one drop of 70 degree water. This addition of water mimics the steam-injection ovens used in professional bakeries. Place the calzone(s) on the middle rack and bake for 15 minutes. Then reduce the heat to 400 degrees and bake until golden brown, 10 to 15 minutes more.
Remove from oven and allow to cool for 10 minutes so that the filling doesn't all ooze out when you cut into it. Be sure to sample a slice before packing for lunches, and know that if your 9-year old and 7-year old are eating it, they will get a lot more mileage out of it than a middle-aged contractor-man will. At least, I hope they eat less than a large man does. For your sake. And that of your wallet.
http://www.tinyfarmhouse.com/2009/02/why-hadnt-i-thought-of-this-sooner-calzones-for-all/
Dinner tonight: I am going to Local 121 in Providence for the first-ever Slow Food Rhode Island/Farm Fresh Rhode Island movie night. Starts at 6 – there's a buffet of locally-sourced food available for $15, and the movie is free and starts rolling at 7pm. Come on down! JR gets to have more of the Pancetta and Peas Mac and Cheese while I'm out, and I think he's rather looking forward to it.