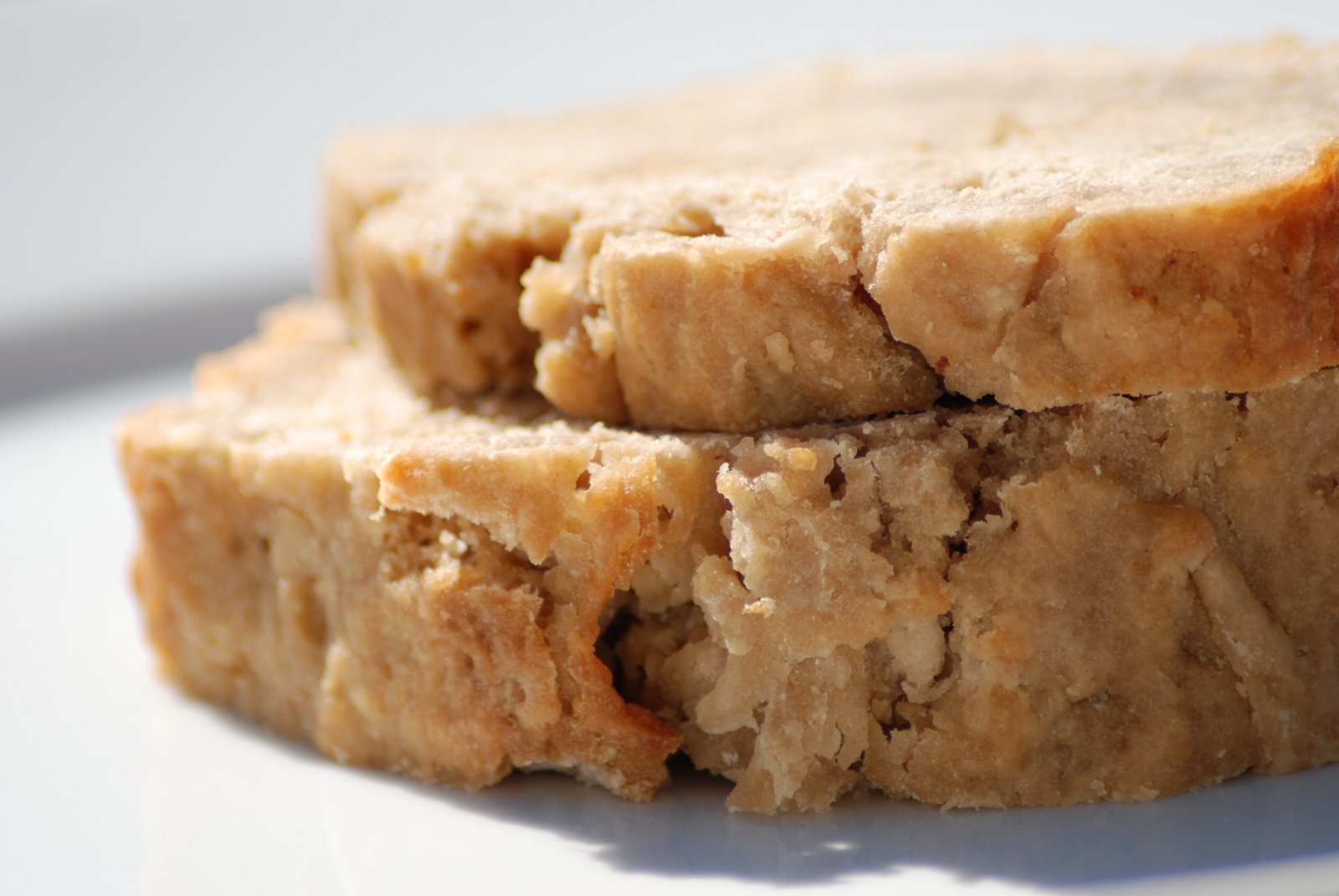 Now, if you're able to raise your head up from your half-drunk (the beer, not you) pint well enough that you think you can still muster a boiled dinner, you'll be needin' some bread to sop up some of that there ale you've been a-swillin'. Fear not, for even a well-sauced boozebag can handle this one, and in short order at that. Bonus for you, oh, teetotaler, for your preparation time should be at most half that of our drunk compatriot. Five minutes, tops.
Beat the Clock Beer Bread
Ingredients
3 cups all-purpose flour
1 tablespoon baking powder
3 tablespoons sugar
1 teaspoon kosher salt
12 ounces room temperature Guinness (Guinness in a can has a total volume of 14.9 ounces. Make the Guinness Mustard from yesterday's post, pour 12-ounces into a liquid cup measure for this recipe, and drink the rest. So what if it's warm? You're only having an ounce or so. You can do it. You're a champ.)
4 tablespoons unsalted butter, melted
softened butter for greasing the loaf pan
Instructions
Ok. Ready? So easy, even a drunkard can do it.
Preheat the oven to 375 degrees. Grease a 9x5x3-inch loaf pan and set aside.
In a large mixing bowl, combine the flour, baking powder, sugar and salt. Mix well. Pour the 12 ounces of beer in all at once, and mix until the Guinness and flour mixture are well combined. The batter will be lumpy - have no fear.
Transfer the batter to the greased loaf pan and brush the top with the melted butter. Bake on the middle rack for 35 to 40 minutes, or until a toothpick inserted into the center of the loaf comes out clean. Transfer to a baking rack to cool, and then slather with a bit of softened butter for an added treat to accompany your corned beef and cabbage. Note to you: makes a great sandwich bread with leftover corned beef, btw.
Also, you don't have to use Guinness - any beer will do, so long as it is warm, but you know you want that Guinness Mustard, and you also know you abhor waste. I'm here to help.
http://www.tinyfarmhouse.com/2009/03/beat-the-clock-beer-bread/
Dinner tonight: Um, yeah. Not corned beef and cabbage. No. Sorry about that. Instead, Lasagna Bolognese. This is a repeat, people. Estimated cost for two: $3.76. The sauce cost $8.29 as made in the Untraditional Bolognese post, 6 of the 8 bolognese servings are going into the lasagna, and that's $6.22. The lasagna noodles are one-half of a box that cost $1.50 and that cost is 75-cents. The Bechamel sauce consists of 4 cups of milk which was $1.39, the butter was 43-cents, the flour was 6-cents at $3.99 for 76 quarter-cups per 5 pound bag, and we used the less-expensive, already grated, but still real – no green jars of faux cheese for us – parmigiano-reggiano from Venda Ravioli, 3 ounces of that cost us $2.43. The total cost for the lasagna is $11.28, and that works out to $1.88 per serving.