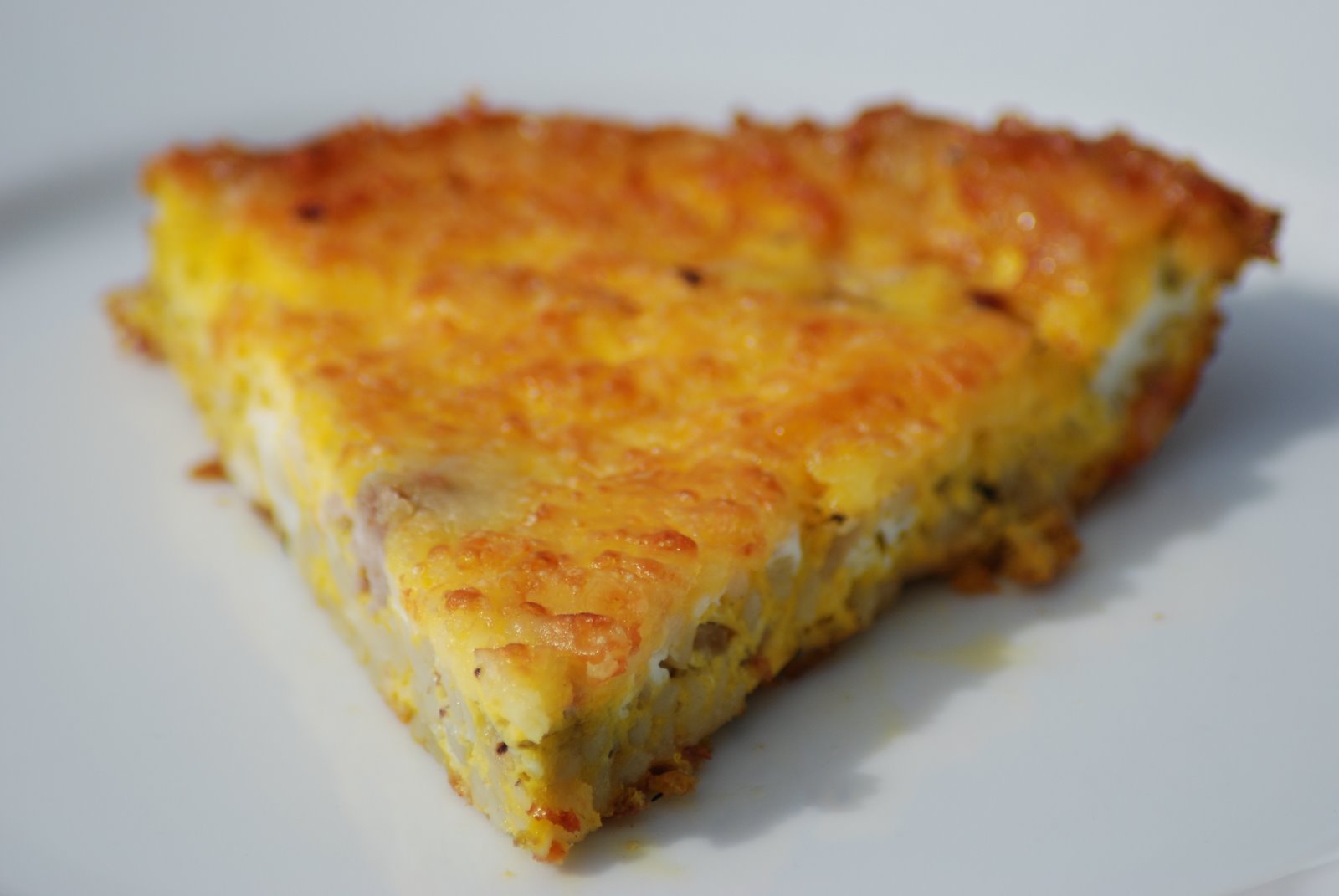 In celebration of our chickens successfully overcoming their egg-laying drought, I will be focused on eggs and egg recipes for at least a day or two. Or until I can actually feel my cholesterol rising, whichever comes first.
Now that the threat of death, or perhaps just the threat of hypnosis, has borne of its wrath the steady production of eggs, we are able to resume our weekend habit of Sunday frittata lunch. The beauty of frittata is that you can make it as complex or as simple as you like. If you have nothing but cheese in the house, simply add cheese. If you have sweet corn, fresh-from-the-garden tomatoes and basil, plus, say, some fresh mozzarella, perhaps you add all of those to the mix. And if you have one sad-looking link of sweet Italian sausage – sad because on its own, it is not enough to feed two people dinner – and about a cup of leftover spaghetti – yes, you read that correctly – spaghetti, you can make a delicious frittata that should also leave you with leftovers. And those leftovers happen to make a darned tasty and convenient lunchbox item, might I add.
So, now, you may be scratching your head about the spaghetti in the frittata, and I understand that this may seem a little odd to you. It's yet another of those tricks of cucina povera, or the poor kitchen, designed to use every last morsel of food in one's house. So on Saturday night, when we had some leftover spaghetti abandoned in the colander, I bundled it up into a ball and stored it away in the refrigerator for the next day's lunch. You don't actually taste spaghetti while eating the frittata, but there is a certain heft that it adds that helps to fill one up. So for that certain je nais se quoi of heft, here's what you do:
Sausage and Spaghetti Frittata
Ingredients
8 large eggs
1/2 cup olive oil
1 medium onion, diced
1/2 pound (approximate - it's ok to be over or under slightly) sweet Italian sausage, removed from casing and cut into 1/2-inch pieces
1 cup spaghetti, or more, depending upon your leftovers for it is ok to use more, cut into 2-inch long pieces
1/8 teaspoon crushed red pepper
1 cup grated Italian-blend or Mozzarella cheese
Salt and pepper
Instructions
In a large mixing bowl, combine the eggs and beat until well blended.
Preheat oven to 350 degrees.
In a large oven-proof skillet over medium heat, add the oil and heat until just beginning to shimmer. Add the onion and saute until just translucent, approximately 2 minutes. Add the sausage pieces and cook over medium heat until sausage is beginning to brown, approximately 5 minutes. Add the spaghetti and stir to distribute evenly.
Reduce heat to medium-low and add the egg mixture. Allow to cook on the stove top until the eggs are just set, approximately 5 to 7 minutes. Sprinkle the grated cheese over top, salt and pepper to taste, and transfer to the oven. Bake on the middle rack for 45 minutes, or until the top of the frittata is just golden brown. Remember that the handle will be quite hot - like 350 degrees of hot metal hot - so you may want to swaddle it in an oven mitt once you've removed it from the oven to prevent inadvertent burns to the palm.
Remove from oven and let stand for 5 minutes before cutting into 8 even-ish wedges. Serve with a simple green salad and crusty bread, and tuck leftovers away in the fridge for an easy weekday lunch option. One that happens to be convenient eating on the go, as well.
http://www.tinyfarmhouse.com/2009/03/centered-on-eggs/
This is a very satisfying and inexpensive lunch, which I think we can all agree renders us rather joyous. The eggs should be no more than 26-cents each, and 8 eggs from a dozen Whole Foods store brand that cost $3.19 is $2.12. The sausage was 1/2 pound at $3.99 per pound, so that's $2.00. Your leftover spaghetti is pennies, particularly if you bought a box of pasta for $1.00 on sale, but to be sure we're rounding up, let's call that a quarter. The cheese I used was $4.69 for the bag, and I used around half, so that's $2.35. The oil costs around 88-cents, the onion is about 1/2 pound at 65-cents per pound, so that's 33-cents, and we'll throw in 10-cents for the crushed red pepper. That's $8.03 for 8 wedges, so just over $1.00 per wedge. Pretty thrifty for hefty, wouldn't you say?
Dinner tonight: Lasagna Bolognese. Estimated cost for two: $3.76. The sauce cost $8.29 as made in the Untraditional Bolognese post, we've already had 2 of those servings over pasta, so 6 servings are going into the lasagna, and that's $6.22. The lasagna noodles are one-half of a box that cost $1.50 – happy for the pasta sale this week, I have to say – and that cost is 75-cents. The Bechamel sauce consists of 4 cups of milk which was $1.39, the butter was 43-cents, the flour was 6-cents at $3.99 for 76 quarter-cups per 5 pound bag, and we used the less-expensive, already grated, but still real – no green jars of faux cheese for us – parmigiano-reggiano from Venda Ravioli, 3 ounces of that cost us $2.43. The total cost for the lasagna is $11.28, and that works out to $1.88 per serving. I realized that I haven't shared the precise recipe for the Lasagna Bolognese, so I will do that in the coming days.