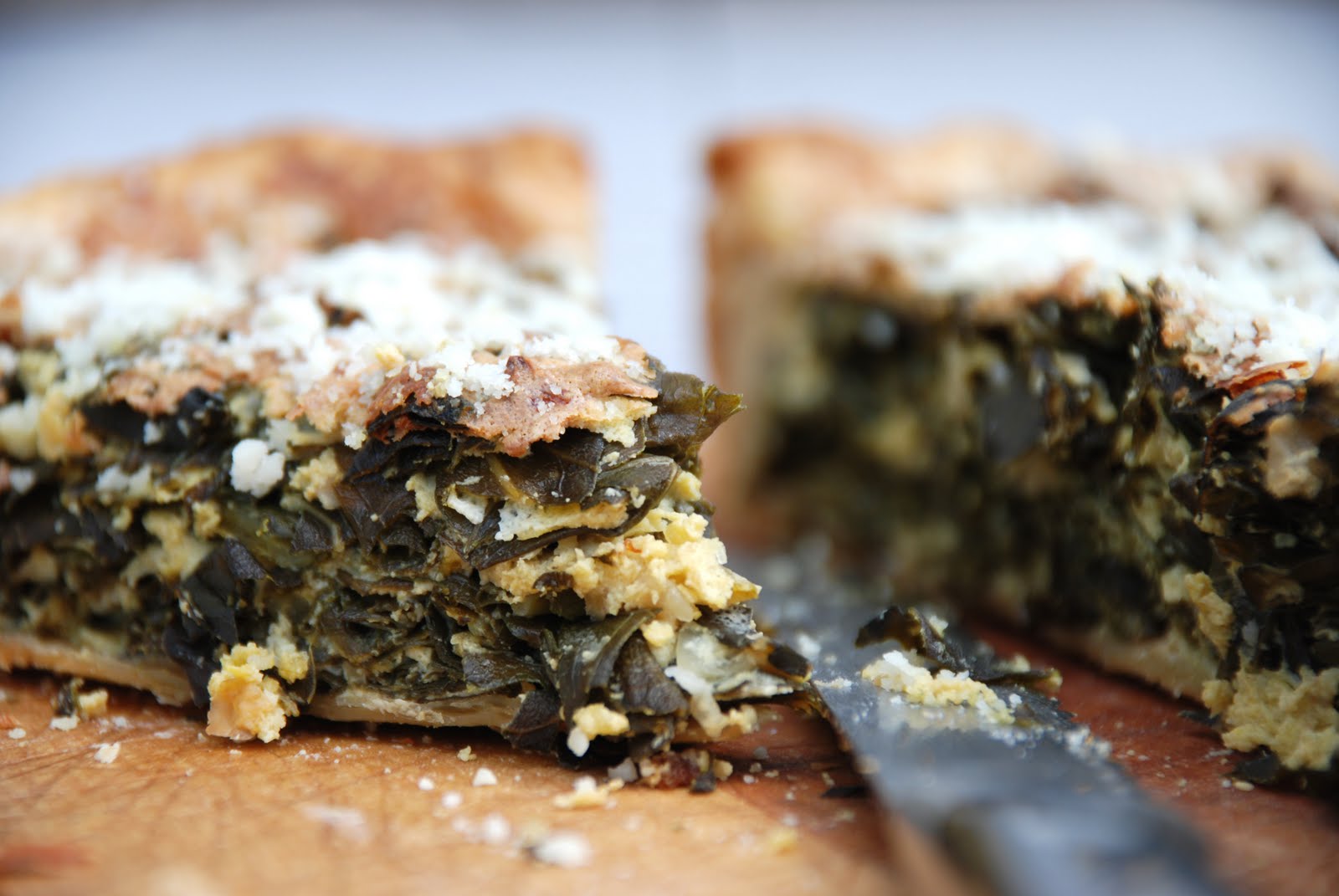 Collard greens seed starts were a last-minute impulse purchase at the farm stand this spring. Though I am generally prohibited by my frugal philosophy from impulsive spending, I figured that acquiring six plants for $2.60 was a reasonable gamble. After all, even if I chopped down each of the plants in its prime and ate them, I'd have made up for my purchase nearly five-fold. And so into the woven plastic flat they went, next to the peppers, leeks, and acorn squash.
Now, nearly six months later, I can make an informed assessment of collard greens. And I have this to say: Those things kick arse. Not only are they prolific producers, they mind not a little neglect, and though the slugs are quite enamored of them, it's easy enough to pick those little slimy things off. Add to that, one can quickly harvest enough leaves for a meal in short order, and, still, the leaves keep coming, all season long. It wasn't until the end of last month that they showed evidence of cabbage loopers (or inchworms, as I have always known them), which is to be expected, as that is the loopers' time, yet I simply fed those to the hens (along with the slugs, which the hens have now come to expect), and order was restored.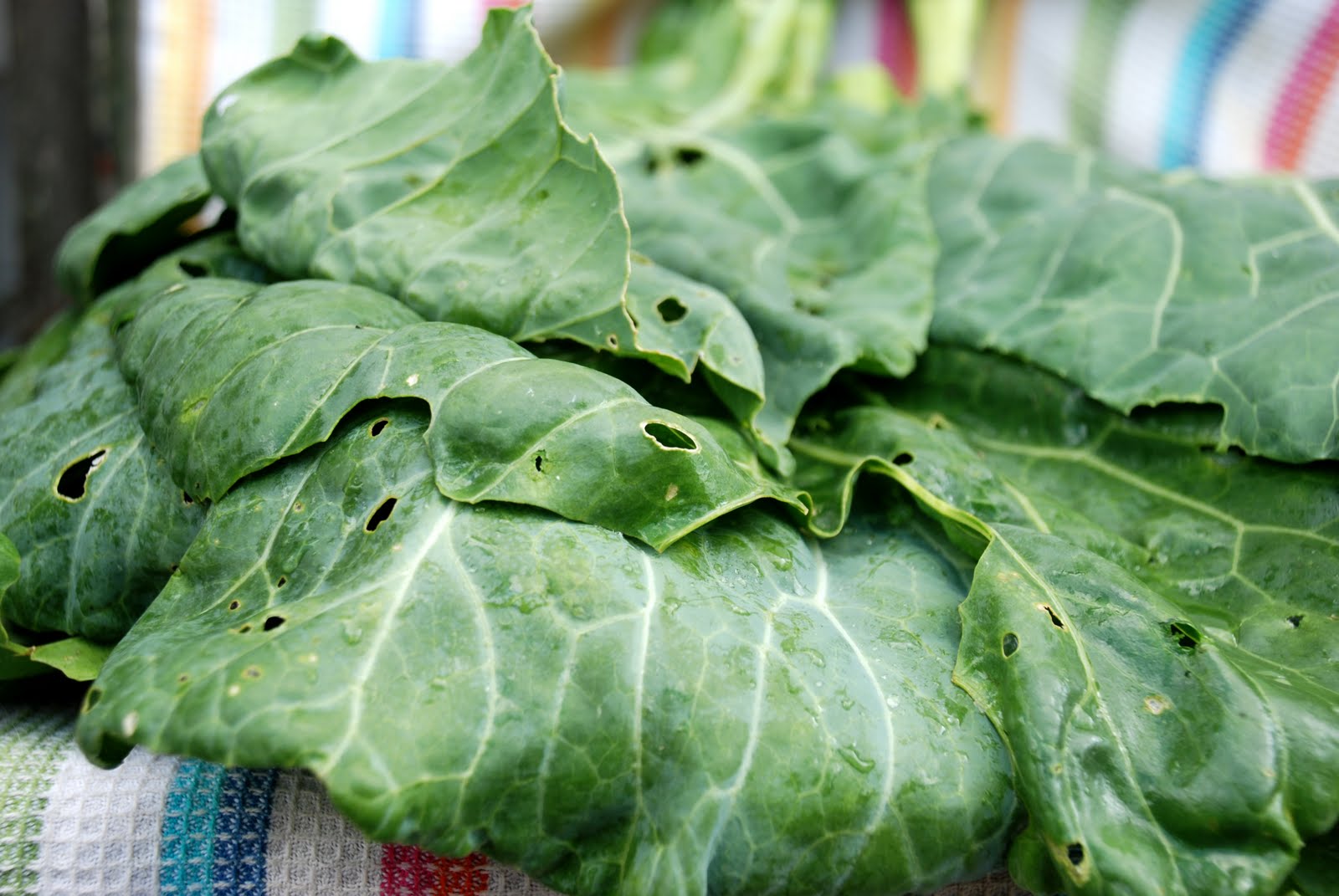 So maybe I wasn't successful at getting ALL of the pests off all of the time. What's a few holes in your collards? Eat around 'em.
Collard (a.k.a. collard greens, or collards) is a member of the Brassica family, a genus that contains an enormous number of edible plants, including broccoli, cabbage, and kale (to say nothing of the decorative landscape-plant branch of the family tree). They are prolific in the South, but even here in the Northeast, there was a report of a grower on Cape Cod who was harvesting collards – unprotected from weather – until February one year. Collards are high in vitamin C and soluble fiber, and, man, are they tasty. Many times, that soluble fiber gets washed down with a little smoked meat, as it did in our dinner last night – pasta with spicy collards, white beans, tomatoes, and bacon, which is perilously close in concept to the kale dish I posted last week, and yet, I think I may still post it – in a week or so, once we've all forgotten the similarity – because JR and I both swooned over it.
This pie is also swoon-inducing, and yet, there is not a bit of meat to be found. For Christmas every year, JR gets me an Italy-themed calendar. I don't mind the predictability, for I love my husband and we both love Italy. And when one can't go to there, why not ogle a picture or two hanging on the wall? This August, in the photo-a-day calendar that was 2008′s gift, there was a very tempting-looking greens pie – alas, no caption or recipe followed, so I decided to do my best to replicate what I thought it might be. I gathered up two pounds (or so) of collard greens – leaving an abundant crop behind in the garden – washed them diligently, as they tend to pick up quantities of soil, slugs, and the occasional inchworm, and then proceeded with constructing this very hearty pie.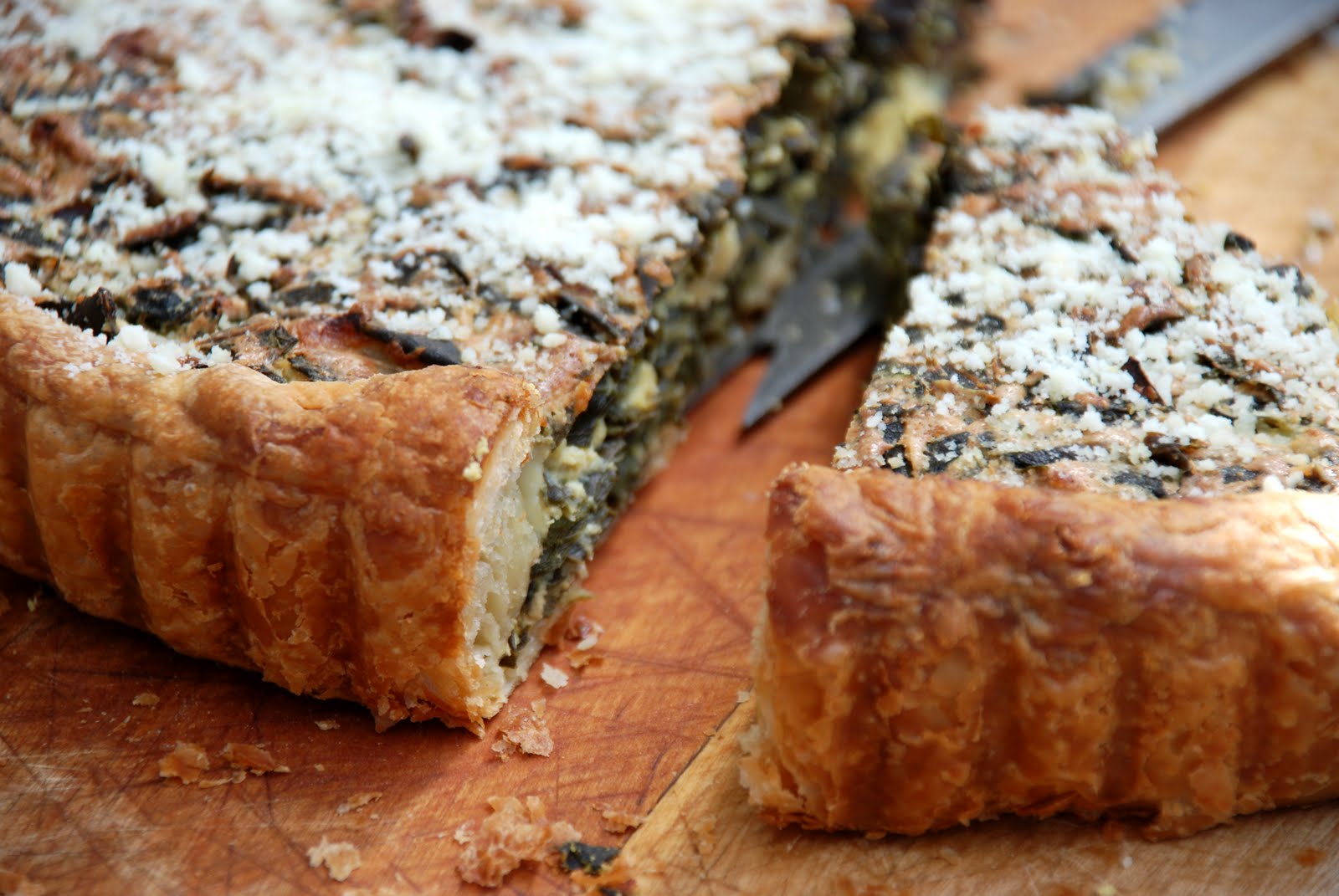 Ingredients
1 sheet puff pastry (I was feeling a bit too lazy to make my own crust, and the puff pastry worked well, so we're going with it)
1/4 cup extra virgin olive oil
1/4 teaspoon crushed red pepper
1 medium onion
2 pounds collard greens, well washed, woody stems removed, and coarsely chopped (if buying bunches at the grocery store, they weigh approximately 1 1/4 pound each, save that half pound for sauteing another night)
1 cup fresh ricotta
1/2 cup Pecorino Romano cheese, plus 1/4 cup for sprinkling over the finished pie
2 eggs, lightly beaten
Kosher salt
Freshly ground black pepper
Instructions
Preheat the oven to 400 degrees. Grease a 9-inch tart pan or pie dish with unsalted butter.
Roll out the puff pastry dough on a lightly floured surface to a 12-inch approximation of a circle (the corners of the once-rectangular sheet are a bit difficult to round, after all). Transfer to the greased tart pan, tucking the dough into the pan and curling the dough edges back over themselves to form a crust. If there are areas that could use a little more crust, simply trim any excess dough (this can usually be found at the corners that we were unable to round out), and patch the dough where desired using a bit of warm water to adhere it to itself. Pierce the bottom surface of the crust all over with a fork. Set the crust masterpiece aside (I won't tell it was from the freezer section if you don't).
Heat the olive oil in a large skillet or saute pan over medium heat. Add the onion and crushed red pepper, and saute until the onion is translucent, 3 to 5 minutes. Add the collards and saute until they are wilted, 3 to 5 minutes. Remove from the heat, and transfer the mixture to a large mixing bowl.
In a small mixing bowl, combine the ricotta, Pecorino Romano, and eggs, and whisk to blend. Add the cheese mixture to the collards and stir well. Season with salt and pepper. Transfer the greens into the pastry shell, pushing down on the greens to compact them. Have I mentioned that this is a dense pie? Yes. Well, those greens will come right up to the edge of your crust, or pretty darned close to the edge of your crust.
Bake the pie until the crust is golden brown and you can see that the cheese and eggs in the greens are lightly browned on the top of the pie, 40 to 45 minutes. Remove from the oven, and allow the pie to cool for at least 10 minutes before digging in. Sprinkle the remaining Pecorino Romano over the greens, and then cut away.
http://www.tinyfarmhouse.com/2009/10/collard-greens-pie/
Estimated cost for one pie: $12.48. And you will get twelve slices out of it, for it is robust. That's $1.04 per slice. The puff pastry costs $4.49 for two sheets, so one sheet runs us $2.25. The collard greens cost $2.49 per bunch at Whole Foods, though I have seen them for 79-cents per pound in my regional grocery store. We'll still figure on the $2.49 price because that gives you a little flexibility to hit the farmers market instead of Whole Foods if you'd like. The olive oil costs 48-cents, the crushed red pepper costs 12-cents, the medium onion is 38-cents. The ricotta costs $3.00 (1/2 of a 1 pound container), the Pecorino Romano costs 75-cents, and the eggs should be no more than 26-cents each.
Dinner tonight: Roasted chicken with romano pole beans and collards. Estimated cost for two: $6.51. The chicken will cost around $5.00. I haven't yet purchased it, but I seem to be hovering around the five-buck mark with my recent chicken choices. JR will get the leftovers for tomorrow's lunch, so $2.50 is what we add to tonight's bill. The beans and collards are both from the garden, so they are free, but if you were purchasing them, let's say it would be about 1/2 pound of beans at $1.75/pound, and one bunch of collards at $2.49. The olive oil will cost 48-cents, the crushed red pepper 12-cents, and the garlic will be around 10-cents. However, with the garden still producing, our actual cost is $3.20.