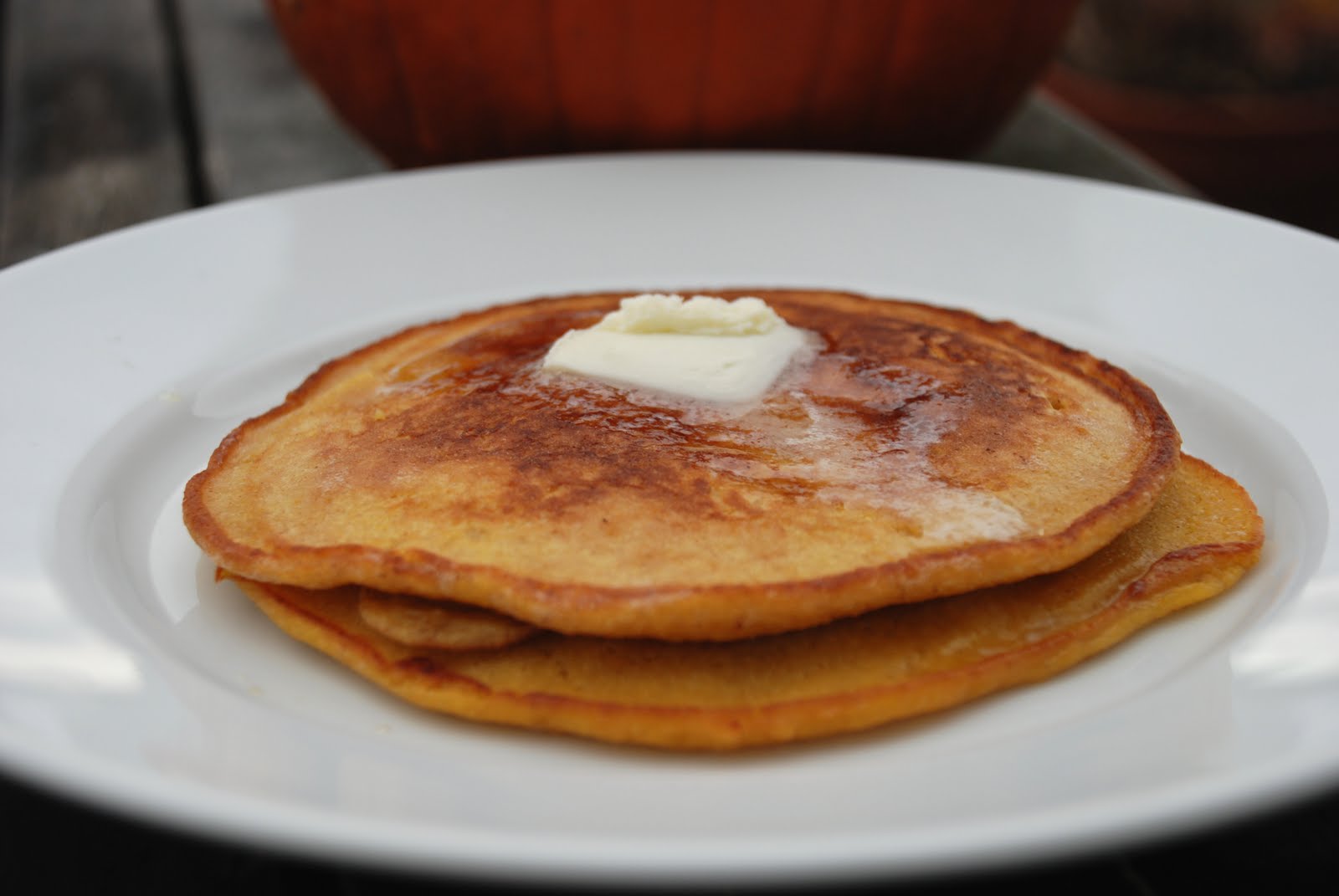 Yep. It's official. I'm obsessed. I'm not sure if it's possible for me to get enough of pumpkin right now. I know that this, too, shall pass, but, then, I'm a bit concerned that it might not. I mean, if I could eat tomatoes fresh from the garden all year long, I most certainly would, so why do I think that now that I'm addicted to pumpkin that I'll tire of it? Maybe it's best just to accept the obsessive-compulsive nature of my seasonal food eating, and embrace this personality flaw (disorder?).
I woke up this morning faced with one of the many curses of cooler weather. Low egg production on the part of our hens. Yes, some are molting, but once the temperature drops and sunlight is diminished (both in duration and through obstruction by dreary cloud cover), the hens revolt. Quietly. And stop laying an egg each per day. Last night's garlic aioli ate up two egg yolks, leaving us with nary an egg in the house for breakfast today. JR's morning trek to the palatial chicken mansion-coop yielded just two eggs – not enough for our four-egg-minimum Sunday breakfast requirement. While I pondered what to do to break fast, our now-constant stash of pumpkin puree whispered – loudly – to me with each opening of the refrigerator door, "Hey, what about me? Hey now. Don't forget me."
A low-egg Sunday breakfast solution, then? Pumpkin pancakes. After a consultation with my trusty copy of Joy of Cooking, I modified their basic pancake recipe and came up with this keeper. I think we'll be on a pancake kick for a while here, now, with our winter egg shortage upon us. Or until I (possibly) recover from my pumpkin preoccupation and move on to homemade granolas. Or perhaps it will take the weather warming again, plus sunlight, a dozen eggs a day, and the quest to prepare eggs one hundred ways all returning to our property. In the meantime, I'm pretty satisfied with this pancake solution.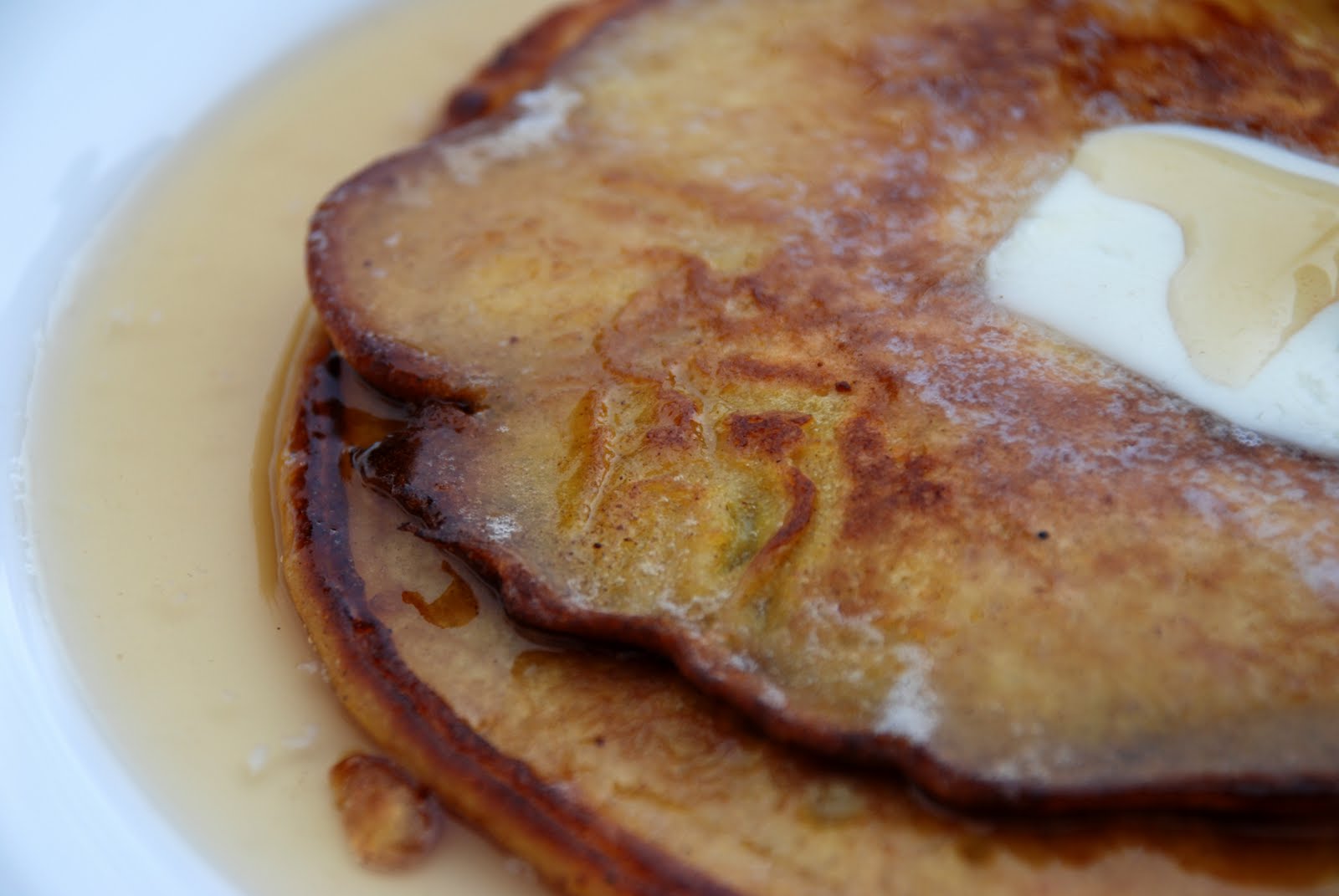 Ingredients
1 1/2 cups unbleached all-purpose flour
3 tablespoons brown sugar
1 1/2 teaspoons baking powder
1/2 teaspoon kosher salt
1/2 teaspoon ground cinnamon
1 cup pumpkin puree (approximately 1/2 of a 14.5 ounce can of puree if you aren't stockpiling fresh pumpkin puree in your refrigerator)
1/2 cup milk (not skim)
2 large eggs, lightly beaten
3 tablespoons unsalted butter, melted
Instructions
In a large mixing bowl, ideally with a pouring spout, mix together the flour, brown sugar, baking powder, salt, and cinnamon. In another bowl, mix together the pumpkin puree, milk, eggs, and butter. Pour the pumpkin mixture into the flour mixture, whisking gently, until all of the dry mixture is incorporated into the wet.
In a large non-stick skillet over medium heat, melt a half-tablespoon of unsalted butter, then pour the pancake batter into the center of the skillet, using a spoon to flatten the batter to a 1/4-inch thick by 6 (or so) inches in diameter round. The pumpkin batter doesn't spread as readily as strictly milk-based batter, so your assistance is required in forming the round.
Cook the pancake until the top side shows bubbles, those bubbles begin to burst, and the bottom side of the pancake is lightly browned. At that point, carefully flip the pancake over, and continue cooking until that side is also lightly browned. Transfer to a plate if serving immediately, then add butter to the skillet as needed while you cook the remaining pancakes.
If you'd like everyone to sit together and enjoy their breakfast along with conversation (presuming, of course, that they are then morning people), preheat your oven to "warm" (170 degrees on my model) or 200 degrees.
As each pancake is finished cooking, brush it with melted unsalted butter, and place it in a baking dish or rimmed baking sheet, and place them in the oven until it's time to serve. Serve the pancakes with a bit of butter and maple syrup, or a drizzle of honey, and, if you're feeling particularly decadent, with freshly whipped cream and a sprinkle of cinnamon sugar.
http://www.tinyfarmhouse.com/2009/11/pumpkin-pancakes/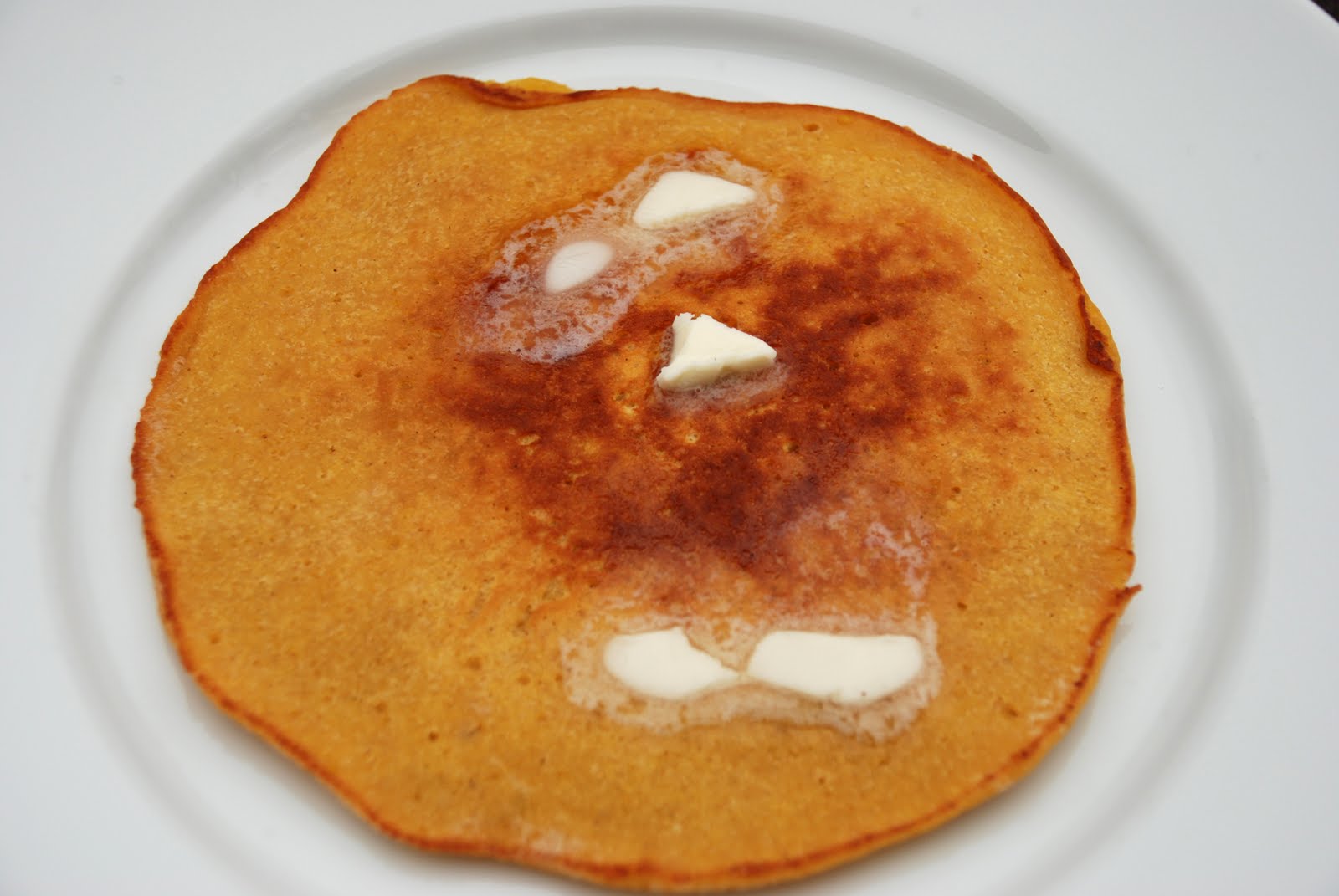 This is the closest I come to Jack o' Lantern-making. I'm good with that. Really, I am.
Estimated cost for 8 pancakes: $2.26, or just over 28-cents per pancake. How can you afford not to cook at home? The flour costs 24-cents per cup, so that's 36-cents. The sugar is 4-cents per tablespoon, so 12-cents. The baking powder is less than 2-cents, but we'll just go ahead and call it two. The cinnamon costs 10-cents. The pumpkin, freshly prepared, will run us somewhere around 75-cents. The milk costs no more than $1.99/8 cups, so that's around 13-cents. The eggs cost 52-cents, and the butter costs 26-cents.
Dinner tonight: Panko Chicken Parmigiano with Slow Roasted Tomato Sauce and Penne. Estimated cost for two: $8.81. The chicken cost $1.99 per pound, though I selected two ginormous breasts so that JR can have at least a half of one for lunch tomorrow. And Tuesday. The chicken breasts cost $5.23. The egg for the coating cost 26-cents (I had to buy eggs. Oh, the horror!), the flour will be in the range of 6-cents. The panko crumbs come from a tub of Whole Foods 365 Everyday Value brand that costs $1.99 and contains 4 cups; I'll use no more than 1/2 cup for tonight's dinner, so that's 25-cents. I bought Parmigiano-Reggiano on sale at Whole Foods last week for $12.99/pound, so the amount used in the panko crumb will cost around 81-cents. The oil for frying will cost around 96-cents. The tomatoes were green tomatoes – ripened in paper bags over the last few weeks – that I purchased at my favorite farm stand for $1.00/pound, and I've got about 1 1/2 pounds roasting away as I type this, so that's $1.50. The oil for roasting costs 36-cents, the oregano came from the garden, so it's free, but if you were using dried oregano, it would cost around 13-cents. The pasta will run us around 50-cents because I hit one of those 10 for $10 sales, and we'll use around half of a box of penne. I will chop and saute the roasted tomatoes in a bit of oil, so that's another 36-cents or so, and the cheese to be sprinkled on top of the chicken costs around $1.00. Realistically, the chicken breasts are large enough to feed four (cripers, they weigh over 2 pounds boneless and skinless!), so the for-four cost would be $11.92, and if we subtract out the cost of the additional two servings of chicken meat plus the additional pasta servings, that lands us at $8.81.