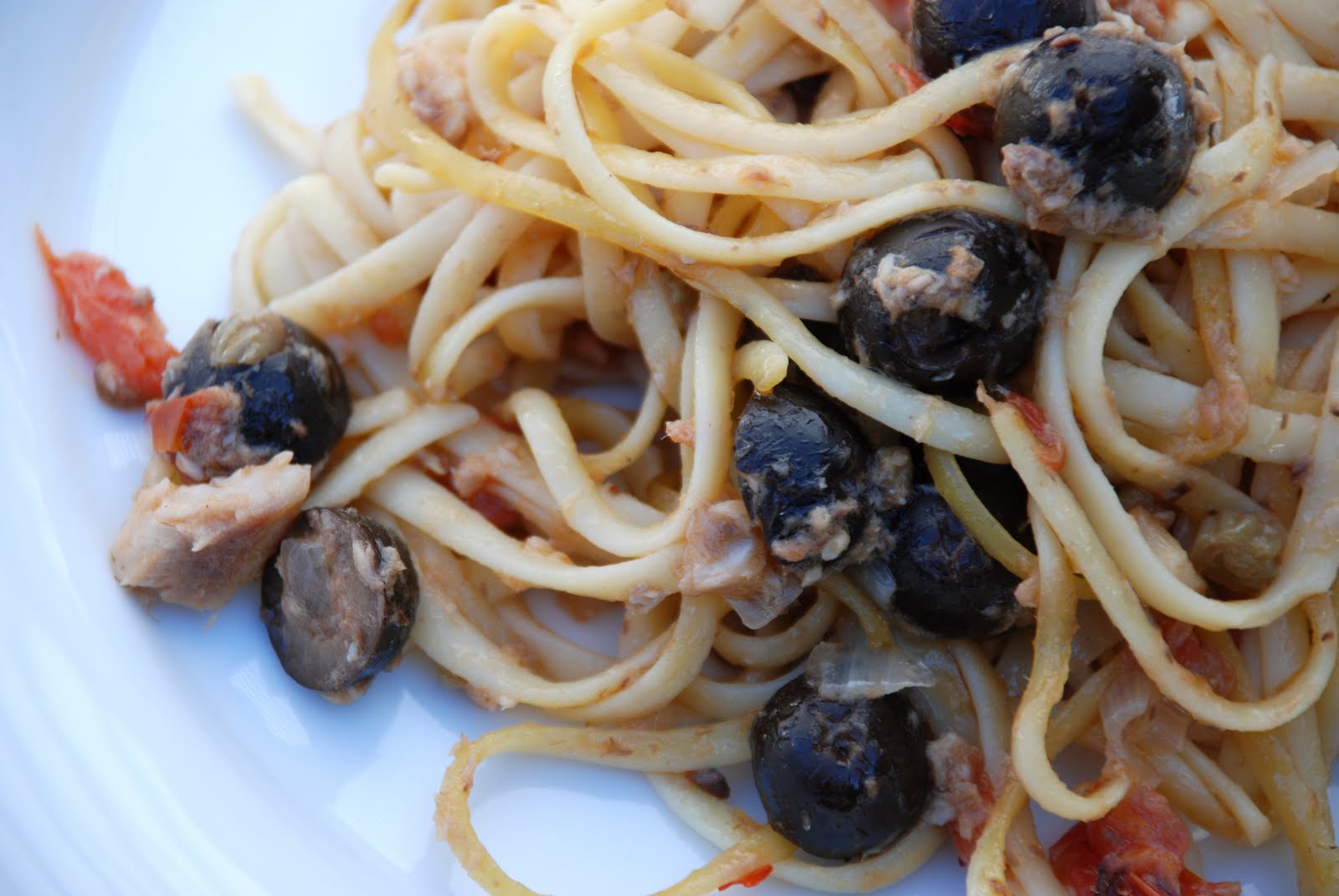 While reading this post about challenging oneself to create meals from what's on hand in one's pantry – a technique that we do employ with frequency here (Artichoke hearts? Check. Olives? Check. Pasta? Ahhhh, yeah. Check.), I realized that if said dish includes meat, it nearly always comes from within the confines of the refrigerator (or freezer). Taking the challenge of pantry meat on (it does sound somewhat unappetizing, doesn't it? Pantry meat. Well, whatever. The challenge is on.), I concocted this dinner, with the very sardines I had been threatening (for JR most certainly felt threatened by it) to use for weeks, the tin of Portuguese sardines sitting at the ready on the kitchen counter. And that is one of the nice things about pantry meat; it can sit for weeks – nay, months – awaiting use. I like to think its flavor is improving while it does.
On this topic, my brother and sister-in-law spent about a half a year in a small Renaissance-style town in the Czech Republic about an hour's train ride outside of Prague. They taught English there, and the Czechs taught them quite a bit about life under Communism (picture a lot of hiding evidence that you're doing anything fun, and paranoia that your neighbors are going to report you to the authorities if they learn that you are having fun. Or if they learn that you're being overtly religious. That was also a no-no. And a potentially life-threatening one at that.), as well as a bit about beer, and, much to my sister-in-law's chagrin, an awful lot more about pantry meats. Pickled meats are quite commonplace, stacked in glass jars as they are in the local markets, and my brothhh…someone who will go unnamed, for I do not have any idea how this particular pantry meat made its way into the States, gave me this: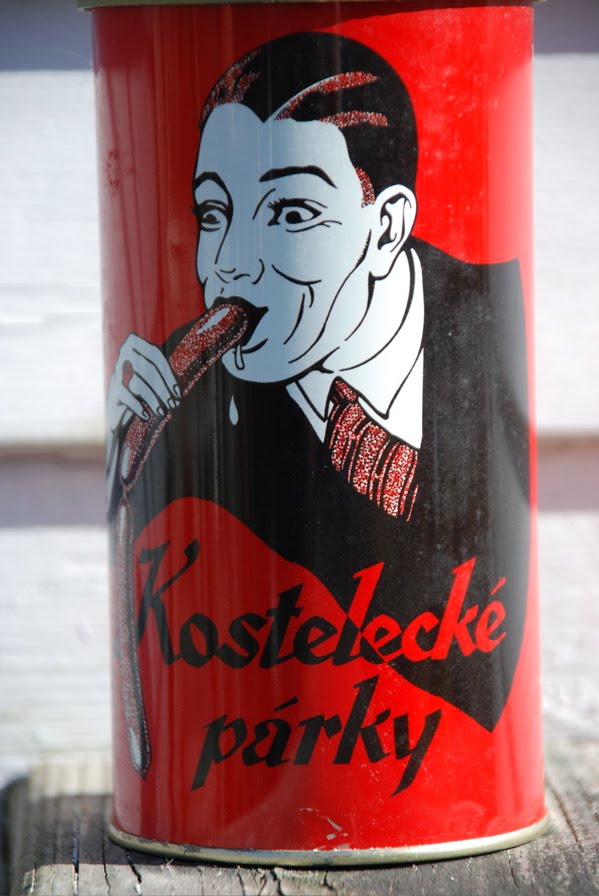 Apparently, there were dozens of these canisters stacked in a large pyramid in the front windows of a market in their town. My brother and sister-in-law snickered each time they passed by. Recently, one of my brother's Czech friends informed him that the packaging design had been changed. What a relief. In the interest of food safety (or of preserving what I am sure will one day be a fantastic item for an archaeologist-of-the-future to find completely intact in Massachusetts, "Early man had a global economy, with pantry meats depicting homoerotic art – differently, and slightly more coarsely than that of the ancient Greeks, though – circulating freely between eastern European nations and the eastern United States," she'll say into her embedded voice recorder as she digs up a slightly rusted Kostelecke parky package) my personal canister remains unopened, 5 years after its arrival at my house. However, plans for t-shirts have not yet been abandoned. Our archaeologist friend is also sure to enjoy the boxes of those she'll find stashed in the barn at my house, "I did not find any large, extra-large, or XXL Kostelecke parky t-shirts, though there is a box containing 1,000 small and medium-sized shirts. Perhaps there is a correlation between sausage consumption and the early humans' relative size?"
So with our Czech pantry meat packaging art in mind, sardines are sounding pretty good right now, aren't they? Yes, as far as pantry meat goes, the sardines have it sewn up. "It" being appeal (I'm excluding the more common Chicken of the Sea from this discussion, as tuna in all its forms, including casserole, is a widely accepted and generally beloved American budget staple).
Granted, one does have to be in the mood for sardines. There is not Thing One subtle about their flavor, but that flavor is transporting; I felt like I should have been sitting on the coast in some rustic town in Portugal, slurping up every last delectable sardine bite with some local crusty bread – the kind with crust you could chip a tooth on, but that benefits from a little soaking up of seafood-based sauce. As an added bonus, as though traveling to the lone remaining inexpensive country in the EU zone in my mind was not enough, the packaging is not at all obscene, and, in fact, is pretty darned adorable. Even the chopped into pieces sardine-with-lipstick on the end of the packaging is pleasing to the eye.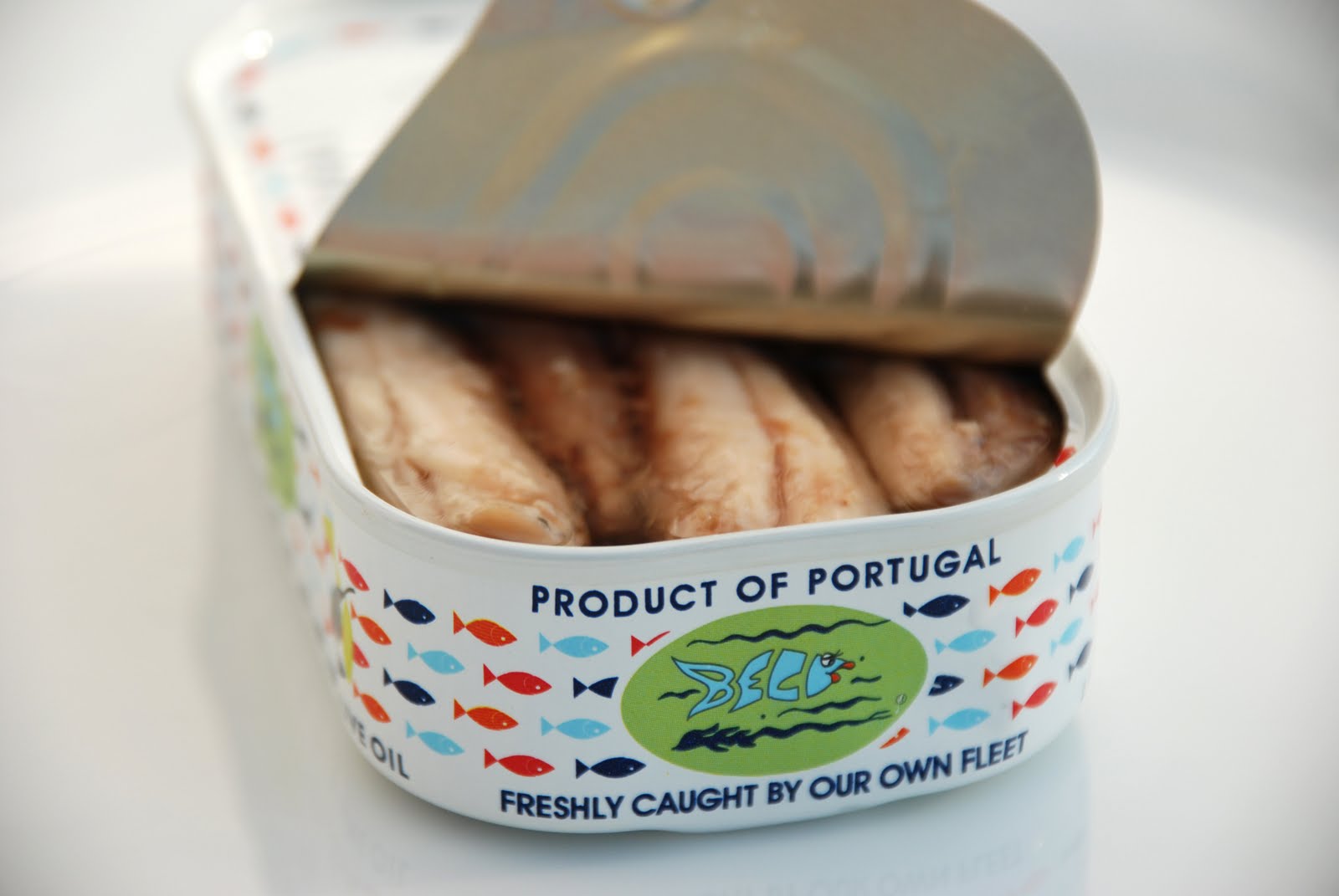 Pantry Puttanesca with Sardines (and pasta, of course)
Ingredients
1 pound linguine
2 tablespoons extra virgin olive oil
1 medium shallot, finely chopped
1 (4.25 ounce) tin sardines packed in oil (we're using this oil as well)
1 medium tomato (approximately 1/2 pound), seeded, chopped into 1/2-inch pieces (OR, to be very pantry-resourceful, a 14.5 ounce can of diced tomatoes would do the trick)
1 (6-ounce) can pitted black olives, olives halved crosswise (so as to keep the little ring look intact)
1 tablespoon capers, drained, rinsed, and finely chopped
freshly ground black pepper (I'm thinking you don't need any additional salt with the sardines. It's just what I'm thinking. You go ahead and load 'em up if you feel it's necessary.)
Instructions
In a large pot of boiling, salted water, cook the linguine according to the manufacturer's directions until it is al dente. Reserve 1 1/2 cups of the pasta cooking water for adding to the Pantry Puttanesca at the end of the cooking time.
In a large saute pan or skillet, heat the olive oil over medium heat, then add the shallot and cook until the shallot is translucent, 2 to 3 minutes. Add the sardines, Kings of Pantry Protein, and their oil, then the tomato, olives, and capers, and cook until the tomatoes are softened, and the sardines are breaking apart before your very eyes, 5 to 7 minutes.
Add the linguine to the Pantry Puttanesca pan, then pour in 1 cup of the reserved pasta cooking water, stirring well, folding those olives, tomatoes, and sardines into the strands of pasta. You're looking for a moist sauce here, so if you need a bit more water in the pan, add the remaining pasta cooking water, 1/2 cup at a time. Season with pepper, perhaps top with a sprinkle of grated Pecorino Romano (don't go all cross-eyed, now, you Italian food purists - it's not like sardines are delicately flavored a la prawns, calamari, or even John Dory, right? For those of you who aren't Italian food purists, Italians don't put cheese on their seafood dishes. Not even on shrimp scampi. It's good to know, particularly if you happen to be traveling to a coastal Italian town, as they will go cross-eyed on you when you ask for the grated cheese to top off your seafood dish.). Where was I? Oh, right, now serve it forth, and be sure that you have some crusty bread for what JR and I endearingly (and quite sophisticatedly as well) call, "sop and mop" - the soaking up of the sauce that remains on your plate.
http://www.tinyfarmhouse.com/2009/11/the-sardines-have-it/
Estimated cost for two: $2.96. The linguine was on sale in one of those 10 for $10 schemes that I love, so that's a buck. The olive oil costs 24-cents. The shallot will run us in the neighborhood of 25-cents. The sardines cost $1.69, though $1.99 seems to be a pretty common price, so we'll go with that. The tomato was one that I purchased green for $1.00/pound, and that has since ripened, so that ran me 50-cents, though if you were buying a fancy brand of diced tomatoes, that could cost you as much at $2.19, so we'll use that price instead. The olives cost $1.79. The capers cost $7.99/pound, and the tablespoon cost us somewhere in the neighborhood of 25-cents, though I did use "poor man's capers", which are pickled nasturtium seed pods from my garden. And they do taste just like capers. It's a bit out of season, but I'll post that recipe up soon – I'm just so excited that it worked. I'm very digressive today, aren't I? Back to the task at hand: It costs $5.92 to make this for 4 people. Or $1.48 per serving. And, while you have to embrace the robust flavor of the sardine, the dish did transport JR and me to a lovely European fishing village – someone, please bust out with some coarse-ish white wine so we can wash it all down, okay?
Dinner tonight: Mutant Rooster in Cider Gravy with Mom's Mushy Stuffing. How's that sounding? Yeah. Maybe a bit challenging to the ear, but I can assure you, it will be scrumptious. Estimated cost for two: $4.31. The mutant rooster is one of our own, and dressed out (meaning gutted, beheaded, and feathers removed, not in that order), it weighs nearly 7 pounds. As you might imagine, we will have many meals from this one bird, 3 of which will come in the form of Poultry-herder's pie, and I'm sure JR will have at least two lunches from this same mutant rooster. They are mutant because they are enormous – like small turkeys – if you were wondering. I'm going with our cost for this one, so the cider gravy costs around $2.68, the mutant rooster cost us about $2.19 when we purchased him as a wee, and surprisingly normal-sized chick. I should include the cost of feeding him to fatten him to this enormous size, but that seems like it could be complicated (and complicated math is not my thing), given that more than two dozen chickens are involved in the price of feed. To offset my lack of desire to add that math in here, I'll make like we could eat 7 whole pounds at one sitting and include the whole $2.19 in tonight's tally. A non-mutant bird would probably run you around $5.25, so an increase in the price of $3.06, which still isn't bad at $7.37. Mom's Mushy Stuffing consists of 2 loaves of day-old (and therefore half-price discounted) bread at $1.25 each. The butter costs 70-cents, the onion costs 65-cents, and the celery costs $1.99. The chicken broth costs $1.99 as well, and the spices we'll figure are no more than 20-cents. This, of course, feeds about 12 people, as I am making it so that I can share my mother's stuffing recipe with you so that if you like mushy stuffing, you, too, may partake this Turkey Day. It costs about $8.03, so 2 servings from that will run us $1.34. I'd better get some cranberry sauce made so that JR can have some faux Thanksgiving lunches with these leftovers, don't you think?