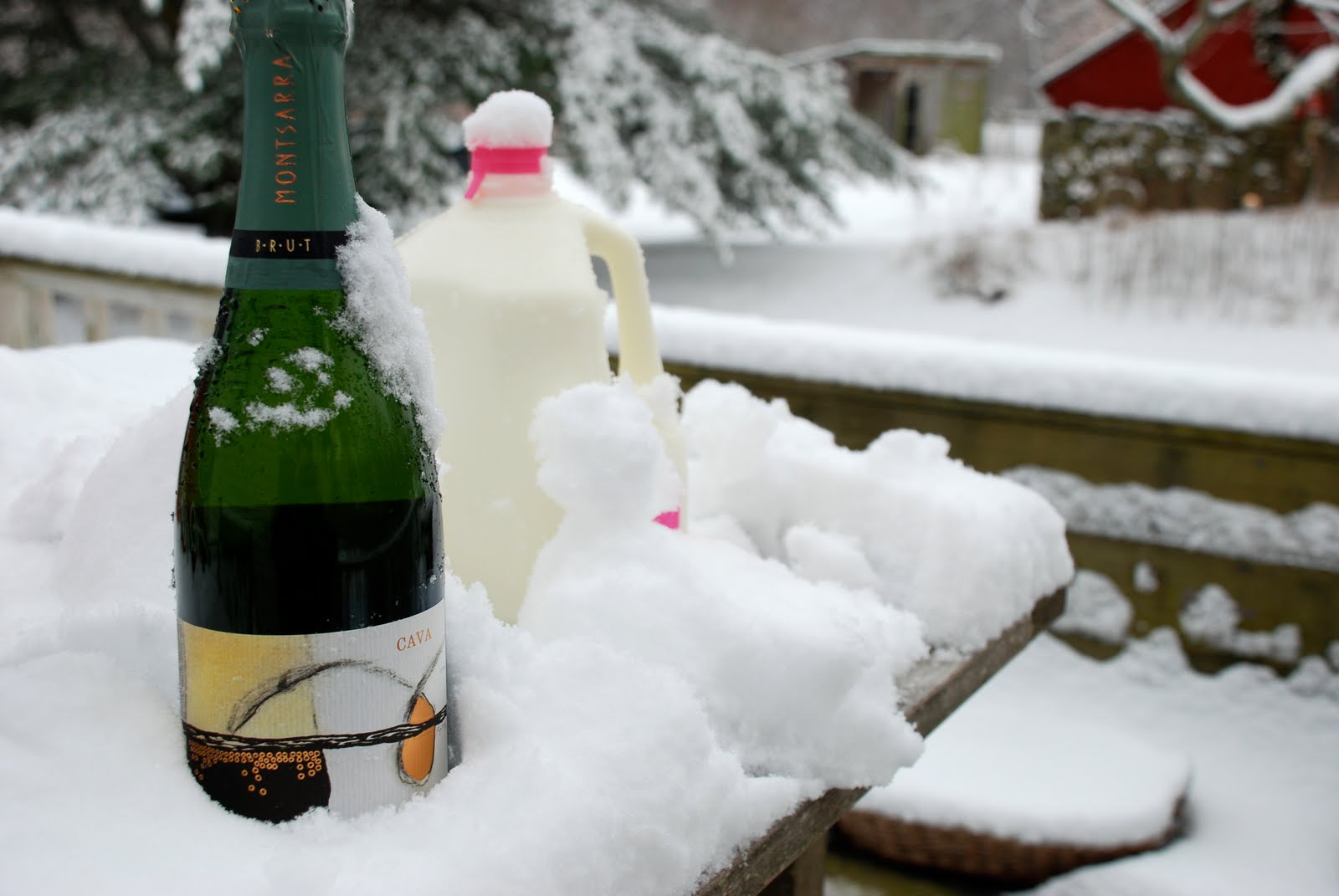 Cava in the outdoor refrigerator with the milk. Have I mentioned that we have a small house? And a small kitchen? And a small refrigerator that isn't even actually IN the kitchen proper? Yeah, well, at least we have the whole outdoors for refrigeration during the winter. That's an upside, I guess.
My neighborhood convenience store stocks a surprisingly high-quality (and diverse) wine selection, including a newly expanded sparkling wine section – including fancy French Champagnes, and one at $139.99 for a 750ml bottle. At least it isn't a 375ml, right? Fortunately for JR and me, they also have a nice selection of budget bubbles, including a $9.99 Prosecco and this $17.99 Montsarra Cava Brut.
In years past, JR and I had taken to splurging on fancy champers for New Year's Eve. It started with two bottles of Dom Perignon we had received as wedding gifts and the horribly sad passing of a dear friend – entirely too young – during the holidays. Rebelling against the "save it for a special occasion-is this enough of a special occasion?" mentality, we hosted a happy-to-be-alive-life-is-short Champagne and pizza party on a random weekend in January, during which we served one of those two bottles of Dom. The second bottle didn't last terribly long once we knew what we were missing, and the next New Year's, we uncorked a years-earlier vendor-gifted bottle of Cristal (apparently this vendor envisioned JR and me in our best Hype Williams-directed music video-style rocking/rapping out, bottle of Cristal casually slung in one of our bejeweled hands while we sat on a velvet, tufted sofa in the VIP, flutes waving about to the bass-pumping beat. Understandable mistake.). Oddly, we weren't at da club that New Year's, so instead, we shared with JR's niece and her husband, all agreeing that it was good – though I felt it didn't quite deserve its $300 price tag (I am that gift recipient, by the way. I'll look it up on wine.com if I don't already have the price in my mental filofax.).
A year later, we had a bottle of Mme Cliquot's Grande Dame, also quite nice, yet my affection for Duval-Leroy's non-vintage brut was beginning to sour my opinion of Champagnes costing 3 or 4 times as much. And now, as you might imagine, what, with the Poor Girl status and all, we are nowhere near the VIP (even the imaginary VIP), and we aren't even drinking the $30 (sale price, people. Sale price.) Duval-Leroy on New Year's. Instead, this year, we will celebrate with that Montsarra Cava Brut, which is produced in the same fashion as is Champagne, using the method Champénoise, where the second fermentation (the one that results in bubbles) takes place in the bottle. Even with the effort to introduce the second fermentation in the bottle, at a mere $17.99, its elegance belied its wallet-friendly price, and it was quite a lovely sparkler for the holiday – though, being a fan of bubbles all year 'round, would also be quite good with pizza next weekend. Don't knock it 'til you've tried it.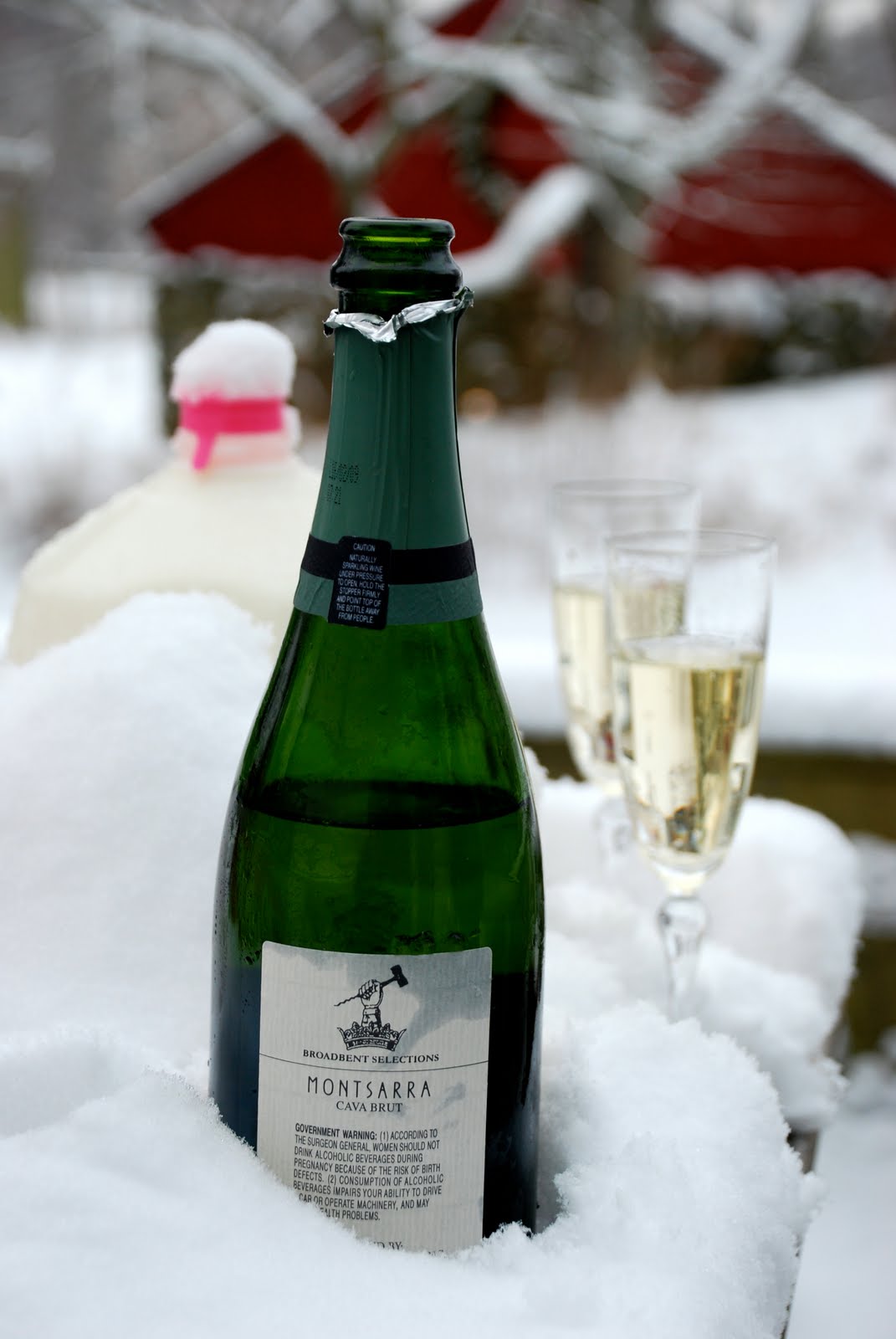 Cava in the outdoor refrigerator, ready to drink. Actually, not really ready to drink, as the 27 degrees F outdoor temp at the time of this photograph is a little too cold a serving temperature for our tastes (40 degrees F, or straight out of the refrigerator is good to start, and I'm always okay with the wine warming slightly to allow the flavors to better present themselves). We brought the whole show into the house and let it warm up so that we could actually taste the wine. We like to taste the wine, you see.
The wine is a pale straw color in the glass, with honey and honeysuckle on the nose, and JR also picked up an oceany quality to the aroma. The flavor is as though you're drinking thinned, bubbly honey, with a hint of clementine, a slightly vegetal (or grassy) note, and the finish is silky. It's an elegant sparkler with nice effervescence that isn't at all cloying, so it's easy enough to polish off the whole bottle between 4 people. Or two. With a relatively low alcohol content of 11.5%, it's refreshing and a good accompaniment to rich, creamy cheeses such as Brillat-Savarin or Robiola Tre Latte. Or pizza. Or whatevs they're serving in the VIP.
A Happy, Healthy, and Prosperous 2010 to you all!