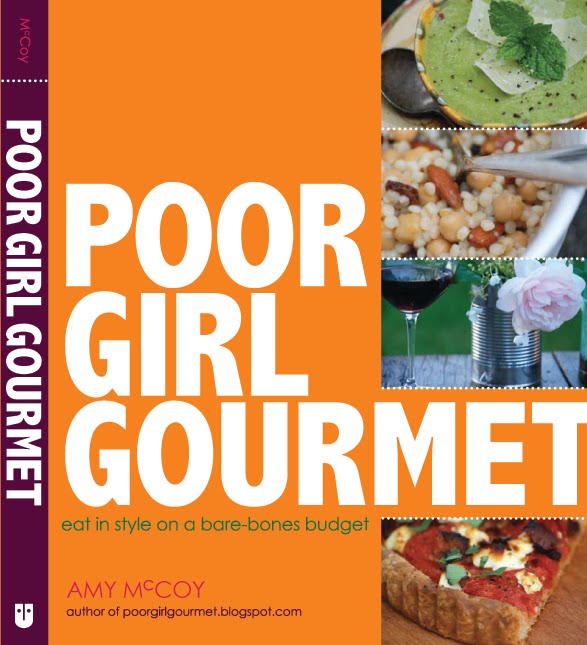 Seven years ago – even eight years ago, if I'm being totally accurate – in the months leading up to JR's and my wedding, I instituted the celebration of a pre-versary. Each month leading up to our wedding (yeah, I know, I know – totally dorky, but, then, there I am. A dork.), on the 19th, we celebrated our impending nuptials with an extra-special meal in, sometimes even a night out, until the long-awaited wedding day actually arrived.
I was inclined to celebrate monthly post-versaries, but JR is far less of a geek than I, and we need a quorum of two to institute faux holidays here, so we quickly adapted to the societal norm, the lone yearly anniversary celebration.
I haven't been as excited about anything since our wedding to warrant a pre-versary, until now. Two months from today, the Poor Girl Gourmet cookbook will be released. For those two months leading up to May 18, and for quite a few months to follow, I'll be kicking my promotion act into high gear, but for tonight, I think we'll celebrate in true pre-versary fashion – with a nice dinner and bottle of wine (I'm actually working, so perhaps we'll even spring for a fancy steak), and the hope and expectation that this new adventure will be just as wonderful as our marriage has been (see? super-dork.).
If you're looking for the book while I geek out over here, it can be found on Amazon, BN.com, Borders, ecookbooks.com, and Indiebound, all in pre-order, of course. I'll remind you about it again on May 18th, and possibly even on the April pre-versary. Hard to say. I like these pre-versary things, after all.