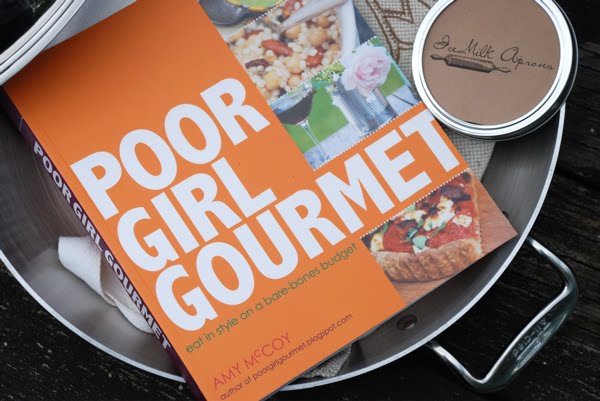 This whole cookbook thing has got me in what is (by comparison to the last year and seven months of blogging, anyway) a giveaway frenzy, and this one is super-special (at least in my mind).
To celebrate the delayed, but official release of Poor Girl Gourmet: Eat in Style on a Bare-bones Budget on June 1st, I'm giving away a signed copy of the book. Yes, of course, but I am also giving away two kitchen items that I absolutely love.
You might be familiar with IceMilk Aprons, if not just from finding their lovely aprons online or at Saks or at a boutique, then perhaps from the Mother's Day giveaway we ran together. I absolutely adore Ashley's sensibility, and love my monogrammed IceMilk Apron. So I thought I'd give away a monogrammed Rollings of Cinnamon apron along with the book.
Oh, but, then I thought, you really should have something in which to cook some of the recipes in the book, and that's where All-Clad comes in. I realize that you may be saying, "ah, but All-Clad is top of the line, and you, Amy, are poor." Yep. That's true.
However, even when one is financially embarrassed, it's good sense to buy something you know will last. I like to think of it the same way that fashion gurus present it: cost per wear. Only in this case, it's cost per use. I use my All-Clad braiser at least three nights per week. I use it for dishes like Garlicky Tomatoes and Olives with Whole Wheat Spaghetti, Pasta with Ricotta and Prunes, Chicken in Cider Gravy, Spicy Pancetta and Peas, and Ginger Soy Sirloin Tip Stir-Fry with Mushrooms, just to name a few (those are all in the book, btw).
My braiser has been in service here for over seven years. If we figure that it's been used 50 weeks of the year (even a broke gal can sneak a vacation in every now and again), 3 times per week, that's 1050 uses, and it's still in fantastic shape. At this point, that's around twenty cents per use, and I figure I'll have this thing for the rest of my food-loving life. So I'm thinking fractions of a penny per use by the time I leave this world.
On a happier note than the one where I consider my own mortality in terms of kitchen gear cost per use, if you've been reading along here for a while, it's probably clear to you that quality is equally as important to me as is frugality. Hence, there's an All-Clad 13-inch stainless steel braiser to go along with the signed book and the monogrammed apron. I regret to inform you that I will not be etching any personalization into the braiser, however.
To enter the giveaway, leave a comment here about why you'd like the signed cookbook, monogrammed IceMilk apron, and All-Clad braiser. For another chance to win, become a fan on Facebook and write on the Poor Girl Gourmet wall about why you'd like to win.
Entries must be received by Tuesday, June 1 at 6pm EST.
There will be one winner, picked at random on Tuesday, June 1 at 7pm EST.
*to be clear, I've purchased the items for the giveaway – heck, even including the book.