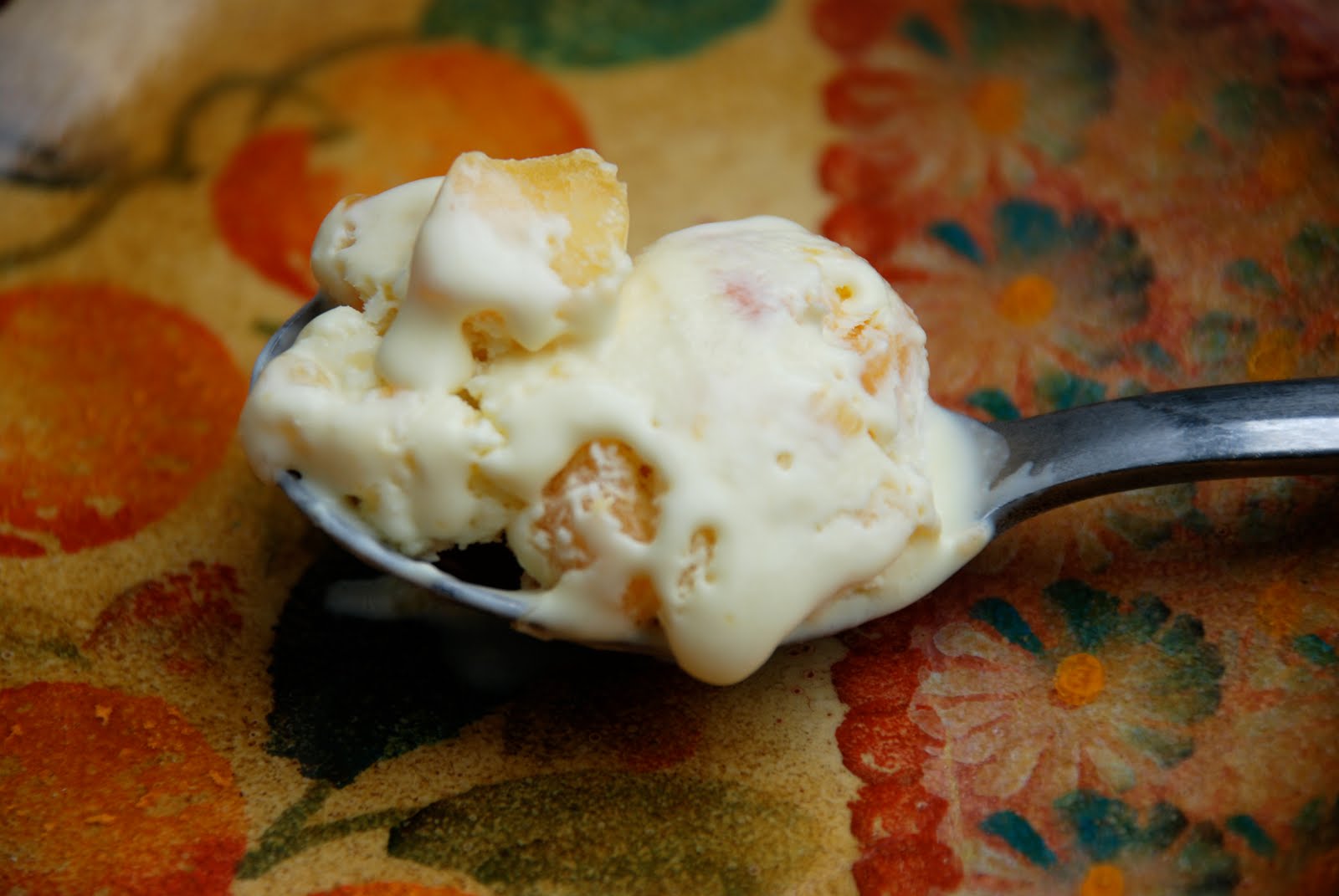 The local juicy fruit season is short here in New England. So, so short that by September, it can be difficult to believe that we were not so long ago graced with the juiciest of peaches, and cantaloupes effusing such a heady perfume that the cashier at the farm stand tells you to eat them now, no don't wait a few days, eat them now – they're ripe right now – for no sooner are we devouring these luscious fruits than it seems that they're gone.
The local cantaloupes tend to get the cube-and-eat treatment, so hard is it to postpone the devouring during these few short weeks they're available at the farm stand. Sure, I'd love to whip up a cantaloupe soup with mint and honeyed creme fraiche (see, now, that sounds delicious), but why meddle with perfection when perfection is so fleeting?
I'm not sure why the local peaches don't get this exact same treatment (and seeming straight-from-the-plant reverence) from me; it's not as though they aren't sweet, and delicious, and, yes, perfect, but they do inspire far more variety of preparation during their short New England season; savory as well as sweet treatments.
Today's purchase of Black Forest bacon has me pondering the possibilities for bacon-peach sauce (on chicken? with pork? on a spoon?), though my first inclination is always to start the local peach season with some sweets.
I've already done the cornmeal crust peach crostata (recently renamed "beautiful peach thing") a few times (and probably will make at least another two or three while peaches remain abundant – heck, it's dessert, it's breakfast, it's a beautiful peach thing – how can we go wrong?), however, the discovery of a bottle of my brother's favorite brown liquor in my neglected booze cabinet (the wine cabinet is not at all neglected. Only the booze is dusty at our house.) prompted a peachapalooza – or a bourbonpalooza – last Saturday night. For the record, the peach juice left behind from macerating peaches in honey, along with a splash of water, makes a fabulous mixer for bourbon. Because you and me, we don't like to waste. Not peach juice, and not bourbon, either. At least, once we remember that we have the bourbon, that is. Then, we don't like to waste it.
Homemade ice cream is a cinch to make. The active time is somewhere in the neighborhood of 20 to 25 minutes, and, yes, while you will have to wait for the custard to cool enough to be freezable (2 to 24 hours), and, yes, you will have to be sure that your ice cream maker canister is prepared to freeze and churn the ice cream, the actual work is so easy that once it's over, you'll barely remember having put any effort into it at all. Well, maybe the constant stirring will feel like work, but it's quick work. Quick, I say.
If you want to push toward a -palooza, there's an easy bourbon-caramel sauce recipe that follows the peach-bourbon ice cream recipe. Hmmmm…I wonder how the caramel sauce would mix with bourbon and a splash of water.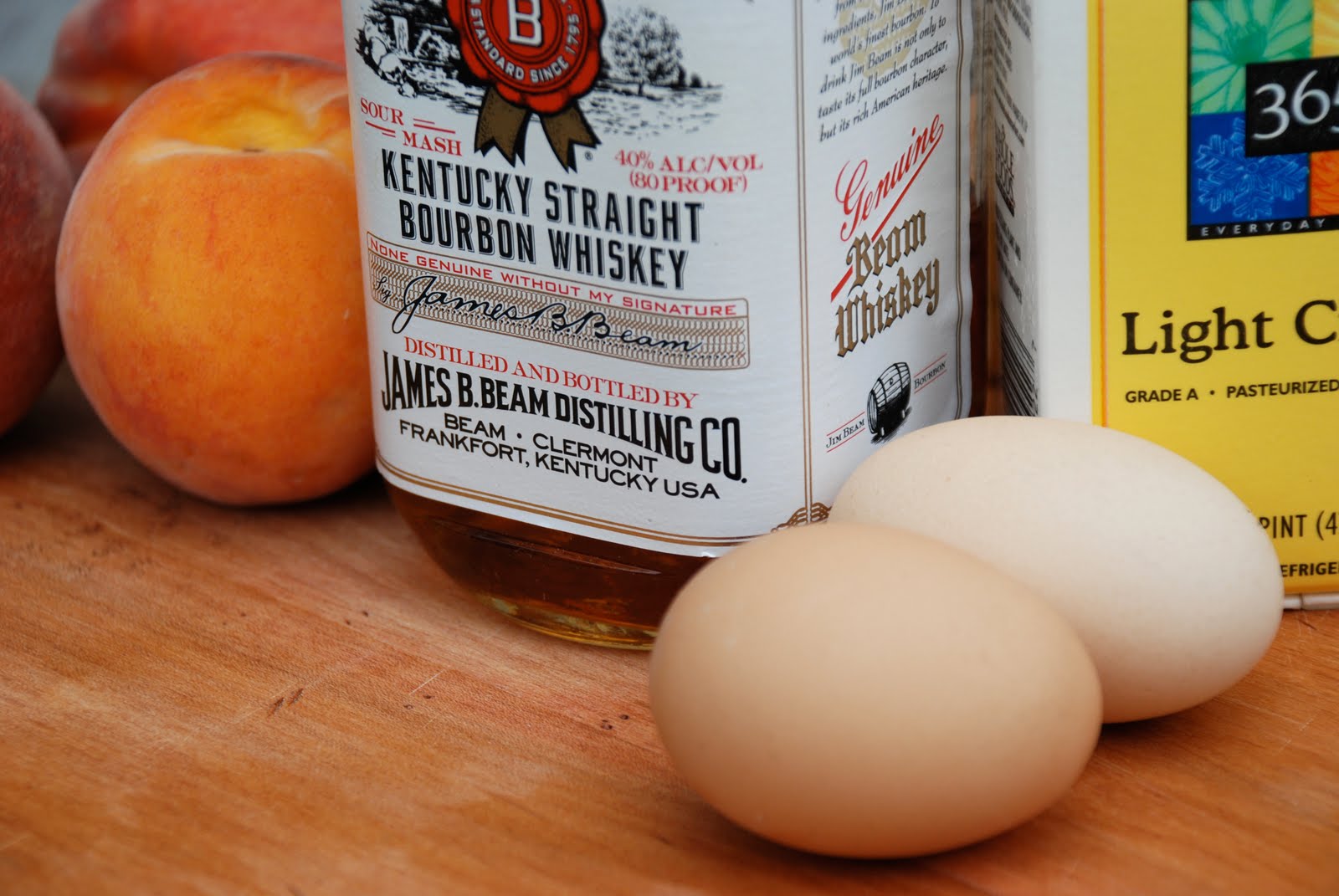 Ingredients
3 cups light cream
4 large egg yolks
2/3 cups granulated sugar
1 tablespoon bourbon (such as Jim Beam)
3 medium peaches (approximately 1 to 1 1/4 pound), peeled, pitted, and cut into 1/4-inch cubes
2 tablespoons honey
Instructions
The peaches and honey are a half-hour-before-churning-the-ice-cream activity, so you can wait to work on that part of the prep.
Scald the cream in a large, non-reactive saucepan over medium heat, stirring occasionally.
While waiting for the cream to scald (meaning that steam has just begun to rise from its surface, and tiny bubbles are forming all around the edge of the saucepan), whisk the egg yolks and sugar together until they form a pale yellow concoction.
Once the cream has scalded, use a ladle to gradually pour the hot cream into the egg and sugar mixture, stirring constantly to avoid scrambling the eggs. I add about half of the cream to the eggy sugar, then transfer the creamy mixture back to the sauce pan.
Add the bourbon, place the sauce pan back on that medium heat, and stir the cream mixture constantly until it has thickened to the consistency of pancake batter and coats the back of a spoon. This will take approximately 15 to 20 minutes.
Transfer the cream mixture to a non-reactive bowl (I like to use a glass bowl with a handle and a pouring spout to make the whole pouring-into-the-ice-cream-maker process easier - pretty much exactly that bowl up above there with the pale eggy sugar mixture in it is what I use), then cover the mixture with plastic wrap, such that it is touching the top surface of the cream mixture in order to prevent the formation of a crust. Refrigerate the cream mixture until it is completely chilled, 2 to 24 hours.
Just before you're planning to freeze the ice cream, combine the cubed peaches and honey in a large bowl, and allow to macerate for 1/2 hour.
Freeze the ice cream in an ice cream maker according to the manufacturer's instructions. At the very end of the freezing process, strain the peaches from their accumulated juices, and add the peaches to the ice cream maker, reserving the juices for a bourbon cocktail.
Mix the peaches in the ice cream maker until they're evenly distributed, then transfer the churned mixture to a freezer-safe storage container, and freeze for another hour or two before serving it forth.
For an additional bourbonbonanza, whip up some bourbon-caramel sauce while waiting for that final ice cream freeze:
In a medium saucepan, combine 2 tablespoons unsalted butter, 1 cup light cream (a good use for the 1 cup you have leftover from the ice cream making), 1/2 cup brown sugar, and 2 tablespoons bourbon. Bring the mixture to a boil, stirring frequently, and cook until the mixture is reduced by half, approximately 15 minutes.
Store any leftover caramel sauce in an airtight container in the refrigerator for up to a week, reheating it as you need it for topping bowls of ice cream. Or smearing on shortbread cookies. Or spooning directly into your mouth. Whatever use you deem appropriate.
http://www.tinyfarmhouse.com/2010/08/peach-bourbon-ice-cream/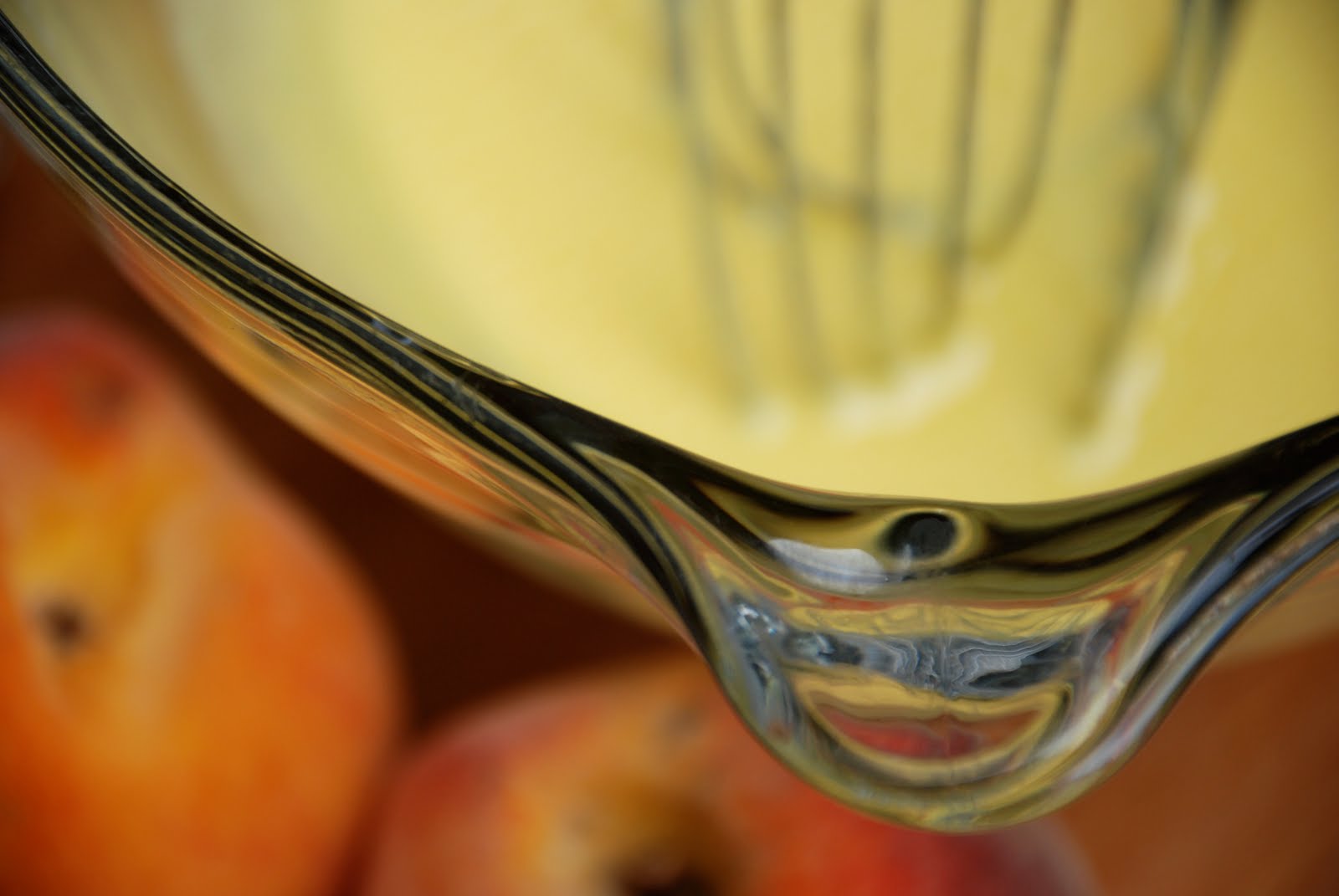 Estimated cost for the Peach-Bourbon Ice Cream: $9.51. The light cream costs $2.69 per pint, we're using 1 1/2 pints, so that's $4.04. Four eggs should cost no more than 26-cents each, that's $1.04. The sugar costs 12-cents or so, the bourbon costs $4.99 per pint, so if you didn't dredge it up from your abandoned liquor cabinet, it would cost around 32-cents. Don't worry, the rest won't go to waste, we're going to be making peach-bourbon sauce for chicken later this week. And honey-bourbon marinade for pork. And don't forget the bourbon caramel sauce. Oh, right, peaches. The peaches cost $2.79 per pound, so at 1 1/4 pounds, that's $3.49, and the honey was 50-cents.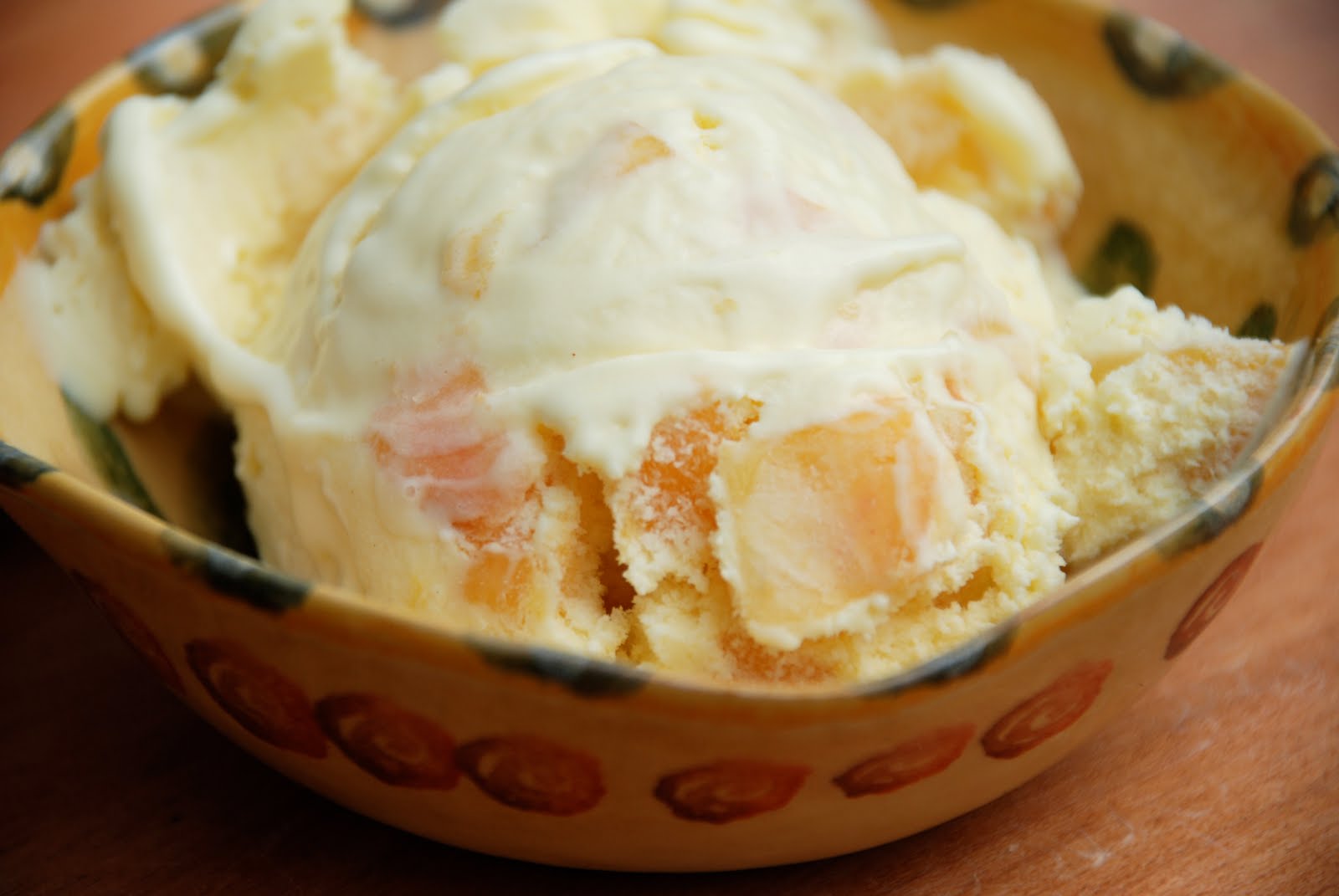 Dinner tonight: Spatchcock Chicken with Tangy Barbecue Sauce and Grilled Corn. Estimated cost for two: $6.69. Two years ago, the mere mention of spatchcock chicken would get the side eye from JR. Oh, but not now. Oh, no. Today, my friend, today, JR cannot be dissuaded from the preparation. It is his new, very most favorite way to cook chicken. For those of you who are novice spatchcockers, all this means is that a whole chicken is cut in half at the breast bone, allowing the chicken to flap apart (much like the frog in tenth grade Biology class, remember?), therefore speeding up whole-chicken grilling, which is our main method of spatchcock chicken cooking. Spatchcock was even the word of the day on Dictionary.com last weekend (I feel like maybe they're spying), and Food52 has also posted about it in the last week or so. These things combine to make it almost a bona fide trend. JR is so cutting edge. Trendy or not, it does result in ridiculously good grilled chicken, onto which, we will slather tangy barbecue sauce – the chicken was on sale for $1.69 per pound at Whole Foods, we got a good-sized bird, and it cost us $6.23. We'll eat half tonight, and JR will take the other half for lunch tomorrow, so tonight's chicken costs $3.12. The barbecue sauce is from the Poor Girl Gourmet cookbook, and costs $3.05 for a 1 1/2 cup batch, we're very likely to use a half-cup or less, so we'll call that $1.02, and we'll grill 4 ears of corn, which will cost $2.20, plus about a half stick of butter (I know, it's disturbing, but after many weeks of careful observation, this is what it takes to render us butter-slobbering corn-gnawing fools – 1 tablespoon of butter per ear. I'm hoping a good amount of that drips off onto my plate, but I believe that's really just denial in action. Which is cool. I'm good with denial if it allows me to eat more butter, I guess.). The half stick of butter (took a while to get to the point of pricing this butter, didn't it?) costs 35-cents. With two ears of corn each, there's absolutely no need for any other starch. If anything, we should be having heaping bowls of lettuce to try to counteract the butter and corn. But we'll probably just follow the main course up with the peach-bourbon ice cream. It is the weekend, after all.