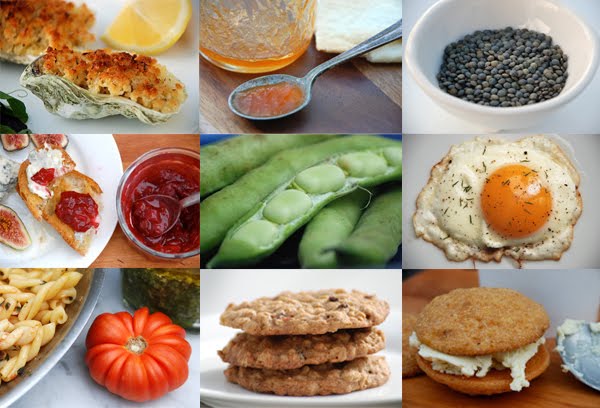 Absolutely nothing about those first few tentative tippity-taps of the keyboard as I sat, writing the first post here two years ago today, would ever have indicated what was to come from the simple act of starting a blog. In a vacuum. In my barn.
Two years on, I feel so fortunate to have found a creative outlet for which both passion and inspiration seems endless (I mean, we are talking food here, right? What's not to love?). I've been able to meet a wonderful world of bloggers, and tweeters, and FB friends, and have been able to work on by far the most gratifying project I've ever undertaken (or perhaps I should say "professional project". I seem to recall JR and my wedding being a bit of a project, and that was definitely the most amazing thing I've ever done. But I digress. As you know all too well.), writing and shooting the photography for the Poor Girl Gourmet cookbook.
In honor of the birth of this here blog, I'm giving away 6 copies of Poor Girl Gourmet: Eat in Style on a Bare-Bones Budget. Two copies (you know, for two years) felt a bit chintzy, so 6 it is.
So the six copies will be gifted out like this: Two copies will be given away here, two on Twitter, and two on Facebook.
To enter, simply leave a comment here, or on the Poor Girl Gourmet page on Facebook, or tweet something silly like:
@poorgirlgourmet Happy blog-birthday! I want to win a copy of the Poor Girl Gourmet cookbook!
Just be sure to let me know that you want to win a copy of the book in your tweet – that's key.
The contest will be open through Friday, October 8 at midnight EST. The winners will be drawn at random on Saturday, October 9.
Please be sure that there's a way to get in touch with you in your comment here (for you anonymous posters, please let me know your email or twitter handle), and good luck!
Congratulations to DailySaving and Charlotte, the two winners on the blog; @fiberfool and @This_isAwkward, the two winners on Twitter; and Adrienne and Linda, the two winners on FB. And a giant, grateful thank you to all of you for your incredibly kind comments, and, of course, to all of you for reading along here these last two years. I appreciate it more than I'm able to properly explain.